Nora Demleitner Appointed President of St. John's College, Annapolis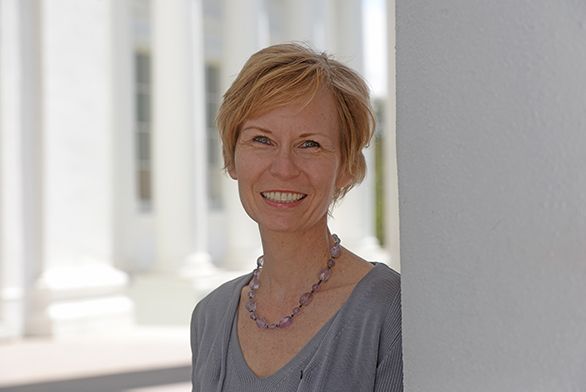 On Thursday, September 23, the Board of Visitors and Governors of St. John's College appointed Nora Demleitner, Roy L. Steinheimer Jr. Professor of Law at Washington and Lee University School of Law, as president of the college's Annapolis campus. Demleitner's appointment begins in January 2022, following the completion of her final semester at Washington and Lee; she will become the 25th Annapolis president in the college's 325-year history, the ninth since the inception of the current program of study in 1937, and its first female president.
"The Board of Visitors and Governors is proud to appoint a great legal mind, prolific writer, strategic leader, and dedicated teacher as the first woman to be president of the third oldest college in America," says Ron Fielding (A70), chair of the board. "As a college that values, first and foremost, the quality and singularity of our educational Program, we were also impressed by the deep respect felt for her by our faculty."
Demleitner, who served as dean of the law schools at Hofstra University and Washington and Lee, came to the United States from Germany during the 1980s in search of a small college that offered a broad liberal arts education—a contrast to the large research university programs common in her home country. After receiving a BA in American studies from Bates College, she received her JD from Yale and her LLM from Georgetown in international and comparative law.
Since then, she's become an expert on criminal justice reform, including sentencing guidelines, and has published extensively in publications including the Stanford Law Review, National Law Journal, and the Washington Post. After receiving her JD, she clerked for Supreme Court Justice Samuel A. Alito Jr. when he served on the Third Circuit Court of Appeals.
Decades after her initial decision to pursue a liberal arts education, she was drawn to St. John's rigorous practice of reasoned inquiry and dialogue as a means of getting at truth and understanding.
"There are few places left in America where people focus on actively listening to one another; where they learn how to continually question; where the institutional culture reinforces openness to new ideas and perspectives; and where one is academically respected for changing one's thinking in light of better arguments and reasoning," says Demleitner.
"St. John's College gives me hope for a future in which real, deep, respectful dialogue can again play a central role in our pluralist democracy. America, and the world, needs St. John's to amplify its powerful and distinctive voice in higher education—and I am committed to helping the college do that."
St. John's College prides itself on being a place where young people develop as independent thinkers through careful reading and persistent questioning; a practice that is modeled by the faculty. Joe Macfarland (A87), Annapolis dean, perceives in Demleitner the right combination of attributes needed to succeed in leading a college community that is comprised of independent minds.
"In meetings with staff and faculty, Nora listened with care, learned about us quickly, and asked challenging questions in a friendly way, engaging the community in well-reasoned, productive conversations about important matters," Macfarland says. "She demonstrated resilience and goodwill in the process. Her open, attentive engagement gave promise that she could build trust in all quarters and effectively lead a vibrant community devoted to freedom of thought."
These characteristics were echoed by tutor and search committee member Margaret Kirby, who also noted Demleitner's care for students.
"Nora appreciates the ways a St. John's education develops habits of inquiry and dialogue while also fostering the courage to tackle challenging material and explore difficult questions," Kirby says. "Her concern for the learning and well-being of students is widely noted. She recognizes that students are at the core of higher education and that enabling them to participate actively in their own learning must be among its fundamental aims."
As dean of Washington and Lee, Demleitner raised more than $17 million for the university-wide capital campaign, helping the law school surpass its goal by more than 7 percent; significantly increased the diversity of the law school's faculty, staff, and student body; dramatically improved employment statistics; and worked closely with the board. At Hofstra, Demleitner increased enrollment of the JD-MBA program by more than 300 percent, co-led the university's five-year strategic planning process, and reinvigorated international recruitment.
Leslie Jump (A84), who co-chaired the search committee, found Demleitner's strengths to be well-matched to the challenges currently facing the college, including the "demographic cliff" confronting colleges across America—the result of a significant drop in birth rates after the 2008 financial crisis.
"There will be 15 percent fewer freshmen applying to college in 2025," Jump explains. "And these students will, overall, have fewer resources, be more diverse, and need more support. Nora knows these issues well and cares greatly about addressing them."
Throughout her career, Demleitner has exhibited the balance required to increase college access while upholding rigorous academic standards. At prior institutions, she was successful at strengthening the academic credentials of the incoming student body while also increasing access to the law school for underserved students. Her devotion to both goals was appealing to Collegewide President Mark Roosevelt.
"Nora has the intellectual discipline to command the respect of the college's faculty and the commitment to developing that discipline in our students," says Roosevelt. "She also sees the future clearly and understands that St. John's College must expand our commitment to serving families who reflect the changing demographics and financial realities of America."
"For her, these two things are not, and must never be, in conflict with one another," he adds. "St. John's is the most rigorous college in America and will remain so for all who enter, regardless of the circumstances they may come from. Nora will be a great partner in realizing these ideals."
Demleitner will arrive at St. John's at a time of great momentum for the college. The college has eliminated a $12 million budget deficit, and its $300 million Freeing Minds capital campaign is close to completion. In 2018, the college reduced tuition from $52,000 per year to $35,000 per year. Today, enrollment on both campuses is at historic highs, and the college's applicant pool has grown by 10 percent. St. John's has also garnered significant media attention, reinforcing the college's growing niche as America's most rigorous and contrarian college.
And as the college moves forward, the Annapolis campus—which recently welcomed its largest class in a decade—eagerly anticipates Demleitner's arrival.
"Nora Demleitner impressed me as having the acuteness of intellect and the educational preparation to catch on quickly to the unique qualities of our college and to become our knowledgeable defender," tutor Eva Brann says.