August 28, 2017 | By Anne Kniggendorf (SF97)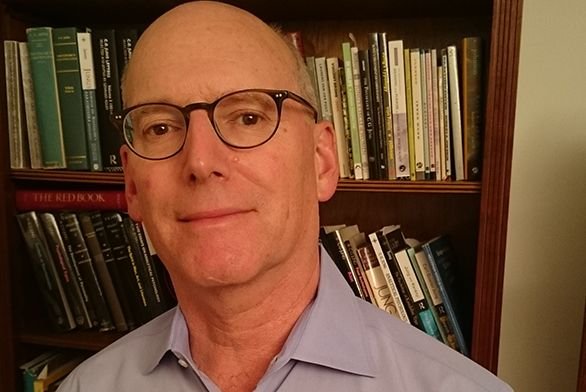 Giving to St. John's College is personal for Chris Olson.
Olson (A78) has given to the college for years, mostly modest amounts. He points out that it's the number of alumni who consistently make annual gifts that matters, not the amount they choose to give.
But recently Olson has gone well beyond the occasional gift. In fact, he's created what classmate Leo Pickens (A78)—also the college's director of leadership annual gifts—calls a "trifecta" of giving.
Olson has set up a monthly auto-recurring gift of cash to support the Fund for St. John's; he has established a planned gift, also known as a deferred gift annuity, to support the college; and now he has made a 'stretch gift' to strengthen the endowment and to join those who are bolstering the college's fundraising efforts as it gears up for the public launch of a major campaign.
His endowed gift has gone to the Klein Tutorship Endowment Fund. Jacob Klein was a scholar who came to the Program as a tutor in 1938, and whom Olson met years ago. He is also author of Greek Mathematical Thought and the Origin of Algebra, which many tutors have excerpted over the decades.
"That's cool to be linked—to be helping—something named after Jacob Klein," Olson says. "I like that a lot."
What makes giving personal for Olson is, in part, his continued closeness to the college throughout the years via his friendship with Pickens and the college's long-time vice president of advancement, the late Jeff Bishop. Olson says the power of such personal relationships should not be underestimated.
"If I'm going to give money, which I don't have a great deal of, I'm going to give it to St. John's as a priority over anybody else."
Although Olson earned a master's in international relations from the University of Pennsylvania, and an MBA from the University of Pennsylvania's Wharton School, he says the specialized knowledge he gained there was not transformative in the way his education at St. John's was.
In fact, St. John's continues to transform and inform his thoughts. On a recent visit to Annapolis he chatted with Pickens and other Johnnies about the current political climate. And "fake news."
He believes that separating fact from fiction is more important than ever, and more difficult to do with so much information invading our "knowledge space," as he puts it.
"Education is so important, and the St. John's education is by far the best, I believe, in order to help you sort out a very, very complicated world."
Olson mentions the school's logo, which reads 'Facio liberos ex liberis libris libraque' and translates to "I make free adults from children by means of books and a balance." In his view, the relationship between freedom and knowledge is fundamental to living.
"You always return to yourself as an individual and your own capacity to understand and adapt to the world. And that's what you can get from St. John's more than from anywhere. That first year at St. John's is absolutely tremendous. If you have that in your education at any point in your life, it's worth gold."
Today, Olson is an independent financial consultant for the World Bank and is completing a 10-year program that will license him as an analytical psychologist in the Jungian tradition. To write his psychology thesis, he is rereading many of his Program books. In some cases he's even translating from Greek again. He considers himself to have come full-circle.
"It's a very exciting world at the moment for me," he says by phone from London. "I'm 62 years old and it's shaped up into an interesting situation. I'm very happy about it, and very grateful to St. John's for the education and the other opportunities it gave me over the years."
And so he gives back.