August 31, 2017 | By Tim Pratt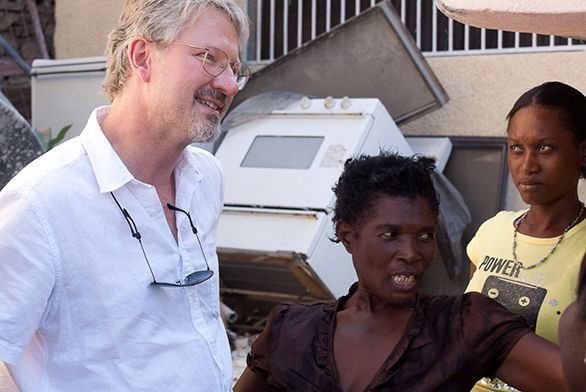 As the Graduate Institute at St. John's turns 50 years old, the college is featuring a series of stories to highlight the history, students—past and present—and other contributors who have made it what it is today.
In Haiti, thousands of poor, rural families each year send their children off to live with families in distant cities.
The goal is for those children to attend school and live better lives, says David Diggs (AGI91), co-founder and director of nonprofit organization Beyond Borders in Haiti. However, many of those children end up in some form of servitude or slavery.
Over the last 24 years, Diggs has made it his mission to end child slavery in Haiti and empower Haitians to fix other social and educational issues in the impoverished Caribbean nation.
"What we do is invest a lot in tools and in people, and in doing so build their capacity to lead these social movements that will produce lasting change," Diggs says.
For his efforts, the St. John's College Alumni Association this fall will honor Diggs with an Award of Merit. He is one of four St. John's graduates to receive awards this year, along with Huffington Post Editor-in-Chief Lydia Polgreen (A97) for outstanding service in the field of journalism; U.S. Sen. Ben Sasse (AGI98) for distinguished and meritorious service to the United States and to the state of Nebraska; and Jason Viseltear (SFGI96) for outstanding achievement in the field of lutherie.
For Diggs, who will return to campus to receive his award during Homecoming festivities, St. John's still holds a special place in his heart.
"It was the best educational experience I've ever had," he says. "It's had a big influence on the life we've had here in Haiti."
The Journey
Originally from a small farm town in southwest Missouri, Diggs completed his undergraduate work at Colorado Christian University. He also lived and studied in Europe before heading off to Haiti in the late 1980s to work with the Evangelical Association for the Promotion of Education.
Diggs' time in Haiti was eye-opening, he says, as he saw classrooms that were "violent and authoritarian," with many teachers who didn't speak the students' native language. After a couple years, Diggs decided to return to the United States.
Diggs says he considered attending St. John's years earlier when he was looking at colleges to complete his undergraduate work. When he returned to the United States, he decided to visit the St. John's campus in Annapolis.
"I was attracted to the idea of being in an environment where you have the freedom to explore and follow your own curiosity and questions," he says.
Diggs enrolled in the Graduate Institute in the summer of 1990 and says he "loved" it. He had been in classrooms where teachers had clear and distinct ideas about what he should learn and be interested in, he says. Sometimes that worked, sometimes it didn't.
At St. John's, Diggs and his classmates were encouraged to ask questions, form their own opinions and listen to others. There was a freedom to learn, he says.
Diggs began working again for the Evangelical Association before he completed his master's at St. John's, taking trips for a few days at a time to Haiti during breaks between classes. After he graduated from St. John's in 1991, he returned to Haiti to continue his work.
Within a few months of Diggs' return to the island nation, he witnessed a violent coup. The country's democratically-elected government, in power for less than a year, was overthrown.
"We were traumatized by that, so we decided to engage in advocacy work," Diggs says. "That pulled us into the struggle for a return to democracy and human rights."
Beyond Borders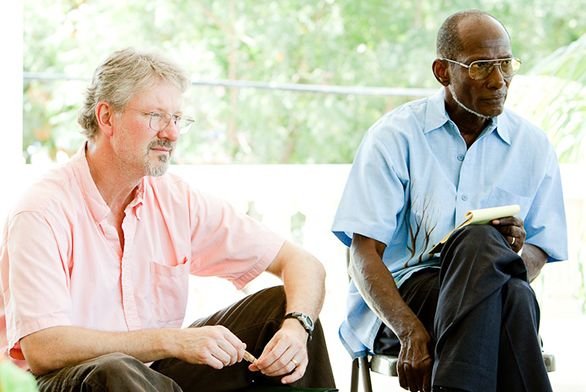 Diggs and colleague John Engle formed Beyond Borders in 1993 with a focus on education reform, though its mission would grow quickly.
At the time, there was no room in classrooms for students to ask questions or be curious, so outcomes were "very poor," he says. The educational approach Diggs wanted to spread was similar to the style he experienced at St. John's—lots of reading, discussion, reflection and critical thinking. Diggs invited one of his old St. John's tutors to Haiti to introduce the Touchstones program, which was adapted and used to promote educational reform among teachers.
"We gave teachers a chance to reinterpret their role in the classroom from authorities who were tasked with cramming facts in the heads of kids to mentors who were helping students learn from one another and from the texts, and to think critically," Diggs says. "That's another thing that's very rewarding: to see how this experience at St. John's and what we all value from that education has taken root in Haiti. Now all over Haiti there are groups that use this approach and methodology."
Along with the new style of teaching, Diggs and his colleagues at Beyond Borders helped start a movement for native language instruction, where creole was used in the classroom; they promoted non-violent classroom management; students began to take responsibility for their own education and "learned how to learn," Diggs says.
In addition, the group wanted to promote a kind of education that was inclusive of everyone in the community, from children to adults. In largely rural areas, they began promoting education based in "local reality," Diggs says, teaching, but also getting students curious about their environment and how to farm their land sustainably and grow more food.
Their efforts led them to the work they continue to focus on to this day—attempting to end child slavery.
The Problem
About one-quarter of Haitian children under the age of 18 live apart from their parents, Diggs says. About half of those children end up in some form of exploitive relationship, including about one in six Haitian girls and one in 10 Haitian boys, he says.
Beyond Borders began working on children's rights issues and gender-based violence. The organization provided training and funding, and set up the largest network of groups in the country to end child slavery. An initiative to end violence against women and girls also took root.
Beyond Borders continues to work with community and child rights activists, civic leaders and others. The tools and models the organization provides can be "scaled up" and used by the government and other agencies to make a positive change in the country, Diggs says.
While other programs or projects introduced to Haitian communities over the years had some short-term effects, Beyond Borders is looking for long-term solutions in Haiti—getting at the complex roots of the country's problems.
"Haitians have tremendous capacity and a lot of strength," Diggs says. "We see ourselves as allies of social movements there and focus on social movements that see sustainable change."
In the communities where Beyond Borders has worked, there have been "huge" reductions in child slavery, Diggs says. Many children also have been reunited with their parents and returned to school. A network of child slavery survivors now works together to share their experiences and free other children.
Still, child slavery and gender-based violence remain major issues in Haiti, Diggs says, and more work needs to be done. He travels to the country four or five times a year, and regularly communicates via telephone or Skype.
"I'm always hearing very powerful stories of lives that are transformed through our work," Diggs says. "That's very meaningful to me."
Learn more about the history of the Graduate Institute and upcoming festivities on the GI 50th Anniversary page.