September 1, 2017 | By Tim Pratt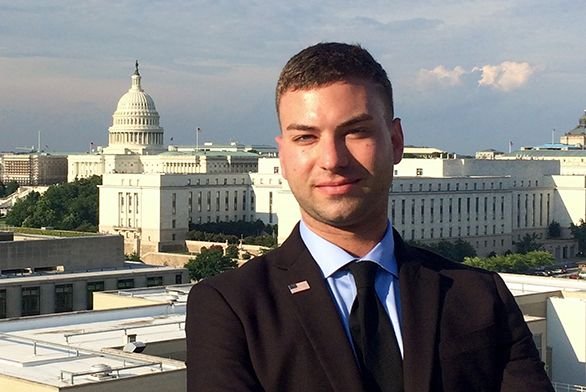 Tyler Mazur has known for years that he wants to pursue a life in public service.
That desire led the St. John's College sophomore to serve as a medic in the U.S. Army after high school, then work for an ambulance company in his home state of Ohio after his time in the military was complete.
This summer, Mazur (A20) took another step toward a career in public service by completing a Hodson Internship on Capitol Hill in Washington, DC.
Mazur interned in the office of U.S. Rep. Anthony Brown (D-Md.). The experience opened Mazur's eyes to life on Capitol Hill and strengthened his resolve to help create a better society, whether it's in politics, foreign policy or international relations.
"It was great," Mazur says of his internship. "I wouldn't have traded it for any other experience over the summer."
Mazur's days typically began with a commute from Annapolis to Washington, DC. When he arrived at the office of Maryland's former lieutenant governor, his tasks varied.
Often Mazur attended congressional hearings and briefings, took notes and wrote memos for Brown's office. He enjoyed the political atmosphere so much that he even went to hearings he wasn't required to attend.
Mazur also answered phone calls from Brown's constituents, who contacted the congressman to discuss a range of issues, and did a variety of other office tasks.
The experience taught him a lot, he says, from the value of networking to what goes on behind the scenes in Congress.
"I learned there's a very human side to Capitol Hill," he says. "You see it's not this far-away distant foreign power. It's just people like you and me living their lives, but in the meantime they're doing public service and meeting with other people and trying to compromise and find direction."
Mazur says his freshman year at St. John's prepared him for the internship, which began on May 15 and continued until August 17.
"I felt like in a lot of hearings I was back in Seminar," he says. "Instead of tutors or classmates it was Congressmen. (Freshman year) prepared me to listen in a way I might not have listened before."
Mazur's interest in politics has influenced his life on campus, too. He's a member of the Maryland Student Legislature, Project Polity and the Black Student Union.
Looking ahead, Mazur hopes to complete more internships that will set him up for a life in public service. He believes his St. John's education will benefit him in whatever career he decides to pursue.
"I've always seen an education in philosophy as the foundation for any career, especially in politics," he says. "I see it as a foundation of good governance."