Encouraging Classical Education
September 6, 2017 | By Tim Pratt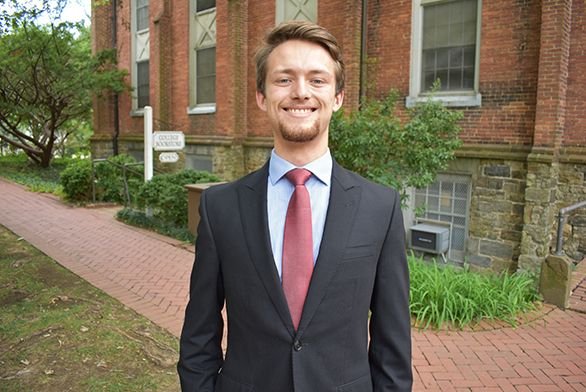 In the world of higher education, there are two giants when it comes to standardized testing: the SAT and ACT.
Colleges for years have accepted students' scores on the achievement tests as part of their admissions process.
Now, a new test is gaining popularity, and a recent St. John's graduate is in on the ground floor.
Connor Hocking (A17) works for Classic Learning Test, a new college admissions test now being accepted at 75 colleges and universities throughout the country. The test draws its text passages from the full range of Western tradition, from Homer to more contemporary thinkers, through literary, philosophical, scientific and mathematical content.
Start-up company Classic Learning Initiatives, which formed about a year-and-a-half ago in Annapolis, administers the test. Hocking began working there in May, a week after he graduated.
"There's this kind of excitement of being the new kid on the block as far as college testing is concerned," Hocking says. "I'm glad to be a part of the renaissance of classical education we're seeing nationwide."
The CLT is an online test that features sections on verbal reasoning, grammar and writing, and quantitative reasoning. There's a study guide, practice tests and intro essays suggesting to students what kinds of readings to complete.
"The CLT is an aptitude test whereas the SAT and ACT are achievement tests," Hocking says. "We think the better indication of college preparedness is overall college potential, not the specific skills students have learned in the classroom. Aptitude tests help answer the question 'Can you reason well?'"
With testing sites all over the country, students show up to locations, then use computers or tablets to complete it. A proctor is on hand. The test takes 2 1/2 hours to complete.
Along with schools, the CLT has established ad hoc sites to administer the test, including libraries and churches, for students who live too far from the school testing sites, many of whom are home-schooled.
St. John's is among the dozens of colleges and universities that now accept students' CLT scores as part of the admissions process.
"While St. John's is test-optional for most students, we ask home-school students to take the SAT or ACT, and many other applicants choose to send the SAT or ACT during the admissions process," says Admissions Director Ben Baum. "But we don't want standardized testing to be a barrier to St. John's, and because St. John's is a great fit for students with home-school or classical school backgrounds, last year we started to accept the Classic Learning Test as an alternative to the SAT and ACT. We can't wait to see CLT takers who love great books become Johnnies in the future."
Hocking spent his summer doing high school outreach, talking to institutions about becoming test sites and using the CLT as end-of-grade testing. Many of those schools are classical high schools already teaching students about the great works of Western civilization.
Hocking also attended conferences over the summer. His work took him up and down the East Coast.
Now that a new school year is underway, Hocking's duties have evolved. He's doing some writing for the company and looking at ways to streamline the CLT workflow.
Hocking says that during his own high school experience he leaned toward an interest in the humanities. It was only after his grandfather completed an Executive Seminar at St. John's that he heard about the college.
Hocking's interest grew after he completed an overnight visit, which included sitting in on a discussion about Aristotle's Metaphysics. The experience changed Hocking's perspective on life and the future.
"I was like 'Wow, I'm a rational being and I should really give this serious-consideration-of-deep-questions thing a chance,'" he says. "The idea of philosophy was very vague to me."
Hocking hopes the use of the CLT will encourage current high school students to pursue degrees in the humanities, or at least open them up to new ways of thinking.
"I want to help promote classical education as much as I can," he says.