September 8, 2017 | By Andrew Wice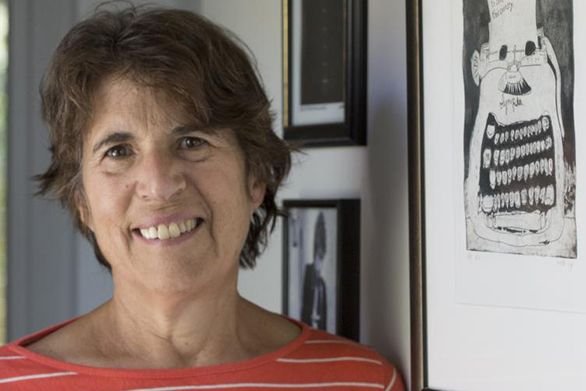 As the Graduate Institute at St. John's turns 50 years old, the college is featuring a series of stories to highlight the history, students—past and present—and other contributors who have made it what it is today.
Natalie Goldberg (SFGI74) still remembers the moment Eastern philosophy collided with her Western education.
The author of 14 books, including Writing Down the Bones, Goldberg says it happened during a lecture by the late Zen priest Katagiri Roshi. Speaking in a heavy Japanese accent, Katagiri told the group he had been studying Descartes.
"I think, therefore I am," Katagiri said, quoting Descartes, then pausing. "Descartes probably knew, but forgot to mention: I don't think, therefore I'm not."
In that moment, "all of Western civilization fell off a cliff for me," Goldberg recalled at a recent commencement address on the St. John's Santa Fe campus. East had met West, and Goldberg dove deep into the Zen practice.
"Now, though, what I realize is, St. John's made me ready to really hear that," Goldberg said. "Because everyone else in the lecture—it didn't really phase them, they thought it was funny, and went on. But it went through every cell of my body. Because I was prepared, I had been studying Descartes, so I was ready for that flip. There's a saying in Zen: sudden is not quick. It had been building, all the years I was at St. John's, and I was very ripe for it."
Years later, Goldberg is a best-selling author, and Writing Down the Bones (Shambhala Publications, 1986), a classic work of writing instruction, has been translated into 14 languages.
A 40-year devotee of Zen Buddhism, which emphasizes devoted practices like meditation, Goldberg lives her faith through the practice of writing. She credits the St. John's Graduate Institute in Santa Fe with preparing her mind for the spiritual and artistic journey of her life. Drawn by the great books, she wanted to engage directly with the Program authors.
"In order to meet their minds directly, you need to meet your own mind directly," she said. "And then it becomes a grappling, me and Socrates. And at first you could say, how dare I meet Socrates by myself? But there's no one else. It taught me to trust my mind."
Born Jewish in Brooklyn, Goldberg was the first member of her family to cross the Mississippi.
"The West didn't even exist in my consciousness," Goldberg said. "I was blown out, the first day I got here."
She never could have anticipated that her journey west would lead to fulfillment in an Indian philosophy from the 6th Century BCE.
Goldberg's journey has led her deep into Buddhist dharma ("doctrine" or "teachings" are only approximate translations) in pursuit of Enlightenment. Her training has disciplined her mind to confront itself, and has illuminated a path into the fleeting inspirations of Zen Buddhism.
The early results of her dogged practice became the book which spawned her career, Writing Down the Bones. The core concepts of spontaneity and non-attachment, which have helped so many writers find their voice, are drawn directly from Zen.
"People come to study writing with me, and that's how I seduce them, but I'm a dharma teacher, really," Goldberg laughs.
A self-described "bossy teacher" in her workshops and lectures, Goldberg focuses on process rather than product. Like the role of a St. John's tutor, Goldberg sees herself as a fellow traveler with her students, committed to a spiritual practice founded on self-expression through writing.
At St. John's, Goldberg sees room for the Eastern Classics program and the great books to grow toward each other. Integrating the collected wisdom of the whole world, East and West, has long been the heart of her approach to writing, teaching and life.
Her most recent book, The Great Spring: writing, zen, and this zigzag life (Shambhala Publications, 2016), exhibits the value of her integrative method. A distillation of four decades of practice, it opines: "If we can stand still and attentive in our lives and not run away, even right in the middle of the ruins, we will find fertile ground."
In April, Goldberg read from the book on the Santa Fe campus and she hopes to return with her new book, Let the Whole Thundering World Come Home: a memoir. However, her next appearance will probably be at an upcoming community seminar.
"Just last week I went to one, Death in Venice by Thomas Mann—it was fabulous," she says. "Did Aschenbach die peacefully? That was the opening question. It led us into talking for two hours, and it really flew, it was very enjoyable."
Learn more about the history of the Graduate Institute and upcoming festivities on the GI 50th Anniversary page.