September 8, 2017 | By Tim Pratt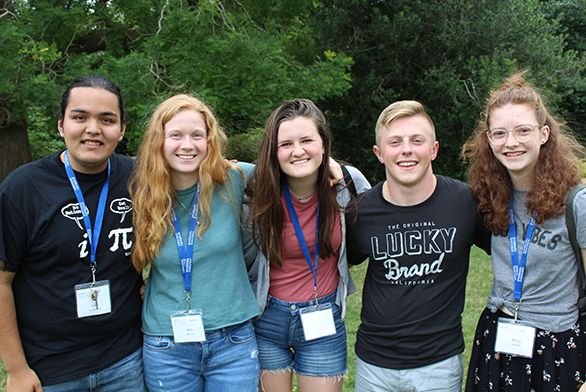 Francisco Contreras (A20) has a love of the written word.
On his left arm, the St. John's College sophomore has a tattoo of "Ape with Skull," a statuette by late 19th-century German sculptor Hugo Rheinhold. It plays on Hamlet and Darwin. On his right arm, another tattoo features a tree growing out of a book.
Contreras is a reader, a writer and an educator. This summer, he took his passions to University of Oxford in England, where he taught in the Great Books Summer program.
Dozens of high school students gathered at the world's second-oldest continuously operating university for the two-week program. Contreras was chosen from hundreds of applicants to serve as a program assistant, guiding students through the program's shared inquiry pedagogy—from Homer to Virginia Woolf.
"Oxford was a very good way to test out the things I thought I had discovered at St. John's, and to test the claims of the people we read," he says. "To see if it really is true, like Matthew Arnold's 'The best that has been said and thought in the world,' that if you expose people to that, they will be closer to a better version of themselves. And I did see that with the kids. The readings themselves, the liberal education, forced them to discover a maturity I don't think they knew they had."
For Contreras, the teaching experience was a way to introduce high school students to a type of education he wishes he had when he was a teenager.
Contreras grew up in Mexico, spent part of his childhood in Canada, then returned to Mexico and attended an American school. Contreras enjoyed learning, but felt dissatisfied with his high school experience. He didn't enjoy his classes and often crammed for tests.
Yet, Contreras enjoyed learning, and spent much of his time inside and outside of the classroom writing poetry.
After graduating, Contreras decided to delay his college experience.
"Because I had this bad experience in high school, I wanted to find out what happened," he says. "School is supposed to be for an inclination like mine, like poetry, to be nurtured, not suppressed. So instead of having four more miserable years at university, I decided to take a step back."
Contreras decided to examine education further, and that led to a desire to teach. He was able to earn a teaching certificate through a government program, then spent the next three years teaching, mostly AP literature and similar courses.
"I enjoyed it much more than I thought I would," he says. "It involved a lot of learning. ... I had to teach myself how to teach. There was this discovery of what it means to teach and how to look at a student, and how to look at yourself as a teacher. I think it helps form who you are."
While Contreras was teaching, he created a blog. It included pedagogical theories and posts about subjects he was teaching, like literature and poetry, among other things.
An educator at the University of Chicago discovered the blog and reached out to Contreras. Eventually, that educator told Contreras he would fit in well at the University of Chicago or St. John's—two well-known great books institutions.
Contreras ultimately decided to attend St. John's in Annapolis. He arrived in the fall of 2016 and, suddenly, found himself back on the other side of a classroom.
"It was interesting to experience being a student again," he says. "It was a little weird, but I enjoyed it."
Contreras also enjoyed the Program and life on campus. His love of grammar gave him an appreciation of the Greek language; he participated in a study group that translated Spanish poetry; he even did a little editing for Historia, a student-run magazine of academic writings and dialogues.
It was also during freshman year that Contreras saw information about the Oxford Great Books Summer program in an email from the college's Office of Career Services. A friend he met through the University of Chicago also recommended it, so Contreras applied.
The application process included three essays and two interviews, the second while Contreras was on spring break. Ultimately he was accepted into the program.
Contreras was nervous before he headed to Oxford. He had never traveled overseas, and nearly all of the other program assistants were local graduate students, he says.
After he arrived, that nervousness faded quickly.
"When I started teaching, it was like muscle memory," he says.
Around 50 teenagers participated in the program. Contreras and other program assistants were in charge of seminars, literature electives and interacting with academic guests, among their other responsibilities.
Every day began with a poetry competition. Students then completed readings, and had lectures and seminars. Literature electives were planned by the program assistants. Contreras's elective was called "The Power of Education," and included works familiar to many Johnnies.
"I was amazed by how quickly they engaged, especially the denser stuff like Plato's Republic and Virginia Woolf," Contreras says. "They immediately picked up on the imagery and had interesting conversations."
Not all of Contreras's time was spent in the classroom. He did a bit of sightseeing, too, including trips to Shakespeare's birthplace in Stratford-upon-Avon, and The Barbican Theatre in London.
"It was amazing," Contreras says.
The Great Books Summer program director invited Contreras back next summer, he says, and extended an invitation to participate in the program in Dublin, Ireland. It's held at six colleges and universities around the world.
Now back in Annapolis, Contreras is excited about the new school year. It has gone well so far, he says, and he's working as a writing assistant.
Looking ahead, Contreras is keeping possible career options open. He could one day return to teaching, or branch out in a different direction.
"Right now the only thing I know is I want to do something that allows me to continue doing what I'm doing here: reading good things and talking about them with other people," he says.