Tutor Earns Top Award for Dissertation
May 3, 2018 | By Anthony Muljat (SF17)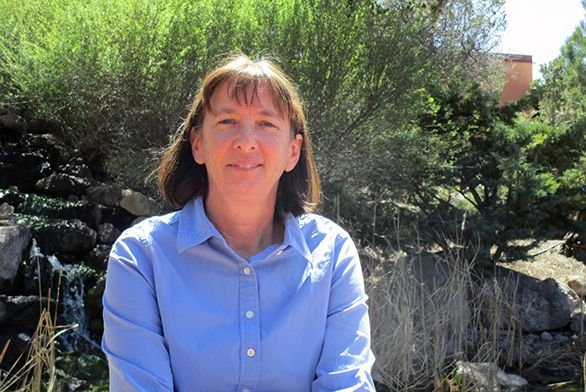 Kathleen Longwaters (EC07, SFGI09) has been making ample use of her passion for inquiry.
A visiting tutor at St. John's College in Santa Fe, Longwaters recently completed her doctorate in South Asian cultures and languages from the University of Texas (UT) in Austin. Her dissertation, "Approaching Death: Responses to Dying in Two South Asian Medical Traditions," earned her the top graduate student award at UT-Austin.
The Graduate Studies Committee at UT-Austin on May 1 presented Longwaters with the Michael H. Granof Award. The award included a $6,000 cash prize and entry into a national dissertation competition.
Longwaters' dissertation brings her rigorous and insightful scholarship to bear on the relationship between the Ayurveda and Unani schools of medicine in medieval and ancient India. Taking an interdisciplinary approach, she examines the cultural and religious viewpoints of medical authors from both traditions, in order to better understand their differing approaches to end-of-life care.
Longwaters cited her background in genetics and laboratory work, as well as her experience with the St. John's holistic approach to learning, as major factors in her success.
"If you work in the laboratory, you're going to see there's so much art in it," she says. "At the same time, writing an essay has a lot of art to it, but there's a real science to it. So I had always been aware of where those lines (between the arts and sciences) cross."
After 15 years of clinical work for leukemia, lymphoma and prenatal patients in New Mexico and Ingelheim, Germany, Longwaters decided to temporarily put aside her doctoral plans to participate in the Eastern Classics graduate program on the Santa Fe campus. She said that her work with constructed languages in the laboratory helped spark her curiosity for Sanskrit, a very technically complex language offered through the program.
"I thought, this would be a great language for science, this would be a great language for poetry—two great loves in my life."
Longwaters found the St. John's method so rewarding that, after completing her master's in the Eastern Classics program, she decided to pursue a second master's in the Liberal Arts program. She became a teacher for St. Michael's Prep School in Santa Fe, where she conducted St. John's-style seminars for her students. She had the idea to bring her class to campus to have a seminar with Johnnies, and afterwards noted that the experience led them to write substantially better papers.
Longwaters ultimately took a job in the Admissions Office, where she founded the Summer Academy for high school students more than a half-decade ago. Turning back to her PhD goals, Longwaters applied to UT-Austin's College of Liberal Arts and received full funding. Her knowledge of Sanskrit as well as her case studies of terminally ill patients led her to investigate what became the topic of her dissertation.
The dissertation primarily addresses how those who are dying are treated, and what actions are taken or not taken. That leads to additional questions about what makes an individual be seen as irrecoverably ill; about clinical indications and disease categories; and about the nature of death.
Seeing what forms those conceptions—philosophically, theologically and medically—can help people understand what drives disease categories and the actions, she says. Reflecting on this can then help people see more clearly what drives their own actions today.
"I thought (my research) may, number one, help make our end-of-life care more culturally sensitive, and two, comparative work on those two medicines just hasn't been done, especially in the pre-modern period, because you need different constellations of language. It's so rare to find someone who does Sanskrit and Urdu together."
Longwaters is now a full-time visiting tutor on the Santa Fe campus, where she teaches Sanskrit and undergraduate freshman lab.
This story has been edited to clarify information about Longwaters' work experience and dissertation.