Liberal Arts for the Body
May 8, 2018 | By Anthony Muljat (SF17)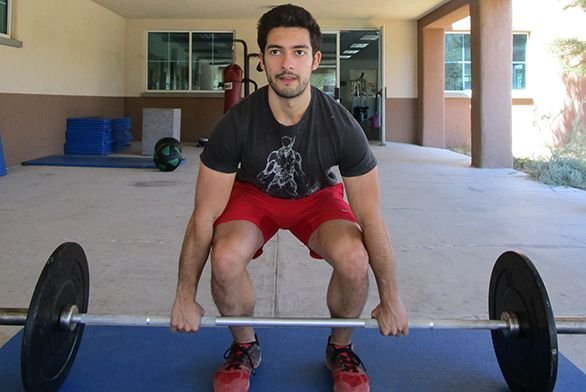 In between long sessions of studying and writing, many Santa Fe Johnnies take advantage of the exercise facilities at the Student Activity Center (SAC).
There, the sounds of clanging barbells and the whir of elliptical machines fill the air as students fortify their bodies and unwind from their intellectual labors.
As of this spring, SAC patrons have a new opportunity to pursue their fitness goals: the "Over 9000" course, taught by sophomore Luis Melgar.
Melgar, a certified Level 1 CrossFit instructor, is bringing the holistic fitness philosophy of CrossFit to Johnnies seeking to enhance their whole-body strength and conditioning.
"We not only train to be stronger," he says of the program, "but also faster, more flexible, more agile—just overall being better with our bodies."
The class, which takes its name from the anime series Dragonball Z, alternates between three core fitness areas: metabolic conditioning, gymnastics, and weightlifting. Whereas traditional exercise programs may only target one of these areas, Melgar asserts that merely being strong or fast is not sufficient to be healthy, which he identifies as the primary goal of the course.
At the class's first meeting on March 31, about a dozen Johnnies convened on the patio of the SAC to hear Melgar explain the fundamentals of the course. Then, after warming up, they launched into a fifteen-minute workout called AMRAP: cycles of five "burpees," ten push-ups, and fifteen squats, repeated as many times as each participant could manage.
Melgar explained that this workout, like many that the course includes, can be scaled indefinitely to the participant's current level of conditioning: for instance, push-ups can be done on one's knees or against an inclined plane. The important thing, he said, isn't to go as fast as possible, but to maintain a steady pace throughout the workout.
He connects the goals of the course with the emphasis on the classical virtues to be found in ancient works in the St. John's Program. In Plato's "Republic," Socrates maintains that gymnastic exercise is essential to bringing up good men. According to Thucydides, the ancient Greek historian, the communal exercises practiced by the Spartans were instrumental to their culture of fitness and bodily excellence, which eventually helped them triumph over the more sedentary Athenians in the Peloponnesian War.
For these reasons, Melgar says, the course could appropriately be subtitled "Liberal Arts for the Body."
"Health and fitness is such a big part of our lives that we can't neglect that and pretend it's not going to influence everything else we do. My goal would be just to create a healthy environment where people are safe, and can actually improve their fitness."
The last class of the semester is set for 2 p.m. on May 12. All Johnnies and Santa Fe residents with an SAC membership are welcome to attend.