Internships Prepare St. John's Students for Future
May 9, 2018 | By Eve Tolpa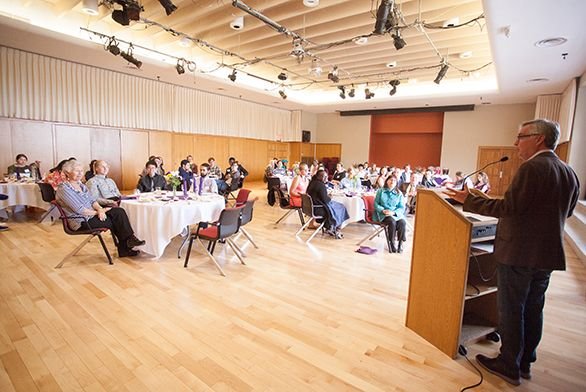 As the academic year winds down at St. John's College, Johnnies' summer plans begin to come into view.
Sarah Ward (SF20) is conducting research in the Children's Language Lab at the University of Texas-Austin.
Rowan Sinclair-Gregg (SF18) will be learning graphic design and editing at Santa Fe–based nonprofit publishing company Radius Books.
Chifunda Kakusa (SF20) is returning home to Zambia to intern with Quantum Consultants and Actuaries.
All three are recipients of Ariel Internships, which were created as a way for Santa Fe students to gain professional experience while exploring career paths. Each award is accompanied by a stipend of up to $4,000, and since its inception 13 years ago, the program has funded a total of 316 internships and distributed more than $1.1 million. Though a minimum of 25 Ariel Internships are given out every year, this year 29 Johnnies received the award.
For Rachel Taylor (SF20), an Ariel Internship is serving as a stepping-stone toward her desired career.
"I will be going to North Carolina to Cape Hatteras National Seashore, and I'll be working in the visitor's center, museum, and the lighthouse, and with sea turtles," she says.
As a high school senior in Albuquerque, Taylor had a job at the nearby Petroglyph National Monument, an experience that solidified her interest in the field.
"I think I've found my passion and what I want to do," she adds. "This my next step toward being a park ranger."
Some recipients find opportunities in the places they grew up. With her fine art Ariel stipend, Paige Harrison (SF19) is "going to be going back home to New Orleans, Louisiana, where I'll be doing a pottery internship working with different studios."
Similarly, her classmate Owen Gemmer (SF19) says of his award: "I'm going to be back home in Naples, Florida, interning at Seacrest Country Day School—which is the high school I attended—in the front office doing administrative work. My official title is Creative Assistant, so we'll see where that leads."
Other Ariel awardees are taking advantage of the Santa Fe campus's proximity to world-renowned science organizations.
Keming Zhang (SF19) will be doing research at the Santa Fe Institute, working on a project related to physics.
"When I was young, I was a big fan of physics," he says. Zhang describes himself as "kind of a math person" and adds that he'd like to study the subject from the point of view of the humanities. "Due to the education at St. John's, every field is a possibility for me," he says.
Oyewole Ogunbamise's (SF18) Ariel Internship allows him to do engineering at Los Alamos National Labs.
"I've always kind of liked engineering," says Ogunbamise, noting that his academic immersion in the liberal arts means that "I have a diverse perspective from (that of) a regular engineer."
He leans toward mechanical and electrical engineering but emphasizes, "I'm open to try new things."
Openness is at the heart of the Ariel Internship program. While addressing the 2018 recipients at a ceremonial luncheon on May 4, President Mark Roosevelt remarked on the value of pursuing a path without presupposing which results would necessarily constitute success.
"Sometimes learning what you don't want to do, that you may have thought for a long time you do want to do, is equally valuable," he said.
At the same time, Ariel Internships quite often lead directly to job offers. Barbara Lucero Sand, who oversees the program and is retiring in July from her position as Acting Director of Personal and Professional Development, cited a study conducted by the office's former director, Margaret Odell, a couple years back. According to Sand, "Something (like) 39 percent of students that did Ariels actually got hired and worked in their field."