When Johnnies Had "No Exit"
May 14, 2018 | By Avinash Kumar (SF21)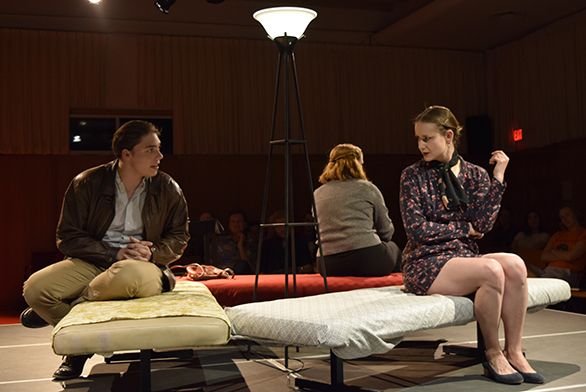 The lights beamed on center stage. A valet furnished a windowless hotel room with three objects—including a paper knife. Then, one by one, the characters were assembled in the room with no way out.
This was how the St. John's College student production of Jean-Paul Sartre's illustrious existentialist play, No Exit, kicked off on the Santa Fe campus.
No Exit follows three characters, Joseph Garcin, Inès Serrano, and Estelle Rigault, who are locked in a room for eternity. As the story progresses, it is revealed that they are in their afterlife, and the room is Sartre's portrayal of hell. At first, they are reluctant in admitting to their crimes on Earth, but as they continue to unnerve each other, they eventually give in. The play ends with a long, nervous laughter and one of the characters saying, "Well, let's get on with it," hence surrendering to their fate of torturing each other.
"The version of hell that Sartre presents us with is very different than a more conventional idea of hell presented by Dante, for example," said Agnieszka Axer (SF19), who played the role of Estelle. "It's pronounced by Inès at the beginning that we are acting as torturers for each other, so it's a more psychological, emotional kind of torture. That seems to be particularly executed by the triangularity of the characters."
Mackenzie Peterson (SF20), the actor who played Inès, shared her thoughts about the interactions between characters.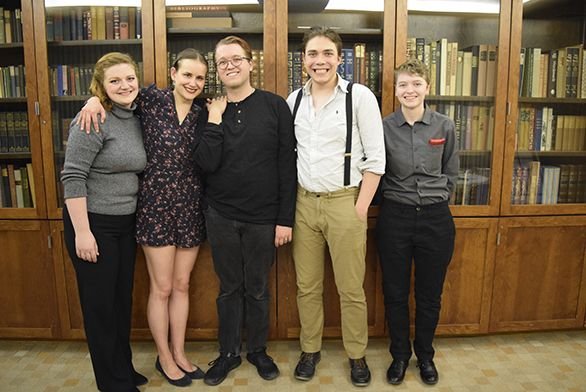 "For me at least, the interesting thing with this triangular dynamic, it goes off of pleasure and pain which comes up so frequently especially in freshman and sophomore years (at the college)," Peterson said. "Yes, they're all torturers for each other, but they all need something from each other too. Estelle needs a man's gaze, Ines wants Estelle to fall in love with her, and Garcin needs Ines' affirmation that he's not a coward. All of the characters, as much as they don't actually accept it, rely on each other, and it makes for such an interesting dynamic throughout."
On the role of theatre in St. John's, Peterson said, "We could have a seminar on No Exit, for sure. It would turn into some philosophical debates by analyzing characters, and that's great. But it's not the same reaction as when you see somebody get spit in the face on stage, and hear the audience gasp. You can read that, but there's something very dynamic and visceral about watching it, and that takes away the degrees of separation from that text by seeing it rather than reading it. In that case, whether it is a Program book like Shakespeare or not, theatre is a different way to engage with the ideas."
Axer has expressed a strong interest in acting in more plays on campus. Peterson hopes to direct a play in the future and recruit more actors from the "artistically talented" St. John's student population.
Axer, Peterson, and the rest of the cast and crew are part of Chrysostomos, the student-run drama club on the Santa Fe campus, which directed and performed the play. Their production of the Shakespearean play A Midsummer Night's Dream last semester marked the revival of the club from a three-year hiatus.
The King William Players student theater group in Annapolis put on No Exit last fall. This spring, the group performed John by Annie Baker and The President by Ferenc Molnar.