August 17, 2018 | By Kimberly Uslin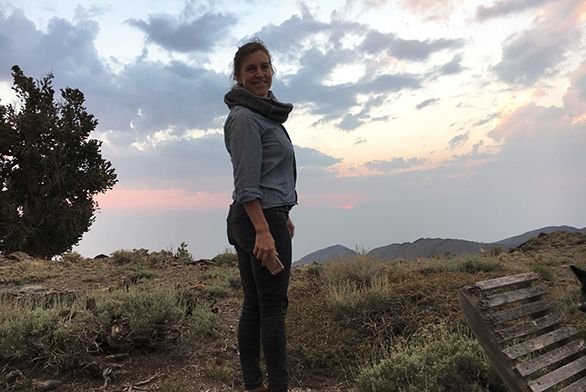 "I think physical work and intellectual work really complement each other," says tutor Sarah Stickney (A04). "In order to live the best type of human life, we should be as alive as possible in both the body and the mind. It takes practice to learn how to be present in that full self."
She's speaking from a landline on the campus of Deep Springs College, where she'll spend the 2018-19 academic year as a visiting professor (and where there is no cell reception). Situated on a cattle ranch in its eponymous California valley, Deep Springs is one of the most remote colleges in the United States.
Though the students are required to do several hours of labor daily to maintain the campus, Stickney's pursuit of physical work is a voluntary effort to achieve that mind-body unity. She has been involved in everything from gardening to helping out at a chicken slaughter ("which I certainly would not have done otherwise," she adds), and when the cattle return to campus for the fall semester—they go into the mountains over the summer, where it's cooler—she hopes to learn more about the business of ranching.
Stickney was first introduced to the school last summer, when poet Katie Peterson invited her to teach with her in the summer seminar. The college, however, has long associations with St. John's—its president, David Neidorf, is an alumnus (SF80). His father, Robert, was a beloved former tutor and dean on the Santa Fe campus, and his daughter is a current Santa Fe Johnnie. Several SJC alumni have taught at Deep Springs in the past, too; and this year, tutor Linda Wiener will also be serving as a visiting professor in biology.
Though Stickney (like all tutors) teaches "everything" at St. John's, she will focus on literature while at Deep Springs. This semester's classes are "Shakespeare and the Family" and "The Contemporary Short Story," both of which were voted upon by the Deep Springs students from a list of possible courses.
"They [the students] make most of the big choices," she says. "The faculty sit on the committees as equals with the students."
This parity is less of a foreign concept to Stickney as a St. John's tutor than it may be to another professor. In fact, she says the two colleges share some philosophical similarities.
"I think in both places, the faculty really works to undo the usual structure of authority," she says. "Both places are seminar-based, the learning is student-driven, and both still believe in books and learning, which is increasingly rare."
Deep Springs students take a pledge of isolation, and while this is again not required of the faculty, Stickney plans to take advantage of her year of pared-down existence. As a poet and translator, she says the distance from technology and rich natural surroundings significantly impact her work.
"I think of it as a great relief," she says. "I concentrate better as a reader and get more work done as a writer."
Interestingly, Stickney's stay happens to be concurrent with a massive moment in Deep Springs history. For the first time since its founding, the college is allowing women to enroll (a process that first began in 2011 and has been a source of both enduring tension and an intense legal battle).
"It does change things," she says. "For one thing, I think it makes the classes better. Everyone has different opinions about the meaning of gender, but I think it's certainly true that socialized gender does exist, so I think the different experience of women really enriches classroom discussion."
From experiencing this monumental cultural shift to realizing her own cattle-wrangling ambitions, Stickney hopes to bring some of the life lessons she learns in the valley back to St. John's when she returns next fall.
"Working in any serious community helps make a person a better community member," she says. "That's one of those things I'm always working on."