Tutors Talk Books: Mr. Franks on "Ulysses"
March 17, 2019 | By Anne Kniggendorf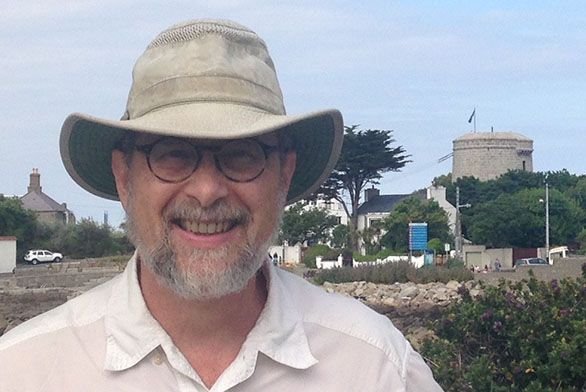 Tutor Grant Franks (A77) put James Joyce's Ulysses on his to-read list while he was still in high school in the 1970s. Thirty years passed before he read it well enough to enjoy it. When he did, he really laughed.
"I had looked at it and said, 'Oh, what a task, what a burden,'" Franks says. "But working with others, suddenly it lit up, and I thought: Wait a minute, this fellow is having fun. There are jokes in here. There is hysterical humor in here. It's comical in a way that I had just never tumbled to before."
For four years, Franks has led a year-long weekly discussion of Ulysses on St. John's College's Santa Fe campus on Tuesdays at lunchtime. (Incidentally, he's been part of a much slower Saturday morning group that only reads one to three pages a week since 2011.) He and his wife, tutor Martha Franks (SF78, EC17), have read the book together in a group setting as many as nine times, and the reactions have become familiar.
"It's been our experience in groups we've been in that people will get together and come in with this kind of troubled brow and downward-cast glance and [say], 'What was going on? I don't know what was going on,'" Franks says. "When people come together to read the book, they don't just share their frustration. They get help from one another."
Readers are often thrown off by the many changes in voice and the dozens of references to geography, literary allusion, pop culture, and popular songs of the day. Because a sub-world of Joyce enthusiasts have carefully annotated the references, however, they're now widely accessible via iPhone during class.
As for the changes in voice, Franks says that it seems that the point of view changes from chapter-to-chapter in the second half of the book, but that has helped him appreciate how every voice in every book (not just in Ulysses) is really the presentation of a different world.
"It forced me to understand that stories are not transparent vehicles for seeing activities," he says. "The presentation itself is a story."
The novel, of course, bears little resemblance to a typical 19th-century narrative written by Dickens or Tolstoy, or even to earlier Joyce works "The Dead" and Portrait of the Artist as a Young Man. The former is on the Santa Fe reading list, but Franks says Ulysses is "several orders of magnitude greater" than the Joyce readings St. John's has included in the past.
"What Ulysses does is really different in kind," he says. "The character of Leopold Bloom is not a self-indulgent picture of the artist thinking about himself. The character of Leopold Bloom is Irish, but he's an outsider to Ireland. He's Jewish, but not really Jewish, his ancestors are Jewish. He's not a literary personage in the sense that Stephen was. Leopold is Joyce thinking about something else altogether."
Ulysses, Franks explains, gives its readers something new each time, builds on other texts (the Odyssey and Hamlet, namely), and gives rise to universal questions.
"What does it mean for the story of Odysseus to be lurking around in someplace which really is the pinnacle of banality—1904 Dublin? Dublin has no claim to be the world's historical place of literature," Franks says. "These characters in this day present the reader an opportunity to think about exactly that: How does a person's life arise out of the spectrum of stories that inhabit his past?"
After many years of teaching and studying the book (which will continue this summer in a Summer Classics group), he probably has a better idea than most—but Franks plans to keep searching for answers.