Annual Memorial Lecture Honors GI Alumnus and College Relationship to the Military
March 13, 2019 | By Kimberly Uslin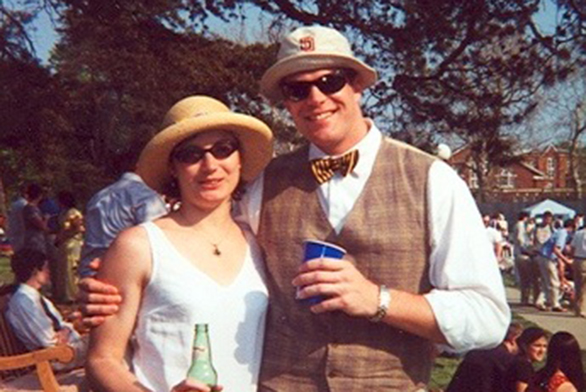 In 2010, Michael Zampella (A92) was preparing to mobilize to Iraq with SEAL Team Five when he noticed a plaque on the office wall—a memorial to Erik Kristensen (AGI00), who had been killed in the line of duty in 2005.
"I couldn't believe [the plaque] said St. John's," recalls Zampella. "I knew he had graduated from the Naval Academy, but he had also attended the Graduate Institute."
Kristensen was well-known among Navy SEALs, as he had been part of Operation Red Wings, a fatal 2005 SEAL Team Ten mission that later inspired the book and film Lone Survivor. His dedication inspired Zampella, and that fact that Kristensen, too, was a St. John's grad compelled him to take action.
"Most of the officers in SEAL Teams are [Naval] Academy grads, and when we got back from Iraq, we said, 'Why haven't we done something? We should do something about this,'" Zampella remembers. Through a Navy connection, he met with Kristensen's parents and proposed a lecture series in Erik's honor. They were supportive, and the first-annual Erik S. Kristensen Memorial Lecture was held at St. John's in 2013.
"Erik's story is a great story of selflessness," says Zampella. "I've talked to a lot of people who knew him well and went to school with him at various stages, and he was always known throughout his life as the guy who was helping someone else out. This helps keep his memory alive, in all his particularities."
Since 2013, the series has grown and evolved. It is co-sponsored by St. John's and the Naval Academy, though former President Christopher Nelson (SF70) fully embraced the lecture and asked that it be held annually at St. John's, where it was officially incorporated into the Friday night Formal Lecture Series in 2018. Now held the Friday before the annual Annapolis Cup, it is considered an integral part of the community-building weekend between the institutions.
"Erik taught in the English department while he was [enrolled] in the Graduate Institute, so we've always had a good contingent from the Academy," says Zampella. "It's an opportunity to bring the two communities together in memory of Erik."
The lectures always focus on issues of strategy, history, or national security, a subject matter that "both groups can find interest in," Zampella says. Past events have spanned topics such as civil-military relations, great works of military or naval history or literary works depicting military or naval figures and events, the vital importance of naval and military power for our nation in peacetime and in war, and the role of the liberal arts in professional military education.
This year, the lecture will be delivered by historian Andrew Bacevich, Professor Emeritus of International Relations and History at the Boston University Frederick S. Pardee School of Global Studies and retired U.S. Army officer. The title of his talk is "Age of Illusions: America After the Cold War."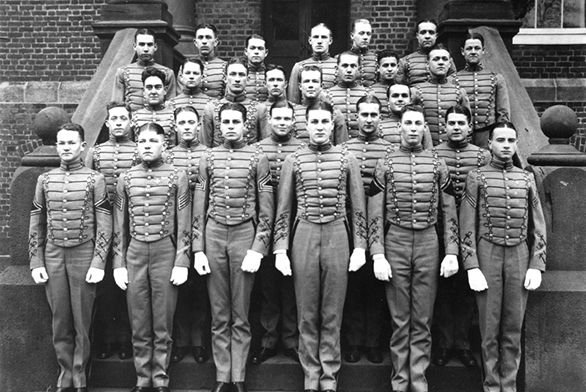 Lectures like these, says Zampella, help to underscore St. John's longstanding connection to the military. The college was a military school for much of the late-19th and early-20th centuries, and after compulsory military training ceased in 1923, it became the site of the United States' first Naval ROTC program. Even after the ROTC program ended in 1926, the Program as it currently stands had a military influence.
"A lot of people don't realize that the Great Books education started because of a reaction to World War I," he explains. "The government thought that the soldiers didn't have an understanding of the principles of Western culture to underlie their actions, and there was a sense that there was a crisis that needed this education."
The Great Books curriculum, then, began at the American University in Beaune, France as a way for soldiers to build an understanding of the foundations of Western thought. It later moved to Columbia University, the University of Chicago, and the University of Virginia before its adoption by Scott Buchanan and Stringfellow Barr at St. John's.
Though the motivations for the education may be different now, Zampella argues that it is still necessary.
"There's maybe not still the same crisis, but there's the same need," he says. "Anyone who wants to be an involved and interested citizen should get this education."
The 2019 Erik Kristensen Memorial Lecture will take place Friday, April 26 at 8 p.m. in the FSK Auditorium on the Annapolis campus. It is supported in large part by the Navy SEAL Foundation, Inc., Eye-Street Kristensen Klassic, and the Navy SEAL Family Foundation.