A Welcome Banner for First-Gen Students
March 15, 2021 | By Eve Tolpa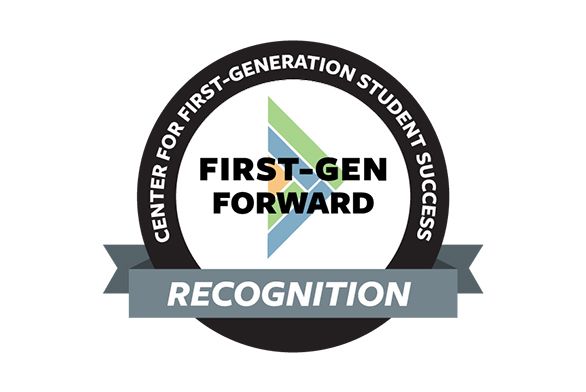 "A welcome banner." That's how Santa Fe Student Support Coordinator Nanette Phillips characterizes the First-gen Forward designation recently awarded to St. John's College in Santa Fe. First-gen Forward recognizes institutions nationwide that show a commitment to improving college experiences and academic outcomes for first-generation students, and St. John's is the first institution in New Mexico to be given the designation.
Phillips is responsible for spearheading the college's acceptance and participation in the program. It was in December 2020 that the Center for First-generation Student Success—an initiative of the National Association of Student Personnel Administrators (NASPA) and the Suder Foundation—invited her to apply for the designation on behalf of the college. She promptly completed it with the help of colleagues from various departments.
Now, as one of the 157 First-gen Forward designees—a group that includes Carnegie Mellon, Emory, and Wellesley, to name just a few—St. John's has access to the Center for First-generation Student Success's research and resources, including established best practices, professional development, and community-building tools. Phillips estimates that roughly 12 percent of Johnnie undergraduates belong to the program's relevant demographic.
"For an institution of [our] size, it's significant that we have designated resources and personnel and employed evidence-based practices that specifically further first-gen persistence. Historically, public schools have tended to serve larger populations of first-gen students," she says, adding that private schools are often perceived as financially and culturally inaccessible by comparison. "It's extremely important for first-gen students to know that they are going to be supported in their unique needs."
Founded in 2017, First-gen Forward is the nation's first program to recognize institutions dedicated to the continued success of first-generation college students, and the First-gen Forward designation, Phillips says, is a big draw for prospective Johnnies who "will be looking for evidence that indicates that a school has resources specific to their needs."
College staffers are receiving support of their own. In June, First-gen Forward is hosting a workshop for which Phillips has been pulling together a campus-wide team of five staff members to attend—and serve as ongoing representatives. "[First-gen Forward] only requires two, but it felt important to me to have as much cross-institutional representation of the school as possible," she says.
Among them is Caroline Randall, director of admissions, who is the college's First-gen Forward leadership liaison. Also slated to attend are Director of Student Life Cesar Cervantes and Assistant Director of Admissions for Diversity Recruitment Dwayne Okpaise, plus a yet-to-be-determined faculty member.
Okpaise joined the college's admissions department in February, and under his guidance, Phillips says, "prospective students will see more resources and parent communication about the first-gen experience at St. John's [and] more of an intent to reach out specifically to them."
Some of that work has already begun. A case in point is summer 2020, when St. John's launched the inaugural Pritzker Promise Bridge Program to "normalize challenges at college and engender a sense of belonging both academically and socially" for incoming first-gen, international, and low-income students. Funded by a grant from The Jay Pritzker Foundation in connection with Board of Visitors and Governors member Karen Pritzker, the program helps Johnnies hone academic skills and study habits while providing them with strategies, guidance, and opportunities to build relationships with peers and faculty.
The First-gen Forward programming requires its members not only to engage in ongoing development, but to continue strengthening their existing support structures—a category that includes Phillips' job. "It's donor-funded and explicitly supports first-generation and international students," she explains. "The thing about the first-gen population is that it's so intersectional. The first-gen demographic tends to be incredibly diverse in terms of background. My position serves those students."
After two years, St. John's will be eligible to apply for First-gen Forward advisory status, which would allow it to offer support to other colleges and universities in the state and region. With her commitment to solidifying and expanding the college's programming, Phillips intends to do exactly that. "We'd love to develop our institutional practices to the extent where we can serve as an advisor to other institutions," she says, "particularly in the Southwest."