July 25, 2019 | By Kimberly Uslin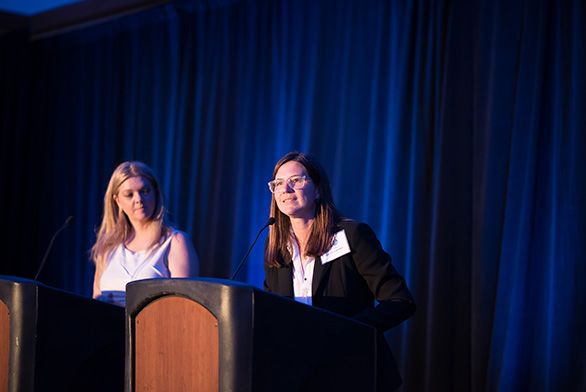 When Carol Carpenter, Vice President of Communications and Creative Strategy at St. John's College, took the stage at the Top 100 Companies of New Mexico event in Albuquerque on June 27, she acknowledged something not often admitted by St. John's: not everyone has heard of the college.
"In case you are one of those people, we're just up the road in Santa Fe, where 400 exceptionally intelligent students study 3,000 years of human thought across seven disciplines … in just four years," she said. "Our all-required curriculum requires students to translate ancient Greek and understand why E=mc2. Forbes magazine calls us 'The Most Rigorous College in America.' Quartz magazine says we are the 'most forward-thinking, future-proof college in America.' Why? Because we are developing minds that just might be able to outthink the machines."
It's this last point, Carpenter says, that makes St. John's College graduates so valuable to the workforce—and that people like the CEOs, presidents, and VPs at the event would directly benefit from understanding. It's what she and the Office of Personal and Professional Development(OPPD) in Santa Fe call the "'Why?' Advantage"—the Johnnie's unique capacity to question.
"A good employee masters procedures quickly, asking 'What do we do, and how do we do it?'" explains a postcard created by OPPD. "But a great employee also examines assumptions, asking 'Why do we do it, and can we do it better?'"
Events like the Top 100 gala are an important part of a new strategy to increase the visibility of St. John's to employers in New Mexico and beyond, with the ultimate goal of investing in the future of Johnnie alumni and highlighting their distinctive strengths. One of the celebrated business leaders at the event, in fact, was himself a St. John's graduate—Lee Munson (SF97) of Portfolio Wealth Advisors.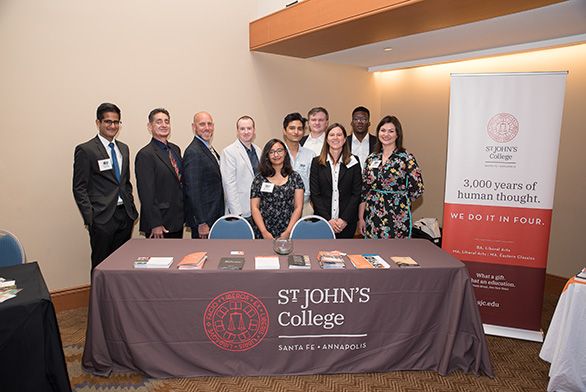 Though the celebration was for private companies, Carpenter underlined her point about the hireability of St. John's alumni by sharing feedback from one of the state's largest government operations, Los Alamos National Laboratory: "Los Alamos National Labs' Richard Van de Water hires Johnnies because, in his words, 'Most science education is about nuts and bolts. But Johnnies are taught to think critically about the how, what, and why—which is the underlying basis of science. This is how truly great breakthroughs are made.'"
She shared, too, the story of the Chief Investment Officer for the state's largest pension fund visiting the OPPD in search of Johnnies to hire for their independent thinking skills.
"Our first student is interning with him this summer," she said. "He's paired him with a star tech student from New Mexico Tech, and believes that together the two will be an unstoppable powerhouse. We'd love to make more great matches like this. We'd love to have reasons to keep our graduates in the state, and we'd love to help our state's business community thrive."
To learn more about the "'Why?' Advantage" and job opportunities for Johnnies in New Mexico and beyond, visit the OPPD page or its Annapolis campus equivalent, Career Services.