Meet the Johnnies: Nani Detti (SF20)
July 26, 2019 | By Kimberly Uslin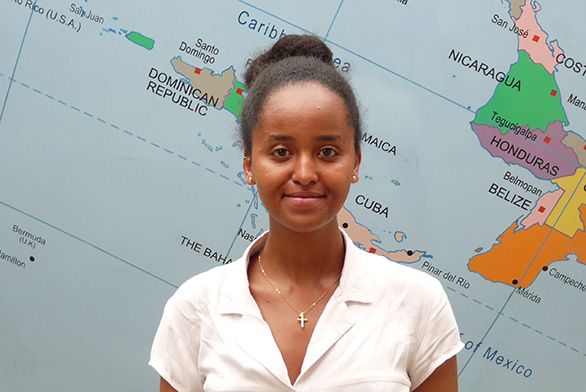 Nani Detti (SF20) is a rising senior and the recipient of both a Projects for Peace grant from the Davis Foundation and a Global Pathways scholarship from St. John's College.
Why did you decide to attend St. John's?
I'm from Ethiopia originally and was born and raised there, but I completed high school in Toronto, Canada at an all-girls boarding school. After I finished high school, I really wasn't sure what I wanted to study. I had applied to a bunch of schools in Canada and the U.S., but after I was given an offer, I was still unsure whether going to a school where I was expected to have a major in a specific field was the best for me.
I was surfing online, and the one website that came up was Colleges that Change Lives. And I saw that St. John's was still accepting applications, so I checked it out, and the first thing that attracted me was the reading list. I love books, and English is my third language—I learned English by reading books. I saw how the school was structured, and [thought] 'This is different, and kind of crazy, and I want to try and experience it.' I called Admissions, and they explained to me how, compared to other schools, I didn't need to have decided what I'm planning to do with my life or have a specific major, and that was pretty nontraditional and really attractive to me.
What led you to the Santa Fe campus?
To be honest, I just picked one. I didn't have a preference at the time [between Santa Fe and Annapolis], but now I'm happy I decided on Santa Fe because it's a lot like Ethiopia in terms of the weather and the mountains, and the people are pretty laid-back. It just reminds me of home.
Tell us about the Projects for Peace grant that you received.
Projects for Peace is funding that's available from Catherine Davis, of the Davis family that funds UWC [United World Colleges]. Catherine Davis, on her hundredth birthday, decided to have this initiative of funding 100 schools, and each school would be given an opportunity to submit a proposal that has to do with peace. So we were asked a question like, "What does peace mean to us?" and how the project we're working on tries to address peace. You submit a proposal first through your school, and then a winning project is picked from the school—one project and one alternate. And then they submit it to the foundation, and if they love your idea, then you get $10,000 to do your project in the summer.
This year, I decided to work on a project that's focused on youth mentorship in Ethiopia. In my country, the youth unemployment rate is pretty high. Even the young people who go to university and graduate either have trouble finding jobs or other opportunities, or they might find a job but still be lacking different skills—say, communication or networking. So I decided to work on designing a website that basically matches youth with mentors. Let's say I'm an engineering student who wants to go into engineering or a field related to that but I need an internship or advice on job applications. Basically, what I do is create a profile on our site and enter all my details and then I say "I need mentorship in the following ways." Another mentor creates a profile that says "I'm an engineer, working at this place, and I have this many years of experience, and I can mentor students in these ways."
That's the main project we're working on, but on the side, we do have an initiative that focuses specifically on women and girls, because that's something I'm really passionate about. So still matching process, but especially for women and girls. And we are going to be partnering with organizations both within Ethiopia and the US to provide mentorship for girls on sexual and reproductive rights, financial literacy, how to write a business proposal, or anything like that.
You named your project The Misale Initiative. What is the significance of the name?
The word 'misale' basically means example or role model. We wanted a name to show people that you can be a role model to anyone, that you can be an example for others by giving back to your community. Mentorship is not about what you get out of it—though you might get something out of it, you might grow as a person and [find] the relationships you've made can teach you a lot—but basically you want people to be examples for others and take the first step by saying 'Here are the ways that I can help.'
The culture of working together is not a thing back home. In my country, if you say 'I need help,' people immediately think you need money, and so they're very hesitant to partner or work with you. I think we redefine what it means to help others by saying 'Actually, money isn't as important as sharing ideas and supporting people in their professional or even personal growth.'
While you're working on this project, you're also studying at the London School of Economics through the Global Pathways program. What are you pursuing there?
I'm doing two sessions. My first was a political theory course—the title was "Political Theory: Athens to Al Qaeda," and we basically studied thinkers from the ancient world up to the modern world, and their ideas for how to establish a political community. A lot of the things we studied in that course were similar to ones we study at St. John's. We did a lot of Plato, Aristotle, Machiavelli, Hobbes, and the Enlightenment era. This gave me an opportunity to individually study the thinkers I'm interested in, but then make connections across them. What I really loved about the course is that we always brought it back to the real world and tied it to a real-world example.
I'm currently doing an international politics course called "Building Democracies from Conflict." We basically try to understand why conflict arises, what methods we can use to resolve conflict, and whether or not they're effective. I'm from a country where ethnic violence is pretty high, and we're currently experiencing a lot of tensions, so I wanted to learn more about the ways we can resolve them, Of course, there isn't really a clear answer for this, but it is definitely a great course to take because it makes you question a lot and forces you to come up with ideas that you think might work.
Are the political theorists the authors from the St. John's Program that you have connected with the most?
Yes, most of the political texts we have read from thinkers like Hobbes and Machiavelli have been the most influential to me because of my interest in the field. It's been challenging because sometimes I do find their arguments or their theories questionable, but the fact that I can sit there and question these ideas and maybe find other ways to come up with an argument has been interesting to me. Also trying to apply those questions to the real world—for me, when we're asking questions like 'What is a democracy? How much power should we giving the sovereign or ruling party?' that's really important because everything that happens around us is dependent on these questions. These texts have definitely been influential, and I'm glad I got the chance this summer to dive more deeply into them.
What are your plans for the future?
I definitely want to do my master's in something like international development. Government is what I'm interested in. Eventually, I want to return home [to Ethiopia] and get involved with politics back home, but that's dependent on a lot of factors—whether or not we're going to have a stable government. Right now, there are a lot of tensions, and we have elections coming up, so we're not sure where the country is headed.
The reason I left home was to return someday. Projects for Peace has already allowed me to start working with communities at home, and I want to do more projects like that. It gives an opportunity to apply what is learned at St. John's. It doesn't really matter, at least to me, that we go to seminar and talk about virtue and justice and how to be a good citizen if we're not taking something away from those texts and trying to ask yourself how that applies to the real world.