Projects for Peace: Helping the Disabled in Nepal
March 22, 2017 | By Tim Pratt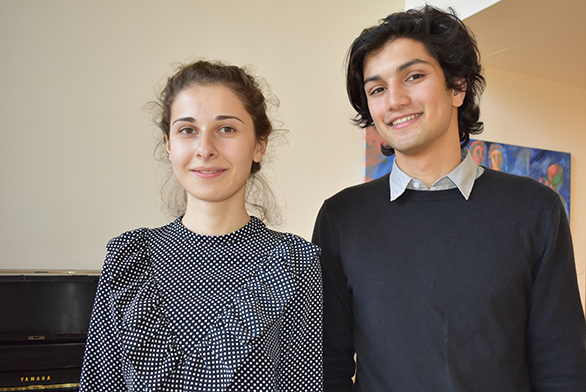 As Himanshu Thapa taught in his home country of Nepal last summer, he noticed something that disturbed him.
The St. John's College sophomore saw people with disabilities living on the streets. He also saw a need for additional resources for disabled children.
Now, Thapa and junior Nano Liklikadze are doing something about it.
The Johnnies recently were awarded a $10,000 Projects for Peace grant for an endeavor they call "Independent and Decent Life for the Disabled in Nepal."
The students are using the grant to fund construction of an addition to the Special Education and Rehabilitation Center for Disabled Children in Kathmandu. The funds also will be used to purchase physiotherapy equipment and electronics for the room. Doctors will be brought in to provide additional training for staff, too, which Thapa and Liklikadze hope will improve the quality of life for children living there.
"We are very excited to go there and do this," Liklikadze says, "but it's also becoming real. We have a lot of work to do."
For Thapa, the project will take him home to Nepal for the second summer in a row. In 2016, he taught at a school in Kathmandu as part of the Hodson Trust Internship Program. It was then that he noticed the struggles of the disabled.
When Thapa heard about Projects for Peace, a grant program that provides $10,000 to college students for projects all over the world, he spoke with Liklikadze, who had applied for a grant in 2016 for a project in her home country of Georgia. The Georgia project wasn't approved, but Liklikadze wasn't deterred from trying again.
The Johnnies made contact with the school in Kathmandu, reached out to builders and engineers, and worked with the hospital that will provide doctors for additional training.
On March 14, the Johnnies found out their grant proposal was approved.
"It's still dawning on me that we did get it," Thapa says with a smile.
Construction on the addition already has started. It's scheduled to be completed by May 31.
The pair also has secured donations of two laptops for the school, and additional fundraising efforts are underway. They hope to provide additional computers, a projector, a television and other items.
Thapa and Liklikadze are planning to travel to Nepal in June to help complete the project. For Liklikadze, it will be her first time there.
"I'm a little nervous, but it's also very exciting," she says.
St. John's has a long history with Projects for Peace, with students completing projects nearly every year since the program began in 2007.
In the summer of 2016, Johnnies Adna Arnaout and Claire Watts completed a project called "Supergirls of Zimbabwe," in which they traveled to Africa and gave young Zimbabwean women an opportunity to talk about issues related to reproductive health, sexuality and the social effects of gender inequality.
The projects completed by St. John's students over the past decade are the kind for which the program was designed.
Projects for Peace was created in 2007 through the generosity of Kathryn W. Davis, a philanthropist who died in 2013 at the age of 106. One-hundred projects are funded every year to promote peace throughout the world and address the root causes of conflict.
Anyone wishing to donate items to the latest St. John's project can contact Thapa at himanshu.thapa(at)sjc.edu.