Contemplating Cosmic Harmonies
March 23, 2017 | By Samantha Ardoin (SF16)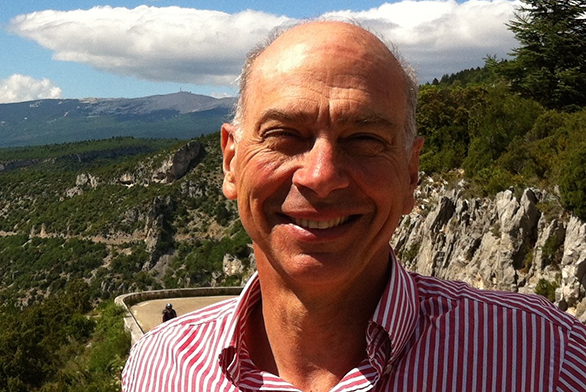 Peter Pesic dives into Beethoven, Schubert, and Chopin, his fingers gliding across the piano, the notes ringing out across the Santa Fe campus of St. John's College. Before him, in the Great Hall, sits a lunchtime crowd that includes students, faculty, staff, and Santa Feans who have trekked up the mountain.
This ritual repeats several times a semester — and has done so since 1984, when Pesic, a tutor emeritus, was named the campus's third musician-in-residence.
In this role, Pesic has nurtured his own understanding of music and that of the college. The informal concerts constitute an effort to make music more accessible to Johnnies.
Pesic wants students to wade into music they would not have otherwise heard, just as they do with the great books. He estimates that in the past 33 years, he has played at least 200 concerts on campus.
Ariel Winnick (SF11) fondly recalls accompanying Pesic on violin during performances of Beethoven and Schubert sonatas.
"In Mr. Pesic I found a dedication to music I had never experienced before," Winnick says. "It became a refuge and an outlet for me."
For Winnick, reading through a Beethoven sonata became a four-year master class in the form of a regular concert series.
Pesic enjoys having students join him in his ambitious endeavors. On several occasions he has also performed with the St. John's Small Chorus.
"Performance is the place where all the study comes together and the work comes alive," he says. "Suddenly, you have to be that work and bring it to life."
Performing long cycles of music has allowed him to deeply study the complete works of many master composers. To date, he has performed the complete sonatas of Mozart, Haydn, Beethoven, and Schubert, and the complete works of Debussy and Bach. Now, he's nearing the end of a cycle of Chopin.
"I've felt proud that we have sustained a project with a continuity of a central vision over decades," Pesic says, reflecting on the St. John's music program he helped develop and implement.
St. John's College is one of a handful of colleges, aside from conservatories, where all students study music. The three-semester music tutorial calls upon students to sing, play piano, compose and view music as an object of reflection through discussion and reading the master theorists.
Pesic's role as musician-in-residence can be fluid at times. While the concerts are his main responsibility, he also brings other musicians to campus and offers occasional lectures. Most recently, his lecture "Kepler and Music: The New Cosmic Polyphony" was presented at the college's first-ever Kepler Fest in March 2017.
Pesic values the way that St. John's goes beyond viewing music as expression.
"It approaches music as a kind of science; as a kind of dispassionate philosophic pursuit that is probably most accessible to people in Gregorian chant—where we encounter music which is not all about making you weep or laugh, but about transporting you into some kind of state of contemplating the cosmic harmonies," he says.
Pesic has seen the composition aspect of the Program serve as a turning point in students' musical studies, which he believes prepares them for a full life.
"The experience of having made a composition, however small, is the beginning of a person drawing themselves together and asking, 'What am I going to say? What am I going to do?'"
Outside of music, Pesic's passions and areas of expertise are many. He holds a doctorate in physics from Stanford University and is the director of St. John's Science Institute. He serves as the co-editor of the peer-reviewed journal >Physics in Perspective and is an associate in the physics department at Harvard University. These interests are explored in his upcoming book Polyphonic Minds: Music, Science, and Expression (MIT Press, 2017), in which he discusses the ways in which music has influenced scientific advancement.