March 24, 2017 | By Tim Pratt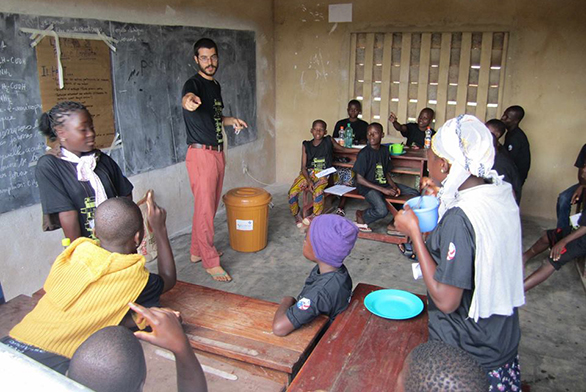 In the small West Africa country of Benin, Chazaq Llinas was experiencing a bit of a culture shock.
The St. John's College graduate had never left the United States. Suddenly, he was teaching in a village that had no running water and only recently acquired electricity.
Llinas, however, got comfortable immersing himself in the culture. He dined on local cuisine, stayed busy teaching English to local students and helped lead a number of extracurricular activities.
"I loved it," he says.
Llinas' time in Benin came to an end last summer when he completed his two-year deployment with the Peace Corps. Yet, his international travels weren't over. He's now teaching English in a suburb of Paris, France, and is looking to continue working overseas.
It's all part of a journey that began in Ocean City, Maryland, and continued through St. John's in Annapolis.
Early Years
Llinas grew up in Ocean City and wasn't particularly interested in attending college. He says he was often bored in high school and found it "pretty under-stimulating."
Llinas was familiar with St. John's, however, because he had family who lived in Annapolis. At one point, Llinas attended a weekend for prospective students and sat in on a seminar. That experience changed his outlook on college. The decision to attend St. John's came easily.
"I knew it instantly," he says.
Llinas arrived at St. John's in 2008 and lived an active life. Aside from his school work, he participated in intramural sports, served on the Student Committee on Instruction and was a member of the Film Club. He also performed in a few plays with the King William Players theater group.
Llinas took a year off partway through his time at St. John's to hike the Appalachian Trail, then graduated in 2013.
Llinas applied for the Peace Corps around the same time, and spent the next year in Baltimore. He was waiting for his Peace Corps application to get approved, and for all of his travel and work arrangements to be finalized.
In June 2014, Llinas left for Benin to serve as an English language volunteer.
Africa
Llinas' describes his arrival in Benin as "culture shock." He had ventured to an impoverished nation and was staying in a village that was 12 hours by bus from the capital city of Porto-Novo. While electricity was recently introduced to the village, the lack of running water and plumbing created "pretty intense conditions," he says.
"It was all very exciting and a little overwhelming," he says.
On top of that, Llinas was dealing with a language barrier. The country was colonized by France in the late 1800s, so most people spoke French. Llinas had taken French classes in the past, but wasn't fluent.
Llinas' primary objective was to work as an English professor in a secondary school. He worked there full-time, and did a lot of co-teaching and professional development. He also was a coach for the girls' soccer team and did extracurricular work, from camps and the National Spelling Bee to student internships and other activities.
One of the things that surprised Llinas about Benin was the popularity handball, a sport that holds a special place in the hearts of many Johnnies.
"My first encounter with handball was at St. John's with intramurals," he says. "It's also huge in West Africa."
The entire experience was eye-opening, Llinas says. He tried many local foods—a starch-based dish known as "fufu," often dipped in soup, for example—and got to travel a bit within the country. He also made a trip to Spain, where he, his father and grandfather traveled on El Camino Santiago—a pilgrimage route to the shrine of the apostle St. James.
After two years, Llinas time in West Africa came to an end and he returned to the United States.
"I made great friends," he says of his time in Benin, "and I feel like I did some good work."
The Next Chapter
When Llinas got home in June 2016, he began looking for his next challenge. His French had improved, so he applied to be a teaching assistant in France.
"In a sense, this was a way to kind of have a European year," he says.
Llinas is now teaching English in a suburb of Paris to students in 10th through 12th grades. He's also teaching students who have already graduated and are completing post-graduate technical training.
It's an interesting place to teach, Llinas says, as a majority of his students are first- or second-generation immigrants. His contract ends soon, however, and he will be leaving at the end of June.
Llinas hopes to continue teaching, preferably in an international setting. He's applying to graduate schools and teaching fellowship programs. He's also interviewing with Abaarso School of Science and Technology in Somaliland, a secondary school that regularly sends graduates to colleges in the United States: Harvard, Yale, Georgetown and Massachusetts Institute of Technology.
"These kids have a lot of odds going against them, but they're going to a lot of really competitive American programs," he says.
Llinas says his St. John's education has been helpful in his endeavors since he graduated. He recommends the Peace Corps and international teaching to other Johnnies. The opportunities are great for those with a St. John's degree, he says.
"A lot has been said about St. John's capacity to make you an articulate person, to ask good questions, but I think one of the things that is not much promoted is listening skills," he says. "I found that really important—to not speak, to really listen to someone and try to distill 'What is this person really thinking? What kind of perspective is this person coming from and how can I engage with them best?'"