Conservation in the Prairie
March 28, 2017 | By Tim Pratt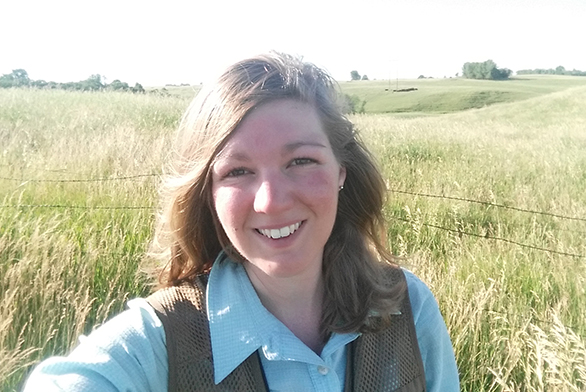 Growing up in Wisconsin, Julia Berggren Leone had an interest in bees.
The buzzing black and yellow insects are beautiful and unique, Leone says, and play a critical role as pollinators in the ecosystem.
Leone's interest in bees led to her first foray into research—a Hodson Trust Internship, completed as a student at St. John's College—where she studied bees and the effects of insecticides on them. Now, she is completing similar research in the prairies of Minnesota.
Leone (A12) recently was awarded a National Science Foundation Graduate Research Fellowship. The fellowship will fund her PhD research in conservation biology for the next three years at the University of Minnesota.
While Leone's internship involved bumblebees, her work now focuses on butterflies, from the effects of cattle grazing and controlled burning to examining what butterflies eat in the larval stage.
"There's a lot of freedom to explore," she says.
Leone says some of the skills she acquired at St. John's—the ability to read something and develop questions, for example—are now used in her research. She also uses her critical thinking and conversation skills to work through and analyze situations.
"That happens a lot at St. John's and has sort of made life easier," she says. "It really fits well into the whole scientific method."
Leone almost didn't attend St. John's, despite her many connections to the college. Her mother, grandfather and other family members, including Annapolis President Chris Nelson, who is her uncle, attended St. John's.
When it came time to consider colleges, however, Leone wasn't set on attending St. John's. It was during her prospective student visit, when she sat in on a math class, that she was sold.
"It was the best thing I had ever seen," she says. "It was really involved. All of the students had interesting things to say. It was how I wanted to do math."
Leone enjoyed her time at St. John's. She participated in intramural sports and played the piano, accompanying the Freshman Chorus, organizing Collegium and working with the King William Players theater group.
The summer before Leone's senior year, she completed a Hodson internship at the University of Minnesota, where she worked on the research project studying bumblebees and how insecticides affect their behavior, health and survivability.
After Leone graduated from St. John's, she was offered a job in the same lab where she interned. She worked for about a year on a follow-up research project on bumblebees and some of the effects of insecticides.
Leone then decided she wanted to go back to school. Because she was already working as a technician in the bumblebee lab at the University of Minnesota, she began speaking with faculty members there about other programs she found interesting. She ended up in a few labs—working with native pollinators, doing research in the Badlands of South Dakota—and decided on a graduate program in conservation sciences.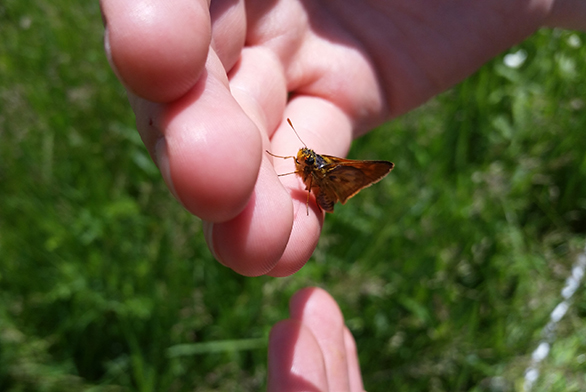 Leone is now focused on butterflies in the Minnesota tall grass prairies, one of the eastern edges of the Great Plains. What was once 18 million acres of prairies in Minnesota has been reduced to a small fraction of that, Leone says. She is researching the effect of current land management practices on butterfly communities.
"What's left are these pretty small prairie fragments," she says. "So we're trying to find out how does this affect the organisms that rely on that for habitat."
Butterflies play a critical role in the ecosystem, she says. They are sometimes thought of as the "canary in the coal mine," she says, as their health can be used as an indicator of overall ecosystem function.
"If you have a system, some species or animals won't be as effected by agriculture next door or pesticide use, but butterflies are very sensitive to those things," she says.
Along with using her critical thinking skills, the ability to tackle subjects with which she isn't familiar was honed at St. John's, she says. That has come in handy as she began to focus on butterflies.
"You can come out of St. John's and say 'I don't know anything about conservation or butterflies yet, but I know I can learn about it,'" she says. "You can sit down and work hard and learn things and contribute in a meaningful way, and I think that's really powerful."
Looking ahead, Leone sees herself working long-term in the conservation sciences field. She likes the application of the research she is doing.
"It really affects the way things are done on the ground, which isn't always the case in academia or research," she says. "I get to work with land managers, private land owners, and sample butterflies on their land. I really like that I can communicate what I'm finding out and have a conversation about how this could change management practices in the future, and help us take care of the land we have left in the prairie."