Wine Lover, Winemaker, Wine IPO: Zach Rasmuson (A95) on Life in Napa Valley
April 19, 2021 | By Les Poling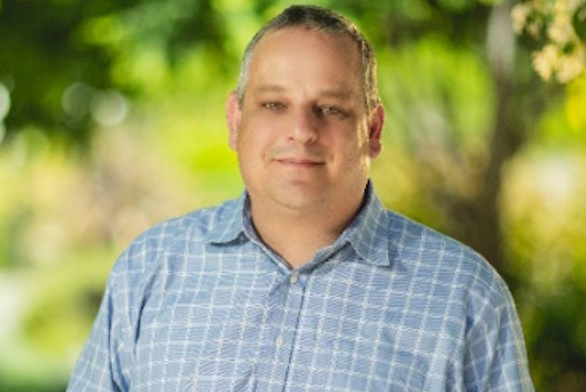 In the span of 25 years, St. John's Annapolis alum Zach Rasmuson (A95) went from amateur wine enthusiast to executive vice president and chief officer of operations at Duckhorn Wine Company, a Napa Valley mainstay since the 1970s that includes eight lauded wineries and 900 acres of vineyards. It's been quite a journey—but as it turns out, that's only the beginning. On March 11, Duckhorn breached a rare milestone in the wine world when it entered the stock market, marking the first initial public offering (IPO) from a Napa wine company in two decades.
"It's bizarre," Rasmuson says of the company's IPO. "To be picked up and dropped in Manhattan on the floor of the New York Stock Exchange after a year of seclusion—it's surreal."
Rasmuson's journey in the world of wine began during his senior year at St. John's. As a bartender at then-president Chris Nelson's house, he often found himself working the formal lecture series and other events, which usually included serving wine to guests. His other work-study job—in the Annapolis wood shop—was equally influential.
"I've always described myself as a kind of failed carpenter," he says. "I enjoy toil, I enjoy crafting things of beauty, but I was no good with the woodworking tools."
As he grew intrigued with the idea of a craft, he also started learning more about wine via a "study group" with Athletic Director Leo Pickens (A78) and tutor Abe Schoener (A82). Rasmuson specifically remembers an evening when the three Johnnies sampled two wines while watching a Spaghetti Western; for the first time, he recognized the unique character of each separate bottle.
"I think previously I had assumed that all wine was just wine. But to have two very distinct wines in front of you and then to have this idea of 'terroir' … [wine] became something that almost immediately I understood as unknowable—but the pursuit of trying to know it was exciting in itself," he recalls.
After graduating in 1995 with a nascent love for wine and a strong sense of curiosity, Rasmuson reached out to Warren Winiarski (Class of 1952)—founder of Napa Valley's legendary Stag Leap Wine Cellars—who he had met several times while bartending in Annapolis. Winiarski offered him a position as a harvest worker; Rasmuson accepted in a heartbeat. "I thought it would be worth an adventure to see if toiling to create something of a different type of beauty would be of interest for me."
From there, his career blossomed. As the California wine scene boomed throughout the 1990s, Rasmuson rode the wave, relying on a potent combination of hard work, talent, and serendipity. Autumn of 2001 saw Rasmuson's first vintage as a winemaker, a job he kept working for the next 10 years—the last nine of which he spent at Goldeneye in the Anderson Valley. During that decade he also took on larger projects as a general manager: for example, he designed and built a LEED Gold Certified Goldeneye winery and oversaw the development of an internal farming team. Then, in 2012, he took over as executive VP and COO at Duckhorn, a company in the midst of an extraordinary growth spurt. The job promised a vastly different set of responsibilities than that of a winemaker or even a general manager. But to Rasmuson, the move made sense.
"I asked myself if I was going to be content making wine for the next 25 years, or if I'd be more excited and challenged with this new world of building an operations team," he recalls. "I rolled the dice and jumped in."
Ten years later, that roll of the dice culminated in what Rasmuson calls the "surreal" experience of Duckhorn's IPO. According to Bloomberg, the Duckhorn Portfolio raised $300 million in its stock market debut, with early trades valuing the company at approximately $2 billion. It's a gratifying start to a new era for Rasmuson and the rest of the Duckhorn team. The company had been owned by two separate private equity firms since the mid-2000s; under private equity, he explains, employees (and management, to a degree) are subject to the whims of ownership. A winemaker, for example, could wake up one morning and find that their winery has been subject to a strategic acquisition by a company that no longer deems their position necessary.
But now, following the company's IPO, management "gets to run the company in the ways that we think are best for our shareholders, our families, our customers, and our employees," Rasmuson says. There are, of course, added responsibilities and pressures: as a publicly traded company, Duckhorn now has to answer to a broad shareholder base. But overall, Rasmuson notes, the possibilities far outweigh the challenges. "It's kind of a liberating feeling."
The responsibilities and opportunities of helping manage a publicly traded company likely never occurred to the 22-year-old who spent Annapolis nights tasting wine with Leo Pickens and Mr. Schoener. But throughout the last two and a half decades, Rasmuson has kept hold of the intrigue, wonder, and curiosity that originally inspired him to pursue winemaking as a vocation. "I can confirm that [wine] is unknowable. But it's not a helpless search for knowledge," he muses. "It's something that you can constantly engage with intellectually, and it's still toil. It still allows you to drink great wine and be proud that you've created something."
He continues: "If you pause for a second during bottling and watch all those bottles roll off the line, and think about how each one of those bottles has a destination—on a table for a celebration or a meal—it's humbling to know that your past and your toil gets carried into the world. It brings people happiness, and I can't speak to the impact, the pride, and the sense of commitment that gives you."