Annapolis Campus Bookstore
The campus bookstore stocks all books required for St. John's classes. Several translations and editions are available of most texts on the reading list, and the bookstore keeps a list of recommended editions and a compilation of book advice, opinions, and comparisons by St. John's tutors. If you have questions, the staff of current students and alumni is well-acquainted with the Program and will happily help you make the best purchase for you.
If you're not on campus or living in the area, feel free to call 410-626-2540 during the hours listed below, or contact us at annapolis.bookstore(at)sjc.edu. We're happy to ship your books to you (U.S. residents only).
Location and Contact Information
The campus bookstore is located in the basement of Humphreys Hall, across the lawn from the west entrance of the coffee shop in McDowell Hall.
Phone: 410-626-2540 | Email: annapolis.bookstore(at)sjc.edu
Hours
2023 Fall Semester
Monday–Friday, 10 a.m.–5 p.m.
Book Buying Tips
Plan to spend about $150 on books and supplies when you first arrive. Total books and supplies for the year will run from about $350 to $475 depending upon the editions you purchase and whether you buy all new items. You are welcome to use books you already have, although you should be aware that marginal or line numbers are useful, and it is best to avoid abridged versions. Additionally, our Greenfield Library owns multiple copies of all program books, and you may also be able to locate good used copies.
Students often inquire about buying texts at the start of the year but that involves making choices you aren't yet equipped to make. Your tutors may have preferences for specific editions or translations, and you're going to hear lots of opinions from other students. You will also develop your own tastes. The basic things you need to start with are: the Greek manual, Euclid's Elements, the freshman Lab Manual, the freshman chorus anthology, and a copy of Homer's Iliad.
The bookstore accepts cash, St. John's College 1Card, personal checks and VISA, MasterCard, or American Express credit cards.
If you want a book the bookstore does not have, you may order it at no extra charge. The bookstore offers sweatshirts, T-shirts, baseball caps, and other St. John's paraphernalia. School supplies like pads, pens, binders, and pencils—and even laundry detergent and some basic toiletries—are stocked and the store offers a fax service.
Diploma Frames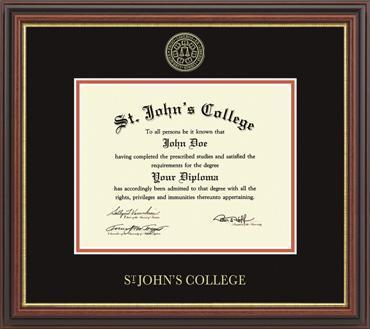 Diploma frames feature the St. John's College name and seal, gold-embossed on museum-quality matting, with hardwood molding. Design your own diploma frame and purchase online through our site at Church Hill Classics.
The Gallery Frame comes with a black mat, and molding crafted with a high-gloss, cherry lacquer, and gold inner lip. The Regency Gold Frame comes with a black and orange mat, and molding crafted with a mahogany furniture finish, and a gold inner lip. Current pricing and additional styles are available to view on the site linked above.