Annapolis Campus Celebrates Donors at Homecoming
October 1, 2018 | By Kimberly Uslin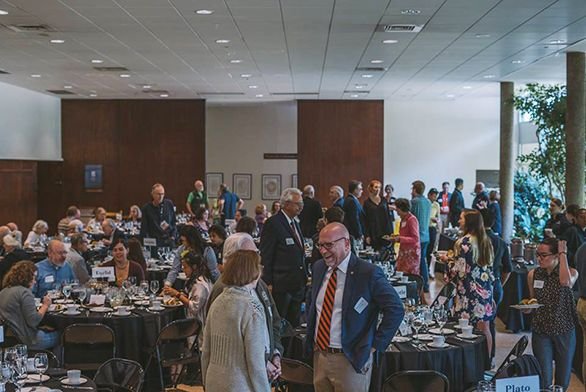 With the recent announcement of St. John's new philanthropy-based financial model, the annual Celebration of Philanthropy and Service Luncheon felt more important than ever. Held September 28 during the Annapolis campus' Homecoming weekend, the luncheon was an opportunity to connect donors, students, and friends of the college to both celebrate the year's successes and look forward to the future.
The event brought St. John's supporters from all walks of life together, who mingled as they enjoyed the lunch buffet.
Among the guests was Anna Greenberg, who is not herself an alumna but is inextricably linked to SJC.
"Being a native Annapolitan, St. John's has always been a big part of my life. My first date was with a St. John's student. I was involved in Caritas, then the Board of Visitors and Governors," she says. "My middle name could be St. John's."
Another supporter, Anton Wilson, is the son of Everett Wilson (A56), one of the first African American students at St. John's.
"My father instilled in me a fondness and a respect for St. John's and a sense that it should be treasured," he says.
Other donors on campus expressed dedication to particular aspects of the College. Madeleine Hughes (whose father was a student of Stringfellow Barr's at UVA), for example, is a volunteer at Mitchell Gallery.
"I love the arts and what Mitchell Gallery does," she says. "It's all very elegant, and it's run by such nice people."
The formal program of the luncheon began with a welcome from Kelly Brown, the vice president for advancement, followed by a humorous, heartfelt speech from student Cameron Byerly (A19).
"Your donations and philanthropy mean a lot to me and my fellow students," he said. "I love this place because it was there when I needed it. My tour guide at St. John's was a rather shy young man who explained what we learned here, and he talked to me, for what felt like the first time, as a student—as someone who wanted to learn. He spoke of Western foundations and thoughts and disagreements between great minds. I stopped worrying about juggling credits and majors and finding my niche because this entire campus seemed tailored to my fascinations."
He concluded with his own joke campaign (featuring a goal of $11 and three virtues, called 'What is virtue, and can it be bought?'), ending, more earnestly: "Thank you all for your support."
President Pano Kanelos then took the stage, sharing the story of the Freeing Minds campaign's origins and successes thus far, as well as Frank Bruni's New York Times article.
"We need St. John's more than ever," he concluded. "This is the place where civil discourse still lives. This is a place that frees minds and opens conversations … I see this every single day on our campus. We have students who come here from a variety of different backgrounds, with different faith commitments, beliefs, different identities, different hopes and dreams, and they all sit around the table and engage in a joint effort, exploring the life of the mind. It's an institution that is moving in exciting new directions, it's an institution that represents the highest aspirations for higher education in the United States, and it's an institution that thanks you deeply for the support that you have shown."
After Kanelos finished, attendees were once again able to chat, this time over coffee and dessert. Before the students had to leave for their 1 p.m. classes, they had a chance to thank donors directly.
Martha Campbell (A20) put it well: "It's nice to put faces to names," she said, "and to be shaking hands with the people who want us to get through college, to go out there and do what they're doing: putting more Johnnies in the world."