The Annapolis Cup's Comeback
May 1, 2023 | By Kirstin Fawcett 
At St. John's College in Annapolis, croquet isn't just a lawn game. It's an exercise in physics. A chance to show up the Naval Academy. A campus-wide party frequented by generations of alumni. An excuse to wear a giant hat. And above all, a time-honored tradition—one that's survived four decades and a historic pandemic. So, when a lightning storm interrupted this year's Annapolis Cup mid-match, the Johnnies did what they do best: they played on. (After waiting overnight for the skies to clear.) 
St. John's ultimately beat the midshipmen 3-2 once the game resumed the following afternoon on Sunday, April 16, to a small audience of students. Between their victory and the prior day's turnout of more than 2,500 attendees, the Annapolis Cup is officially back in business as a flagship event for the St. John's College community.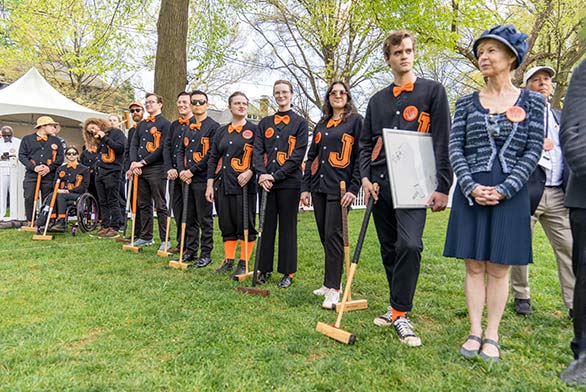 Croquet's return was especially meaningful for the Class of 2023, who began their time at St. John's shortly before COVID-19 transformed the world. The pandemic drove croquet into hiatus for two years—and the Cup itself landed in the middies' hands after 2022's scaled-down match on academy grounds resulted in a rare loss for the Johnnies. (Historically, St. John's has maintained a winning streak, with 31 wins in 39 matches.
 "The Cup is back home where it belongs," says Mia Kobylski (A23), who served as this year's Imperial Wicket, i.e., croquet captain. "The large majority of students were very supportive of the event, and it sets the right tone for this tradition to continue in the future."
Next year's Annapolis Cup in April 2024 will mark its 40th anniversary. While beloved today by Navy and Johnnies alike (not to mention the city of Annapolis), the cross-college competition initially began in April 1983 "as a joke," according to Adrian Trevisan (A84), who played in a lighthearted match against the middies that included around 100 guests and plenty of barbecue.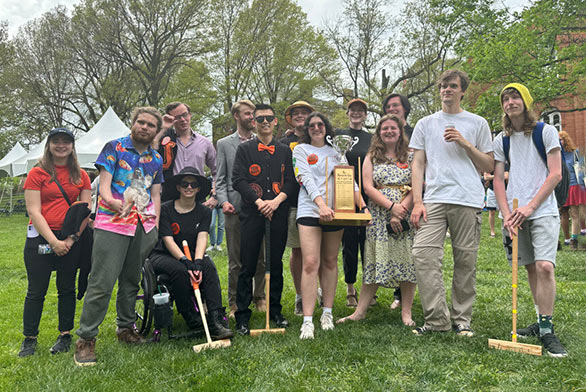 Trevisan and his teammates had unknowingly introduced the school to its favorite athletic pastime. Since then, Johnnies have played against the Naval Academy scores of times and competed in—and won—multiple United States Croquet Association National Championship games. Over the decades, various teams added their own twists to the sport, merging 9-wicket croquet with a version of American 6-wicket rules. Their default court is the front campus's unmanicured lawn, which provides an added challenge even with professional-grade gear.
 The Rusty Wickets, an alumni group comprising Johnnie graduates who played croquet, thinks that the sport pairs so well with St. John's academic program because it's "heavy on discourse and discussion, and those discussions continue on the greensward," according to an official Annapolis Cup history guide compiled in honor of the game's return. "With no time limit, some turns can last 20 minutes or more, allowing the other players sufficient time to read their books, discuss their labs, and compare translations in between turns."
 But above all, they conclude, the tradition endures "because of the friendships the team creates" among the Polity—a sentiment echoed by 2023's Johnnie student team.
Between preparing for his senior oral and juggling graduate school and job prospects, croquet player Tom Ni (A23) made time to squeeze croquet practice into a busy spring semester—and ended up playing in the 2023 Annapolis Cup's final and deciding match.
 "As a senior, for the first real Annapolis Cup in all four years to be also your last one, it is a very emotional experience," says Ni. "Everyone was watching, the pressure was on; but we delivered and brought home the Cup. I can't ask for a better ending."
 Couldn't make it to the Annapolis Cup 2023, or missed its deciding match? Check out some photos from the two-day event at sjc.edu/croquet.