St. John's College and Notre Dame of Maryland Partner to Address Teacher Shortage
Joint Master's-Level Teaching Certification provides opportunity to prepare new certified teachers in Maryland, New Mexico, and nationwide 
May 9, 2023 — The St. John's College Graduate Institute and Notre Dame of Maryland University today announced a new partnership: the Joint Master's-Level Teaching Certification.
This program will allow Graduate Institute students to earn a Liberal Arts Education Certificate through St. John's College and a Master of Arts in Teaching degree from Notre Dame in just two years of study, certifying them to teach in Maryland, New Mexico, and many other states. St. John's College President Nora Demleitner and Notre Dame President Marylou Yam, joined by Graduate Institute Dean Emily Langston, Notre Dame Provost Martha Walker, Notre Dame's School of Education Dean Kathryn Doherty, students, faculty, and staff, signed a memorandum of understanding, officially launching the program.
"This partnership just makes sense," says President Demleitner. "All classes at St. John's are conducted in the same way: by reading a 'great' text—one that continually elicits deep questioning about the human experience and our place in the world—and discussing it rigorously around a table. Our pedagogy creates great teachers because it exemplifies 'learning by doing:' everyone around the table acts as both teacher and learner simultaneously."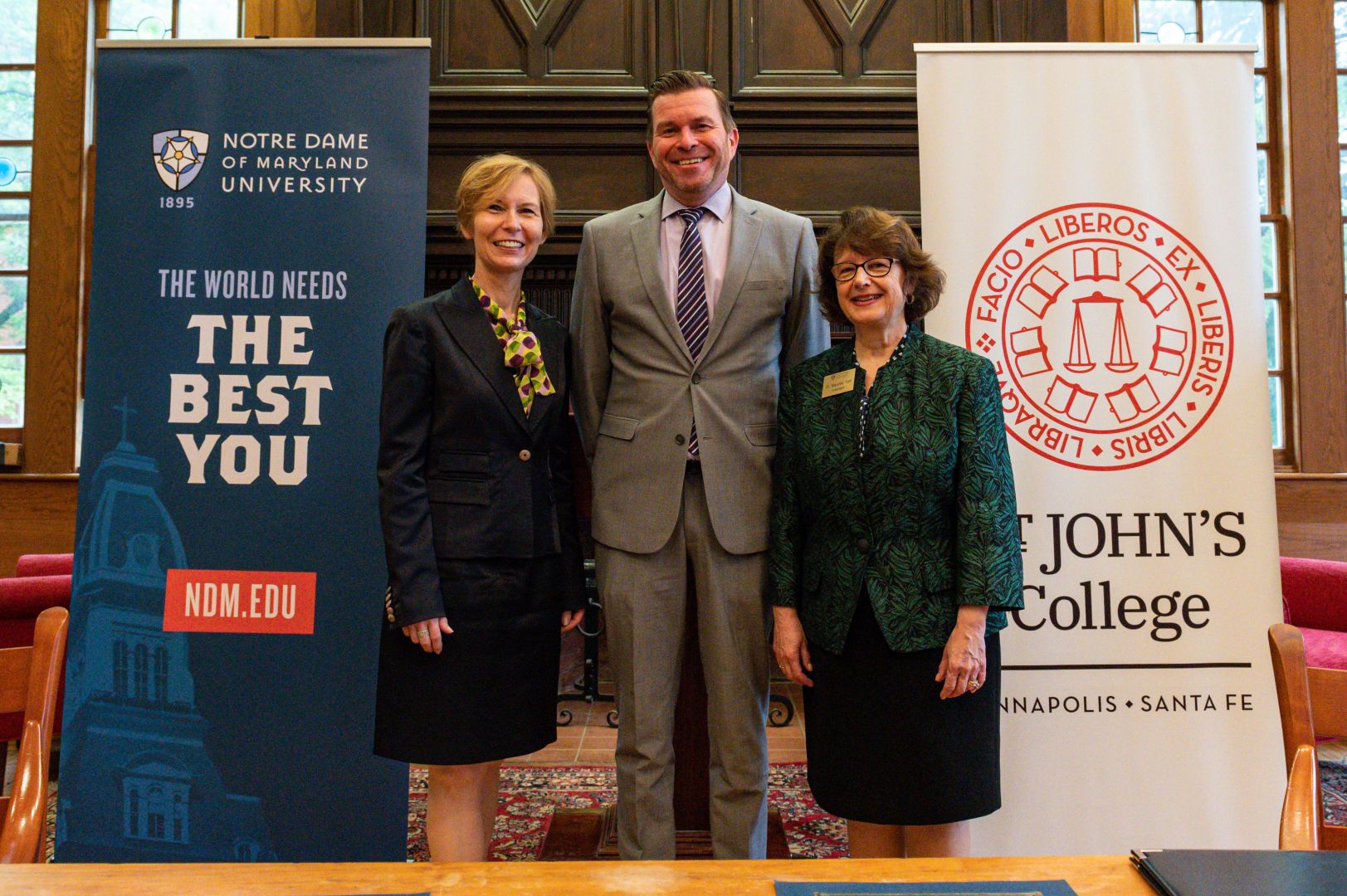 "Through this partnership, Notre Dame of Maryland University and St. John's College will prepare more certified teachers to fill critical positions in Maryland classrooms," says President Yam. "Notre Dame continues to play a leadership role in addressing the state's teacher shortage as one of Maryland's top providers of certified teachers and a top producer of Teachers of the Year. We are excited to expand our reach to prepare St. John's graduates for the opportunity to become highly qualified educators."
Students will take 18 credit hours of classes for the Liberal Arts Education Certificate, either in person at one of the St. John's College campuses located in Annapolis, Maryland, or Santa Fe, New Mexico, or online through the college's "low residency" program. Those credit hours will then be applied to Notre Dame's Master of Arts in Teaching (MAT), which can be completed online or in person at the University's Baltimore campus. Students will then be eligible to take a teaching exam in any state where they would like to have a teaching certification in accordance with the certification requirements of that state. Many graduates from Notre Dame's MAT program earn teacher certifications in two specialization areas, which increases their opportunities for meaningful employment. 
In addition to the Liberal Arts Education Certificate, the St. John's College Graduate Institute offers Master of Arts degrees in the liberal arts and in Eastern Classics. Courses may be completed over the summer or during convenient evening hours in the fall and spring. Applications are currently being accepted for the summer and fall terms of 2023, and spring 2024. For more details and to apply, visit sjc.edu/academic-programs/graduate.
Watch the press conference here. 
ABOUT ST. JOHN'S COLLEGE
St. John's College is one of the most distinctive colleges in the country due to its all-required Great Books curriculum. At St. John's, undergraduate and graduate students read more than 200 of the most important books across dozens of subjects and discuss those books with faculty in small, seminar-style classes. Located on two campuses in two historic state capitals—Annapolis, Maryland, and Santa Fe, New Mexico—St. John's is the third oldest college in the United States and has been hailed as the "most contrarian college in America" by The New York Times, the "most rigorous college in America" by Forbes, and the "most forward-thinking, future-proof college in America" by Quartz. Learn more at sjc.edu.
ABOUT NOTRE DAME OF MARYLAND UNIVERSITY 
Notre Dame of Maryland University (NDMU) is a private Catholic institution established in 1895 with the mission to educate leaders to transform the world. Grounded in the liberal arts and with a strong focus on career preparedness and success, NDMU challenges students to strive for intellectual and professional excellence, build inclusive communities, engage in service to others, and promote social responsibility. The University offers a wide variety of full- and part-time undergraduate, graduate, doctoral, and certificate programs and enrolls approximately 2,000 students. NDMU is located on a beautiful 58-acre wooded campus in the northern Baltimore residential neighborhood of Homeland. For more information, visit ndm.edu.