Eye-Opening Hodson Internship Gives Ray Matsumoto (A22) Opportunity to Research Japanese WWII History
Matsumoto parlayed his internship into a 10-month fellowship in which he confronted sensitive topics using research methods and skills of inquiry gained at St. John's College.
May 16, 2023 | By Eve Tolpa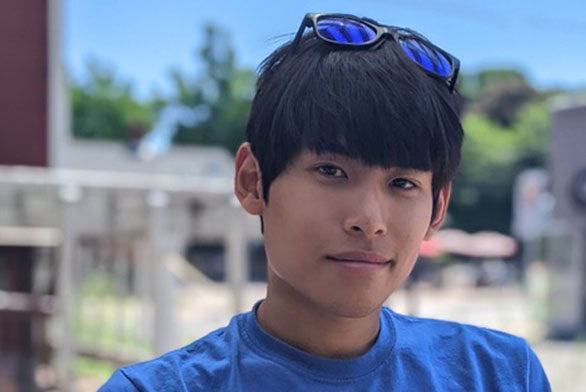 Recent graduate Ray Matsumoto (A22) parlayed a Hodson Trust Internship into a 10-month fellowship. In summer 2022, he started as a remote intern at the Pacific Atrocities Education, a San Francisco nonprofit focused on World War II-era Japanese history.
Matsumoto's interest in the organization's mission was intensely personal. "I am Japanese-born, and I've attended international schools my whole life," Matsumoto says. "Most people in Japanese schools don't learn about the atrocities [of] World War II, but I did in high school, and it was kind of an eye-opener."
When he got to St. John's, that interest deepened. He describes the college as "an environment where I got to think more about myself and my identity," adding, "I started to grow a different perspective on Japan, wanting to do something more about Japanese history, specifically about the atrocities."
It was through a happy accident of online searching that he became aware of Pacific Atrocities Education and its internship. Learning of its existence, Matsumoto said, was "a great shock, because it's very unique and kind of fitting for me."
Throughout his Hodson internship, Matsumoto was especially curious about the lives of Japanese soldiers in World War II, and he used primary and secondary texts in his research for a 102-page publication (available on Amazon) that he coauthored with McGill University history student Sofia Woo, called A Clash of Empires at Pearl Harbor: How Nanshin-ron, Japanese Nationalism and Militarism Exacerbated the Imperialization of Asia.
"I treated each text similarly to how I would for a class at St. John's," Matsumoto says. "Questions concerning cause and effect were most central in the process, [and] I would wait to read different texts to form a solid view of a historical event or figure."
Once his internship with Pacific Atrocities Education ended, Matsumoto asked if he could stay involved after graduation, and the organization created a paid position for him: the inaugural David D. Tsang Fellowship.
Based at home in Annapolis, Matsumoto worked on multiple projects for the organization. The first explored Japanese propaganda, and involved "research on various texts, mostly primary sources, which include a bunch of posters, leaflets, and whatever I can find online in certain archives," says Matsumoto.
The second entailed "going to the National Archives and helping my boss scan various documents on Japanese programs in history," he continues. Among them were American military reports and documents on Japanese psychological warfare; reports on the U.S. occupation of Japan regarding the purging and de-purging of Japanese political figures; and documents on Japanese oligarchs and the puppet state of Manchukuo, as well as memoirs by military and government officials. "We're trying to create our own digital archives for the public and for the interns," says Matsumoto.
The third project was perhaps the most significant, at least in terms of output. Matsumoto conducted extensive video interviews with Yoshiji and Kazuko Watanabe, a Japanese couple who, through their theater company Imagine 21, write and perform plays that bring to light atrocities of World War II. Their productions are based largely on the experiences of Yoshiji's father, a Japanese Imperial Army officer stationed in China and later sentenced as a war criminal.
Matsumoto lays out the themes of the Watanabes' three plays: "Reunion: Silence and Truth directly address the topics of Japanese settlers left behind in Manchuria and Watanabe Sr.'s war crimes," he explains in a blog post. "December in Hell: Nanjing Sorrow and Hitomi: The Eye Holds the Truth, although centered on the Nanjing Massacre and comfort women, respectively, still highlight officer Watanabe's story in the form of a 'confession.'"
Matsumoto traveled to Tokyo to speak with the couple in person, and the resulting three-part video series delved into issues of cultural denial, moral culpability, and the limits of redemption.
Here, again, Matsumoto employed skills he gained from his undergraduate education. "The biggest thing that St. John's offers is being able to ask questions," he says. "That was a big thing when interviewing Mr. and Mrs. Watanabe—trying to come up with the proper questions."
He helped the couple digitize and translate their plays into English, while assisting them with promotion as Imagine 21 prepares for upcoming Tokyo performances at Nakano Performing Arts Theater: December in Hell: Nanjing Sorrow, on July 5, and Hitomi: The Eye Holds the Truth, on July 13.
Though his fellowship with Pacific Atrocities Education ends on May 31, Matsumoto intends to volunteer with the organization afterward, before heading to Washington State University in the fall to earn a master's degree in history.