At St. John's, Safety Never Sleeps
November 23, 2016 | By Tim Pratt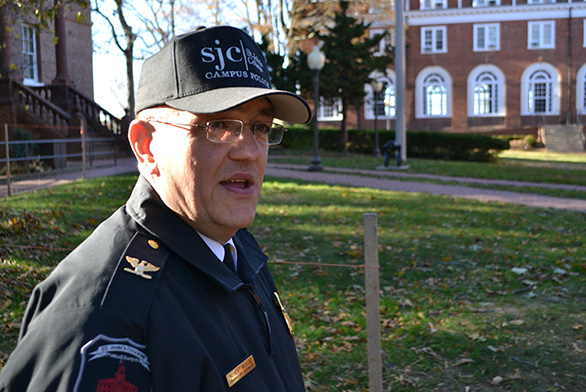 As Bob Mueck strolls around the campus of St. John's College in Annapolis, he greets a couple of passing students.
Minutes later, the director of the campus's Office of Public Safety shares a few words with some groundskeepers clearing leaves from the sidewalk.
It's a relaxing walk, aside from the howling wind, that the law enforcement veteran takes every day. But it serves a purpose.
Mueck and the rest of the Public Safety officers in Annapolis are tasked with keeping campus safe. The officers make their rounds through campus every day, checking the grounds and buildings, and maintaining order.
"It's a chance to get out and make sure everything is OK," Mueck says.
The Office of Public Safety has nearly a dozen officers. They come from a variety of backgrounds, from police departments to security companies to branches of the military. Mueck worked 29 years with the University of Maryland police force, then had a brief stint at George Washington University before coming to St. John's about a year ago. He said the Office of Public safety is very engaged with the St. John's community.
"I didn't know the students at Maryland nearly as much as I do here," Mueck says.
There also are drastically fewer incidents that require an officer's response, he says.
The officers on campus have arrest powers and carry batons, pepper spray and handcuffs. Mueck says they also undergo extensive training. If there are incidents on campus, the office will take reports and investigate. If the victim wants to file a report with Annapolis police, the office will help facilitate that, too.
Some of the work Public Safety does can be considered customer service, Mueck says. Officers may find themselves helping students who are locked out of buildings, or guiding visitors to a location on campus. They also do parking enforcement.
Sgt. Raymond Sawyer has worked in the Office of Public Safety for 11 years. Before that, he worked for a security company.
"I love the college atmosphere," he says. "I love the camaraderie. Being a public safety officer is a joy because you have the responsibility of making sure the students are in a safe environment."
The officers often develop positive relationships with faculty, staff and students, Sawyer says.
"The rapport we have with the students is great," he says.
Mueck and other St. John's staff, including the public safety director from the Santa Fe campus, recently attended a Department of Homeland Security conference in Chicago. They learned about emergency preparedness and other topics.
Mueck says the group also shared information on its practices with other colleges in attendance.
"We learned a few things and we taught a few things," he says.
The Public Safety Office operates 24 hours a day, seven days a week. Even though many students left campus for Thanksgiving break, Public Safety officers were still around.
"When everybody goes home, we're still working," Mueck says.