Coffee, Art and Conversation: Welcome to The Cave
November 18, 2016 | By Tim Pratt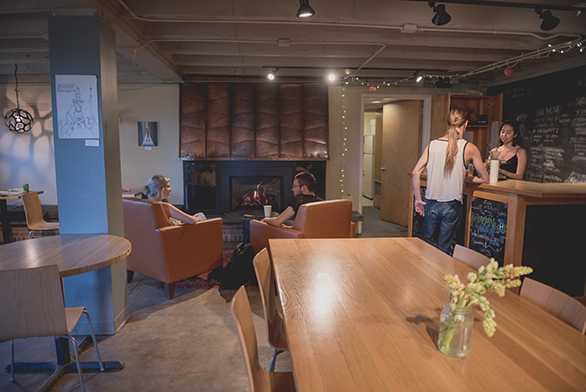 In a common room below the dining hall at St. John's College in Santa Fe is a place that has become a hub for student activity.
There are sandwiches, coffee and snacks, along with artwork, entertainment and comfortable furniture. The room even has a fireplace to help students keep cozy during the cold winter months.
Welcome to The Cave.
Since opening in October 2014—an effort spearheaded by A.J. Peters, Sarah Wiener and Mima Strong, all of whom have since graduated—The Cave has become a place to get coffee and food in the evening hours. More than that, it has become a place to read, relax, take in live music or a movie, and converse with fellow students and faculty.
It's run completely by student volunteers.
"Our theory was that if we created a space for students, run by students, that students took the initiative for, students would use it," says Wiener, who graduated in 2016 and now works in Denmark. "We were right."
The idea originated a few years earlier with Peters and Strong leading the charge. Then, Wiener got on board. While the school provided the furniture and money to overhaul the space, a senior class gift paid for a cash register, food, cups and other items. A core group of student managers runs the operation, along with more than two dozen student volunteers.
"It's all students working on a common project to make a shared space really enjoyable for each other," says Audrey Morf, one of the current managers.
Peters says he always had a romantic notion to open a coffeehouse similar to those back home in the Seattle area. He wanted it to be a place where students could study comfortably, but still be "open to a little distraction or socializing."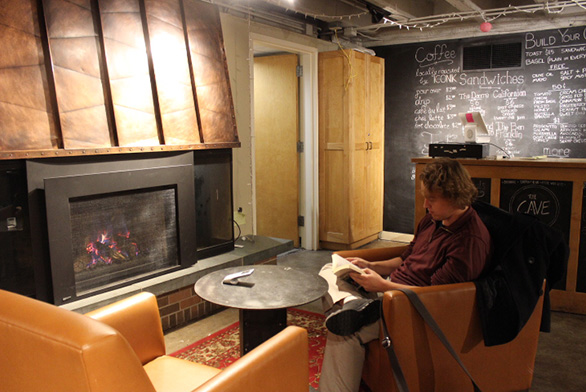 "As a distant aside, I liked the idea of students of a traditional liberal arts college building and running something entirely vocational," he says. "I wouldn't have said this at the time, but looking back on it, I wonder how much of the inspiration just came out of the desire to have a project."
Another reason the students wanted to open The Cave was to fill a void left when the dining hall closed in the evenings. Students had to rely on vending machines or pizza deliveries to satisfy their late-night cravings, Wiener says.
"A lot of people don't want to eat that kind of stuff," she says.
The Cave started out serving simple foods, like bagels and toast with various toppings: cheese, avocado, and tomato. Coffee was, and still is, purchased from a local roaster. The roaster trained the volunteers how to serve it. One volunteer started making granola and bringing it in for sale. Eventually, the shop got a Panini maker. A small oven also was purchased. The menu continued to expand.
Wiener likened the effort to a student bake sale. It isn't open to the public.
The Cave has continued to gain popularity in the two-plus years it has been open.
"We get a lot of students coming through," says Tymoor Husain, another current manager. "A majority of students on this campus come through at some point."
The Cave also has a rotating student art exhibit, and a curator to take care of it. There are open mic nights and musical performances, craft nights and parties. A movie projector has been set up in a side room to show films.
"I think it's a really valuable space," Husain says. "Students are working together to make something. It's a creative, collaborative experience."