Don Rags: A Lasting Impact
November 16, 2016 | By Tim Pratt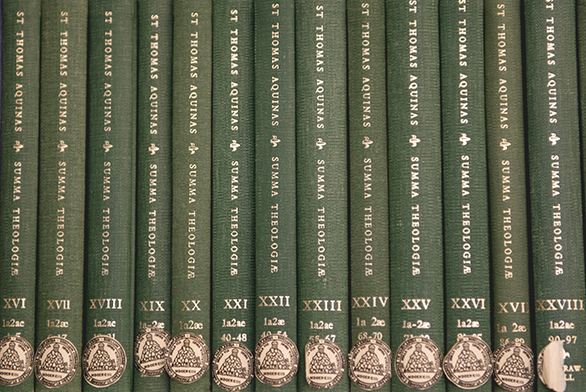 Joe Macfarland still remembers his first don rag.
It was the mid 1980s, and Macfarland—now the dean at St. John's College in Annapolis—was a freshman, studying the great books.
He recalls meeting with his tutors and feeling confident in the work he had done. The meeting was going well, he says. Then they told him he needed to work on his writing.
"I was shocked," he says with a smile, noting he received awards for his writing in high school. "But it was good for me. I had to step up my game."
The don rag evaluation process, which begins this week at St. John's in Santa Fe and Annapolis, is a tradition that dates back generations at the college. For those not familiar, it might seem like a novel concept.
Students meet with their tutors near the end of each semester of their freshman through junior years to receive an oral report on their progress.
Five tutors are in the room during the meeting, each reporting and talking with each other about the student's work—class participation, the quality of their papers and other aspects of their performance—while the student listens.
The don rag helps the student be aware of, and alert to, the strengths and weaknesses of their work, Macfarland says. Tutors try to provide advice and encouragement for the student to improve where necessary.
Since classes are community-based, a student's improvement benefits the college as a whole, says Santa Fe Dean Matt Davis.
"I do believe it's a very important practice for the college," Davis says. "It helps the individual student, but it also helps the whole community project in big ways. It's this critical piece of what we do here."
Aisha Shahbaz, a sophomore on the Annapolis campus, jokingly refers to the don rag as "judgment day."
"You kind of hype yourself up for the worst, but you get more out of it than what you would think," she says. "Most of it is good, constructive feedback. It's going to help you in one way or the other, positive and negative. It helps you either way."
St. John's Santa Fe sophomore Ashish Dhakal shares similar feelings about the experience. The idea of tutors talking about you in the third person was unnerving at first, Dhakal says. But the tutors were thoughtful and respectful.
"I think it is a sharp way to inform students where they stand academically, and perhaps the most effective as well," Dhakal says. "I always find myself encouraged and pushed to examine how far I can and must go to get the best out of the program, and I must confess, it is a good feeling."
Tutors also learn from the experience. Often, they will hear something from their fellow tutors about how a student is doing in other classes, which can help them better understand what the student is capable of and what they can ask of the student.
"We really want to know how the student is learning," Davis says. "We don't want to just give a number or a letter grade and that's it. We want to talk about how the student is doing and give helpful feedback, both positive and negative."
Don rags typically last about 15 minutes, sometimes longer. At the end, tutors invite the student to speak, though it's not required. The student can share how much time they are preparing for class or what sort of anxieties or worries they have, among other pieces of information.
"They might say something that gives me a new view into their situation," Macfarland says. "I think tutors in general prefer it when students speak up, but sometimes students get emotional, and we don't want the event to be too trying on them. If the student seems to be moved, trying to digest the information, or if the student doesn't want to speak, there's no compulsion to do so."
Macfarland and Davis, also a St. John's alum, know firsthand how much of an impact the experience can have on students.
"Now, when I think about how vividly I can remember my don rags, I know the things you say in a don rag really matter," Macfarland says. "Students take them in. If what's analogous to a don rag in another college or university is assigning a grade or writing comments on the back of a paper, there's no way either one of those can convey as vividly or precisely what the strengths and weaknesses of a student's work are. This is just a better way."
Shahbaz agrees.
"I think it's great," she says. "It pushes you in a way. They're telling you how to be a successful student, and not just a successful student, but a successful individual in the long-term."
Freshmen have their don rags before Thanksgiving. This gives them an opportunity to take in the information and put it to good use before the semester ends.
Juniors have a choice of a conference instead of a don rag, in which the student gives a report on their own progress.
"The idea being that instead of requiring someone else to provide the constructive criticism, you can do it yourself," Macfarland says. "It becomes a transitioning away from needing someone else to supervise your work, but holding yourself responsible for your work."
A report of the don rag is compiled and placed in the student's file at the college. Students are allowed to see the report if they choose.
The deans also have access to the reports and often reach out to students if they are struggling. They want the students to succeed.
"I had a student years ago who said he loved don rags," Macfarland says. "He wanted to have a don rag every year for the rest of his life. It's funny. Why did he feel that way? Because it was a little bit flattering to him that people he worked with were taking the time to stop and think about who he was and what he was doing well, and to talk to him about it."