November 16, 2016 | By Tim Pratt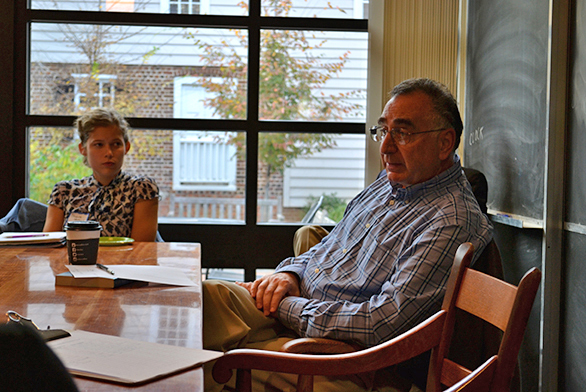 Some came because they want to become attorneys or politicians. Others, because they want to be teachers or lobbyists.
But all of them wanted to hear from two St. John's College alumni who went on to prominent careers in law.
The Development and Career Services offices in Annapolis hosted Mark and Linda Bernstein (A69) November 15 for a conversation with students about careers in law and government. About 10 percent of St. John's alumni go on to law careers, according to a recent survey.
Mark Bernstein worked as a public defender and in a private practice before he was elected judge in the Philadelphia Court of Common pleas in 1987. He retired earlier this year.
Linda Bernstein also started out in private practice, working with Community Legal Services of Philadelphia, a nonprofit organization that provides low-cost and pro-bono legal services to citizens in need, and advocates for the rights of at-risk communities. Eventually, she became an Administrative Law Judge at the Social Security Administration in Philadelphia.
More than a dozen students attended the event in the Jacob Klein Conversation Room in the Hodson House.
The ability to read, write and analyze complex topics—skills that are learned at St. John's—will help in law school and down the road, the Bernsteins say.
"Having a St. John's education, to me, was exceptionally valuable in my law career," Mark Bernstein says.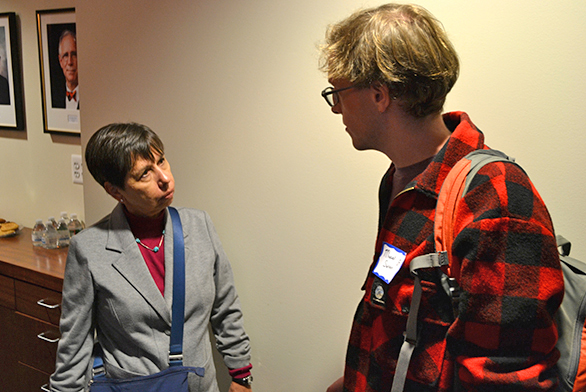 Much of the conversation centered on how law school, which many of the students are considering attending, would set them up for future success.
"A law degree will provide you access to many different careers," Linda Bernstein says, whether it's working as an attorney in the public or private sector, or jobs outside of the field of law.
Students shared their experiences, too, from internships at a public defender's office in Washington, D.C., to working with a lobbying firm.
Freshman Nolan McEleney, of Gaithersburg, Maryland, says he attended because he wanted to know if a law degree is something he wants to pursue after St. John's. Meeting the Bernsteins strengthened his resolve to do that.
"It's not just one straight-forward path," he says. "It's like St. John's. It can lead to a lot of different places."
Graduate Institute student Eric Newman says he is considering whether to pursue a PhD in political philosophy or law.
"I want to know what I'm getting into," he says. "The exposure I get from people who lived that life is very helpful."
Senior Kit Rees, of Sarasota, Florida, says the experience was valuable as she considers what steps to take after she graduates from St. John's—whether she should work a few years before law school, or dive right in. The Bernsteins say the experience Rees gets in the working world would help her in law school.
"It was definitely helpful to hear from people who are doing what I want to be doing," Rees says.
The Bernsteins look back fondly on their time at St. John's, where they met in 1965. Mark remembers Linda sliding down a handrail while balancing a drink on her head; Linda looks back on her time in Annapolis and wishes she had taken the time to learn to sail.
The couple attended at the same time as Chris Nelson, the Annapolis campus president who also had a career in law.
Jaime Dunn, director of Career Services, says the college tries to bring alumni back who are involved in a variety of career fields to share their experiences and give advice to students.
"I think it is helpful to see St. John's alums who have gone down these paths and how their degree is useful in these ways," she says.
The Career Services Office in Annapolis holds events for and with current students and alumni, providing resources and support for all aspects of the career and job search, from initial exploration through later career changes.