A Curriculum for the Community
November 30, 2016 | By Tim Pratt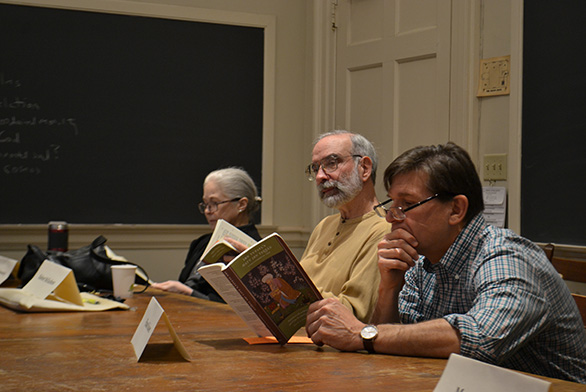 They gathered in the Great Hall to discuss philosophy.
Reason. Consciousness. Ecstasy.
There were questions about religion and spirituality; others were about mortality and morality.
But these weren't St. John's College students participating in the college's distinctive liberal arts curriculum. They were members of the public.
Another Executive Seminar at St. John's in Annapolis was underway.
The seminars, part of the college's Community Enrichment Programs, give community members the opportunity to engage in discussion about great works of literature, philosophy, political discourse and more. They are led by St. John's tutors and are modeled after the college's curriculum.
This year's theme is "Body and Soul." On this particular day, the discussion centered on a passage from "Hayy Ibn Yaqzan: A Philosophical Tale," a classic of medieval Islamic philosophy.
The opportunity to read closely, think about and debate some of civilization's most important works is what attracts many to the seminars. Initiated by Annapolis campus President Chris Nelson, St. John's has offered Executive Seminars for 20 years in a number of cities throughout the mid-Atlantic.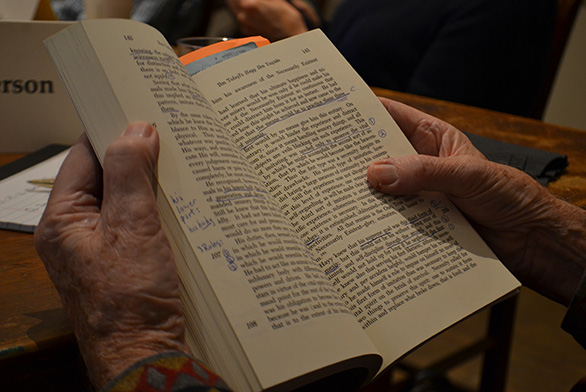 "It's interesting to have something worth discussing and people interested in discussing it," says Robert McEachern, who has been attending the seminars for 10 years.
The seminars, offered in the morning and afternoon, are structured to suit the schedules of busy people.
Tutors meet with about 20 participants—the public is divided into three groups­—once a month for 90 minutes to discuss a text. Although some who attend the morning seminars are retired, others come before heading off to work.
Robert Jefferson, a participant from Annapolis, says the morning sessions are beneficial to those who work and those who are retired.
"This is a simple thing to do that gets your mind going," says Jefferson, who has attended the Executive Seminars for the last eight years. He has attended other seminars through the college for more than 15 years.
Jefferson, who has a background in technology and communications, says the discussions can have a profound impact on a reader's interpretation of a text.
"There's never been a seminar I've walked into where I didn't change my mind three or four times," Jefferson says.
The discussion is exploratory; no previous knowledge of the author, text, or subject is required, and participants refer only to books the group has read together. The tutors do not set an agenda of topics to be covered.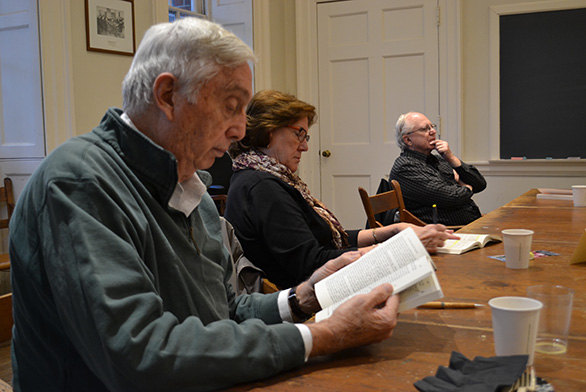 You don't need a background in philosophy—or the great books in general—to join, says Gerry Sosnowsky, who began attending 10 years ago. As long as you read the text that will be discussed, you can participate meaningfully.
"Even if you've never read philosophy before, it's worth your time," Sosnowsky says.
Jeff Evans, who has been attending the seminars for six years, likes the fact that those in attendance can have civil discussions about the texts.
"It's not a matter of winning an argument," he says. "It's homing in on what the document is all about."