July 27, 2017 | By Tim Pratt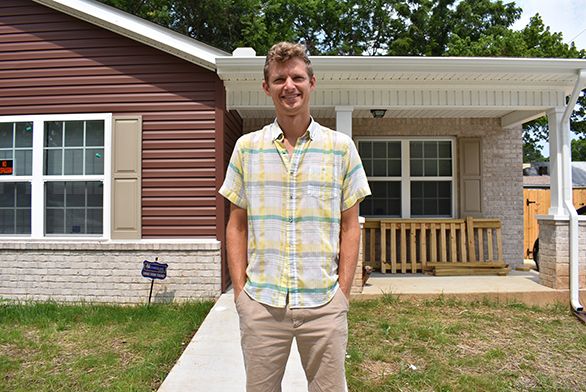 This story is the third in a series of alumni profiles compiled on a road trip between Annapolis and Santa Fe. To follow the series, visit Exploring the Johnnie Way.
MURFREESBORO, Tenn.—As Graham Gordon strolls up the sidewalk in front of a new home on South Hancock Street, he smiles widely as a dog begins barking from behind the front door.
Within seconds, Gordon (AGI13) is greeted warmly by Shari Hinton, who moved into the 1,100-square-foot, single-story structure two days earlier.
The house was built by Habitat for Humanity, an organization that constructs homes for the less fortunate with the help of volunteers and the new homeowners themselves.
Gordon is a site supervisor for Habitat's Rutherford County chapter and oversaw construction of this house from start to finish.
"It feels great," he says after a few friendly words with Hinton and a quick look around the property. "It's fantastic—the physical changes and dealing with the future homeowners."
Like the properties on which he works, Gordon's life has undergone many changes in recent years.
The Tennessee native grew up on his family's farm about 20 minutes south of Murfreesboro. Gordon's parents started a small school during his formative years, he says, and his father used a St. John's style of teaching—with lots of reading, analyzation and discussion.
Gordon always loved reading and writing. When it came time to choose a college, he considered St. John's, but ultimately decided to attend Rhodes College in Memphis to study history. He graduated in 2009.
Following his graduation, Gordon took a year off, traveled and eventually landed a job teaching at a middle school in Memphis. Following that, Gordon worked some odd jobs, then decided to head back to school. He enrolled in the Graduate Institute at St. John's in Annapolis in August 2011.
Gordon says he enjoyed his time in Annapolis. He played intramural sports, served on the Graduate Student Council, worked as a math and writing assistant, and made friends with his classmates and undergrads.
"It was great," he says.
After graduating from St. John's in 2013, Gordon stayed in Annapolis and began teaching history and math at St. Andrews United Methodist Day School. He tried to engage his students and captivate them with his lessons—sending them out to find circles, for instance, then having them measure circumferences and radii, and determining their ratios.
Gordon says the work reminded him that math could be as "creative and beautiful as anything else you study." He enjoyed sharing that with students.
"You introduce students for the first time to some very interesting ideas," he says.
At the same time, Gordon felt a desire to move back home, and he had an interest in residential construction. After three years, he left his teaching job and headed back to Tennessee.
Gordon had some experience with tools and woodworking from his days on the family farm. He landed a job at Habitat in the fall of 2016 and began shadowing a site supervisor, learning how to build houses, manage volunteers and take care of other parts of the home-building process.
"It kind of was a perfect fit," he says.
Much of the prep work for new houses goes on at the Rutherford County Habitat offices on Mercury Boulevard. Volunteers build 12-foot sections of wall at the facility, to be transported to the build sites. They then raise the walls at the sites and do everything from painting, trim work and siding installation to putting in windows, doors and roofing.
Gordon often oversees the first half of construction, while another site supervisor oversees the second half. At the house on South Hancock Street, Gordon proudly supervised the entire build.
Looking ahead, Gordon wants to build his own house and get his contractor's license. He hopes to take what he's learned at Habitat to start his own company and build energy-efficient, affordable homes in the future.