July 26, 2017 | By Tim Pratt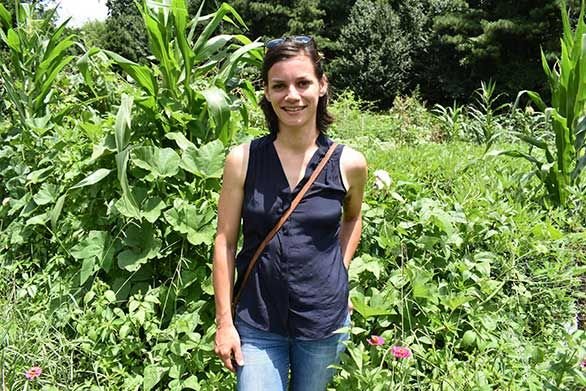 This story is the second in a series of alumni profiles compiled on a road trip between Annapolis and Santa Fe. To follow the series, visit Exploring the Johnnie Way.
DECATUR, Ga.—The large community garden sits at the bottom of a small hill, not far from a busy highway and bustling mall in suburban Atlanta.
As Jillian Sico (A05) walks along the crest of the hill overlooking the tree-lined, two-acre property, she recognizes a few people working in the distance. It's a group of three women digging potatoes out of the ground.
The work is part of a program with International Rescue Committee, a nonprofit organization that helps resettle refugees who have fled countries around the world. The three women are refugees who resettled in Georgia.
Until recently, Sico was a program coordinator at IRC and ran its section of this community garden, which is split up among a number of organizations. Now, she's getting ready for the next chapter in her life.
Sico will soon move west to pursue a master of fine arts degree in book arts from the University of Alabama. The degree would allow her to create art, but also teach workshops and classes at the university level.
It's a major change from the work she has done at the IRC the past three years, but Sico's interest in the arts isn't new. It has been growing for years.
Sico grew up in New Jersey, just outside of Philadelphia. After high school, she attended a state college in New Jersey, but didn't feel like it was a good fit. She says she had an interest in philosophy, science and ideas in general, and found St. John's "compelling."
Sico decided to enroll at St. John's and arrived on the Annapolis campus as a "Febbie" in January 2002, on a track to get her bachelor of arts degree in 3 1/2 years. (The Febbie program no longer exists in Annapolis, but a similar program continues at the college's Santa Fe campus.)
Sico went on to sing in the Madrigal Choir, serve on the Student Committee on Instruction and play the recorder in a mock marching band with fellow students in Annapolis. She also participated in intramural sports. During her summers, she completed internships on farms in Pennsylvania.
After graduating, Sico headed to Europe to participate in an organic farming program. She harvested foods like grapes and chestnuts in France; spent time in the Basque region, and even worked in an olive grove in the southern part of Spain.
Eventually, Sico returned to the United States and moved to Santa Fe, where she took art classes and began working first as an intern, then as an executive assistant and special projects coordinator, with Conservation Voters New Mexico. The organization deals with every environmental bill that goes before the New Mexico legislature, supporting bills that it views as pro-environment, and opposing bills it views as less environmentally friendly. The organization also puts out a legislative scorecard every year, grading legislators on their environmental stances, and supports pro-environment candidates.
Sico did research for the organization, went to the State House to lobby for bills and worked with lawmakers to get legislation passed, among other duties.
In 2011, Sico decided to go back to school, and enrolled at the University of Georgia's master of arts in anthropology program. She was thinking of working in academia, with the idea of teaching or doing research.
Sico was able to land a position as a graduate research assistant at the university, focusing on land use, and earned her master's in 2013. Over the next year, Sico worked as curatorial assistant and plant records manager at State Botanical Garden of Georgia. Then, in 2014, Sico began working with International Rescue Committee.
"At the time, it was a perfect combination of my interests," she says.
Sico developed and implemented educational programs related to gardening, nutrition and food security for refugees and immigrants. She also managed and trained volunteers and interns, maintained a program budget, wrote grants, and tracked and evaluated programs.
One of the highlights of her job was working with students at Clarkston High School near Atlanta. They planted and maintained a garden in the school courtyard, growing everything from tomatoes, chili peppers and potatoes to cucumbers, roselle and herbs.
"I found it extremely rewarding to work with the youth," she says. "Having a place where they can work and have fun and be silly is really important for some of them."
Yet, Sico's interest in the arts was calling. She was taking art classes, and developed a keen interest in the book arts.
In August, the learning will continue. Sico will head off to Tuscaloosa, Alabama, to begin her next chapter.