A Connection to Outer Space
January 31, 2017 | By Tim Pratt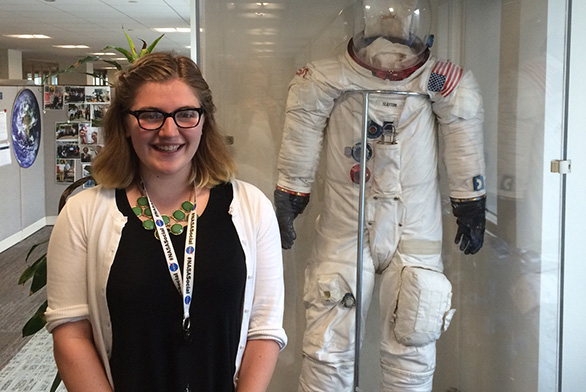 When St. John's College junior Catherine Baldwin learned about an astronaut's journey to the dark side of the moon, she became fascinated with space travel.
The New Jersey native was in second grade, but she still remembers learning about Michael Collins, an Apollo 11 crew member who orbited the moon as Neil Armstrong and Buzz Aldrin walked on its surface for the first time. Collins lost contact with earth during his orbits.
"I was fascinated by the fact that Michael Collins was alone," Baldwin says. "I remember thinking that was the most amazing and terrifying thing I ever heard."
Baldwin's interest in space travel continued over the years and led her to an internship last summer at the NASA History Program Office in Washington, DC. The internship coincided with the coming film release of "Hidden Figures," a story on African-American women who were influential in the early days of space exploration. The film was released January 6 and won numerous awards.
Baldwin's boss, Dr. Bill Barry, worked with the film's director to ensure its historical, technical and mathematical accuracy. Baldwin even got to see an advanced screening with NASA employees.
"It's the best movie out right now," Baldwin says with a smile. "All of the actresses are really great, but it's such a good story, too. And it was beautifully made."
Eventually, Baldwin would like to work in the space industry. Her internship last summer, in which she was paid through the Hodson Trust Internship program, could put her on that path.
The internship ran from May through August. Baldwin stayed busy with a range of tasks, from writing articles for the NASA website and posting items on social media to helping organize events.
At one point, Baldwin wrote about the Commercial Orbital Transportation Services program. She also wrote about the making of the Apollo 11 patch, tracking the design, influences and changes that led to the final version. That required her to do extensive research in the agency's archives, looking at old news articles and other items.
She also assisted with events, helped reorganize the website and posted historical facts about NASA and other space agencies on social media. She even got to put on a space suit, and she met Scott Kelly, an astronaut who returned from a year in space in 2016. Meanwhile, "Hidden Figures" was discussed regularly throughout the summer due to her boss's involvement with the script.
The work reinforced Baldwin's love for space and the history of the space race of the 1960s between the United States and USSR.
Baldwin already had read plenty of publications on space history, including the books Hidden Figures—on which the movie was based—and Rocket Girls, before she arrived at the NASA History Program Office. So she already knew about Katherine Johnson, one of the women featured in "Hidden Figures," and Margaret Hamilton, a well-known software writer for Apollo 11.
Baldwin has been able to keep up with her interest in space at St. John's. She says she loved learning about astronomy during her sophomore year, and has taken advantage of observation opportunities on campus.
"It's cool, to say the least, to see where theories start rather than just seeing the end," she says. "There were centuries of people looking up at the stars before we even got to go."
Now, as Baldwin works to complete her junior year, she's busy reading the book Psychology of Space Exploration. It's a topic she is considering for a career down the road.
"I'm interested in the people aspect of space exploration," she says. "I'd like to work with astronauts in a psychological way."