April 27, 2017 | By Charlotte Jusinski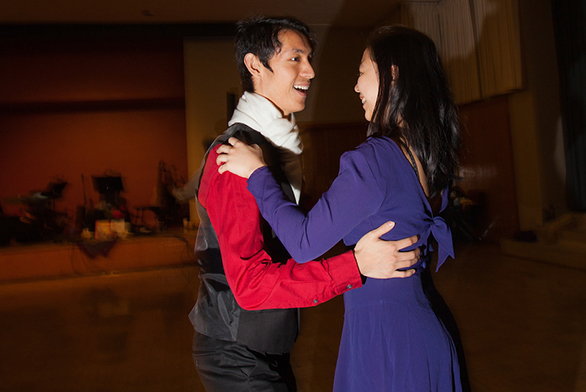 Leather-soled shoes whisper across the hardwood floor.
Crinolines rustle, corsets are laced tight, tuxedo tails flare. As the dance master calls out steps from the stage, gloved hands clasp and release, and partners glide across the floor of the Great Hall at St. John's College, Santa Fe.
This is the Sage Assembly, a Southwestern English Ball presented annually at St. John's by the New Mexico Folk Music and Dance Society.
While much of the crowd is comprised of older Society members, students are scattered across the hall in their jackets and tailored dresses, learning complex dance moves alongside the professionals—some of whom break with tradition by wearing Patagonia wind breakers, cowboy boots and bolo ties, or sneakers.
The Sage Assembly celebrated its 10th anniversary this year, and its fifth year at St. John's College. The Society is very active in regional dance events, which caught the attention of St. John's. In conjunction with the students' study of Pride and Prejudice, five years ago St. John's invited the Society to use the Great Hall for the event. Since then, it has been "a match made in heaven," says Society member Kit French.
"The cultural broadening for the students, who attend for free, is matched by the boon for us of using the hall gratis," French says in an email. "We import callers and musicians from around the country, and having the hall keeps the cost reasonable for the 70-100 attendees."
As a junior, Darren Limoanco (SF18) has just finished reading Jane Austen's Pride and Prejudice, where social interactions often involve this kind of event. For him, the dance illuminates the story.
"It gives us an opportunity to put ourselves in the shoes of the main characters," he says. "Underlying the scenes of them dancing is a very intimate sense of connection."
Similarly, fellow junior Lizbeth Novelo (SF18) understands the stakes more now.
"You get a feel for the culture they were living, how they were brought up and the type of community that they had," she says. "It helped me figure out why it was so bad that Mr. Darcy didn't go and dance, because you really need an equal number of men and women for this to work."
Junior Hwiyeng Kim (SF18) empathizes as he attempts the complicated moves.
"You can feel why Darcy was afraid of saying no—not being mean, but being really shy about it."
The potential for romance in the novel is ever-present, as it is at the English country dance, or contra dance. Participants slide gracefully around one other, and lines of people shift up and down the Great Hall. Partners change occasionally, too, and eye contact is key. Like the characters in Austen's novels, it's easy to wonder: can magic happen in just one second?
There is also plenty of laughter. Despite courageous attempts at the Sage Assembly, many dancers can't quite get the moves. Hard-won successes often result in high-fives. When partners accidentally get switched around, dance master Wendy Graham says, "Love the one you're with—at least you're laughing."
Freshman Leana Manuel (SF20) hasn't read Jane Austen as part of the Program yet, but has finished the book on her own. She is from the Philippines, where this type of dance simply doesn't happen.
"I have a little familiarity with these types of dances, and this is one-of-a-kind," she says. "It's really different from modern parties where you don't really socialize with people. Here, you get eye contact, you get to dance with different partners."
Outside, just beyond the tall glass walls of the Great Hall, a springtime snowstorm rages. But inside, music from the live band drifts over heads, and skirts blur into a kaleidoscope of color. There are a perfect number of people, and no one stays on the sidelines.
"Pride and Prejudice really shows that, when there is a formal context in which people dance, it gives the characters the opportunity to connect on a deeper, more substantial level," Limoanco says.