Longing for a Career in Literature
April 26, 2017 | By Tim Pratt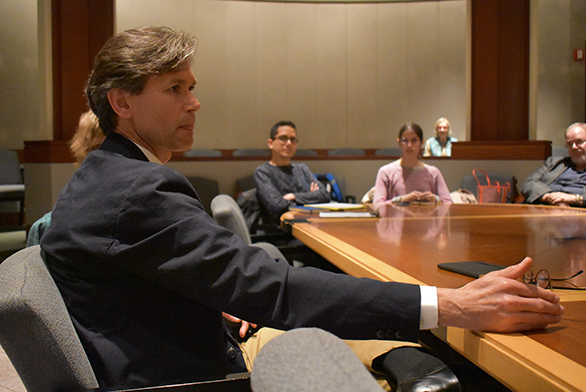 Andrew Krivák has led an interesting life since he graduated from St. John's College.
Yacht rigger. Poet. Student. Jesuit. Teacher.
These days, Krivák (A86) is an award-winning author whose latest novel, The Signal Flame, has received critical acclaim.
On April 25, Krivák returned to St. John's to read from and sign copies of his new book. He also met with students—several of whom would like to pursue literary careers—to give advice on how to make it in the industry.
"If you have a really good novel, a really good story to tell, it will get out there," Krivák says.
Krivák had an interest in literature even before he attended St. John's. He grew up among a family of engineers in rural northeastern Pennsylvania, but his interests were books and literature.
After a brief stint at the University of Rhode Island, Krivák came to St. John's and his love of the great books grew. His abilities as a writer also progressed. He says one of his proudest accomplishments as a Johnnie was winning the Baird Award for a short collection of poems he composed.
After graduating, Krivák moved to New England to become a yacht rigger, an experience that led him to think a lot about philosophy and working with his hands.
Krivák's journey in the three decades since then took him all over the world, from the Dominican Republic and Central Europe to Moscow and the South Bronx. He lived the Jesuit life, received several additional degrees and taught at Boston College before becoming a full-time novelist.
His experience as a Jesuit led to his first book, a memoir called A Long Retreat: In Search of a Religious Life.
In 2011, his second book, The Sojourn, was published and won a number of awards. It also was a 2011 National Book Award finalist in fiction.
In January 2017, Krivák's third book, The Signal Flame, was published. It's the story of a family awaiting the return of their youngest son from the Vietnam War.
Krivák says he is working on another book now and loves his new lifestyle—waking up early to be "alone in a room with words." He's also thrilled to be able to spend time with his wife and children.
Several students who attended a discussion with Krivák say they, too, are interested in careers in writing or publishing.
When a student asked how to overcome writer's block, Krivák says he often reads other writers' works, listens to music or goes fishing.
When asked how he knows when a novel is done, Krivák spoke about the "arc of the narrative," and the importance of completing a story with a strong final sentence.
When a student asked about how to handle the rejection of a manuscript, Krivák spoke of the importance of "ego strength."
"The rejection is part of your formation process as a writer," Krivák says.
For students who are working on a manuscript now, Krivák suggested getting an agent who can work on their behalf. He also offered to help students in any way he can.
Junior Joshua Colon says he was impressed by Krivák's experience and the advice he gave.
"He seemed very earnest, open, articulate and enthusiastic about his life and vocation; he seemed to be everything I want to be as a writer and a father," Colon says. "I think one of the biggest questions a young writer like me has to struggle with is whether the writing life is possible; meeting a Johnnie writer who has found success is a real encouragement."
Sophomore Stuart Lombard has looked into publishing in the past, and called Krivák's experiences "inspiring."
"As for me, I haven't written for a long time, but I yearn to return to that magical time when writing used to consume my life," Lombard says. "I walked away from the discussion with a refreshed desire to write, and a couple new books to read. I do hope that I have the opportunity to be published someday, because I think that it must be a great feeling to share your stories with others, and to (hopefully) have them be enjoyed."