January 26, 2017 | By Tim Pratt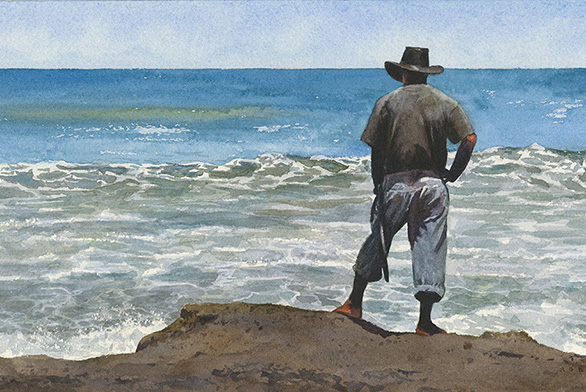 There's a good chance you've seen Rob Wood's work.
It might have been on a book cover for Stephen King, Tom Clancy or Peter Benchley. Or maybe it was the illustrations in books by Neil de Grass Tyson, Carl Sagan or Robert Ballard. He even has done work for National Geographic, Newsweek and Sports Illustrated, among other publications.
This semester, Wood is bringing his expertise to St. John's College in Annapolis in the form of a watercolor painting workshop.
"I've learned a lot over the many years I've been doing this," says Wood, vice president of design firm Wood, Ronsaville Harlin, Inc. in Annapolis. "I've realized it's really fun sharing some of the knowledge I have to help people become better painters."
The workshop, scheduled Wednesday nights from February 15 through April 19, is one of several Fine Arts Workshops offered at the college throughout the spring semester. Others focus on writing, stone carving, drawing and pottery. They are being led by several accomplished instructors.
For the watercolor workshop, participants will get plenty of instruction, at the group level and one on one.
Painters will be asked to bring in their own drawings or photographs to serve as the framework for their paintings. Participants will be instructed on conceptual thinking, design and techniques to create a successful piece—from the use of light and contrast to best color mixing strategies, Wood says.
Wood plans to sit down with participants throughout the class to help them work through challenging issues. There will be demonstrations, slides and other instruction, too.
The goal is for participants to have a good time, but also to improve, Wood says.
"It's very rewarding to see someone who's struggling come through and do something really nice," Wood says. "Even in an eight-week workshop you can really see them improve."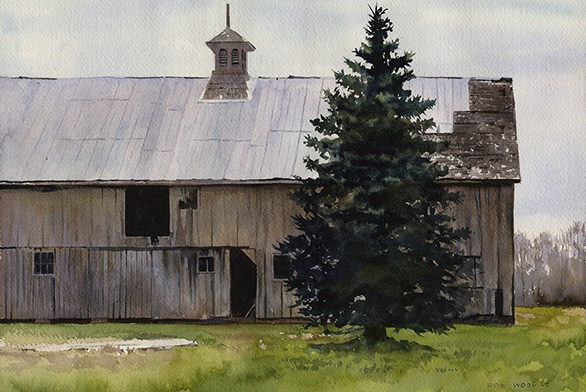 Wood brings plenty of experience to the workshop.
Originally from Tennessee, Wood began drawing and painting when he was 9. He majored in painting and graphic design at East Tennessee State University, then joined the U.S. Air Force and served in Vietnam.
After returning from Vietnam, Wood earned his Master of Fine Arts degree from the University of Georgia.
Wood's illustration career began at a design firm in the Washington, DC area, where he worked for two years before becoming a partner in the firm. Eventually, the business evolved into Wood, Ronsaville Harlin, Inc. Today it is an internationally recognized illustration studio with clients worldwide.
The company has a small studio in Annapolis, and is busy these days doing a lot of work for museums, including the Museum of the American Revolution in Philadelphia. The company also recently did murals for the World War II Museum in New Orleans, and is working on illustrations for the National Park Service, among other clients.
Wood previously led a workshop at St. John's in the fall. He also did a demonstration last winter at Maryland Hall for the Creative Arts in Annapolis. That demonstration made him want to continue helping others fine-tune their craft.
"I had such a good time and people really responded to it," he says.