Hodson Internship Teaches "Adaptability and Persistence"
February 12, 2021 | By Eve Tolpa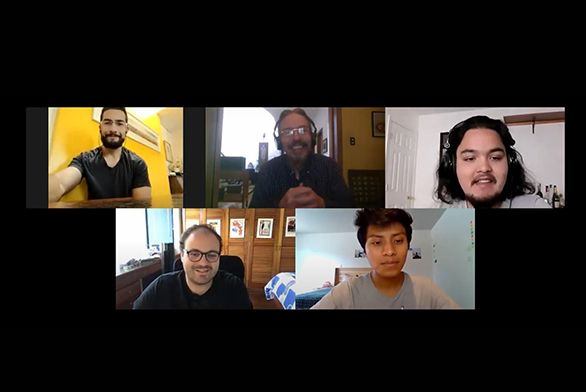 For Francisco Contreras (A20), a summer 2020 Hodson Internship with the Polycentric Learning Group (PLG) was "a haven from the storm [of] chaos and uncertainty in my personal life."
The Hodson Trust Internship Program provides funding for St. John's students at the Annapolis campus to design their own summer projects or work professionally with mentors in an internship capacity. For Contreras, that originally meant spending the summer working on location at PLG's office in Guatemala City, Guatemala.
"The purchase of plane tickets and hotel reservations corroborated that," he says. "But the world had other plans."
Because of safety concerns amid the COVID-19 pandemic, his engagement with the organization switched from in-person to long-distance. There was an upside to this upheaval, however, and he describes his experience working remotely as "a lesson in adaptability and persistence."
PLG was founded in 2016 to assist businesses, schools, and organizations in establishing their own learning cultures. As part of his contribution to that mission, Contreras collaborated directly with PLG founder Albert Loan, as well as with fellow intern Luis Fernando (SF20), a Santa Fe Johnnie.
"The three of us formed a great team," Contreras says. "At least three times a week we held Zoom meetings that would often last the whole day and continue well into the evening. At these meetings, we would analyze the past, present, and future of the Polycentric Learning Group. We brainstormed what direction to take and how, we read relevant texts that were the foundation of the organization, and assigned tasks that would turn these ideas into reality."
In his time away from the Zoom screen, he carried out various miscellaneous assignments, including subtitling and transcribing training videos. He was also responsible for contributing to shared documents that formed the foundation for an upcoming PLG project: "an online liberal arts training program."
His own education dovetailed particularly well with that last aspect of his work—not only in its focus, which was quite familiar to him as a St. John's student, but in its structure, which engaged some of the specific skills he had honed as an undergraduate.
"I had to synthesize vast amounts of very complex texts, often philosophical and sometimes technical," Contreras says. "I had to read authors ranging from Michael Oakeshott to Michael Polanyi to Ludwig Von Mises. Our 'magnum opus' at the internship was a chart of meta-questions that will become the foundation of PLG's online program. The whole team was proud of this great accomplishment, and the two Johnnies could see our education represented in the chart."
Even with the rewarding nature of his internship, Contreras inevitably found his attention pulled toward the same anxieties we've all been facing throughout the last year. "While I think I produced very good work, I was at times distracted by the uncertainty and pain of the current world pandemic," he explains. Under the circumstances, though, "I tried to perform as best I could."
In the best of times, interpersonal relationships and their sustaining strength play an outsized role in making our experiences worthwhile. During a period of shared disruption and unpredictability, those social ties become even more valuable, and Contreras especially appreciated that his mentor, Loan, was "very gracious and always willing to meet and strategize on how to keep focused and healthy."
"I could not have faced this time without the support of this great team. I only wish they could have seen me at my best," he continues. "Nonetheless, I leave my internship with great friends, a mentor, and future collaborators."