St. John's Students Form Off-Campus Pod for First Semester
February 5, 2021 | By Les Poling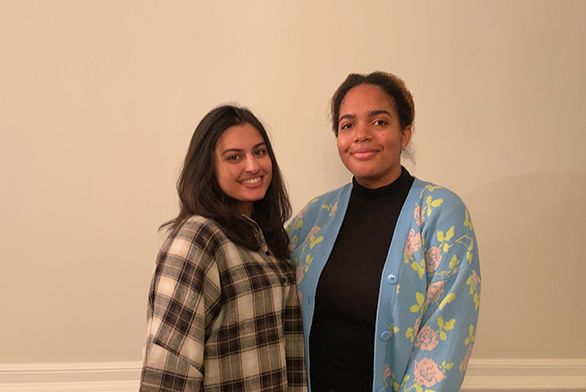 Freshmen students in the St. John's College Class of 2024 experienced a first semester unlike any other in the college's history (besides, to an extent, the Class of 1922). For many, the year's opening question was discussed from the confines of a family home; laboratory exercises were conducted on tablet screens everywhere from Beijing to Los Angeles to Annapolis, and choir, intramurals, and general social life enjoyed via Microsoft Teams and Instagram.
But not every freshman experienced the entirety of Johnnie life from afar. While classes and college activities took place online for all students, one group of nine Annapolis freshmen plunged into the first semester together, forming a COVID-safe living pod in a house located near campus.
Dagny Kulkarni (A24) and Linda Bellamy (A24) originally met at Summer Academy in 2019. At the time, they had no idea that one year later they'd room together in the same off-campus house. But then again, they also couldn't have predicted the global pandemic that would force St. John's online for the fall semester. When the college announced the transition to remote learning in August 2020, both Kulkarni (originally from California) and Bellamy (who grew up in Washington, DC) quickly decided they wanted to live in Annapolis—and close to campus—despite the lack of in-person learning.
"I was just really excited about the prospect of becoming part of a new community and learning new things," Kulkarni says of her decision not to defer admission, explaining that the house's proximity to campus helped students feel physically part of the college. Bellamy felt similarly. "My parents and I made a pros and cons list [about learning online,] and the only con was that it wasn't what I was expecting," she says. "So I just thought, 'why not?'"
A parent of one of Kulkarni and Bellamy's housemates came up with the initial idea for a freshmen house in Annapolis; originally, it was planned as a living pod for New York-area Johnnies. "But then one of my friends forwarded the email to me, and I thought, 'this is such a cool idea; I have to do this," Kulkarni recalls. She direct messaged Bellamy and brought the idea to an enormous Instagram group chat made up of fellow Annapolis freshmen; quickly, a number of students expressed interest.
The exact group of housemates changed throughout the months, and it took some time to find a reasonably priced (and sized) house for rent. But eventually, Kulkarni and her father found an option less than five minutes from campus. After a get-to-know-you Zoom call with students and parents, the lease was signed; by mid-August, the freshmen Johnnies began moving in. "We all bonded pretty well," Kulkarni says. "It came together pretty easily after that."
Living in a nine-person coronavirus-constricted social pod is a far cry from life in the St. John's freshmen dorms—all extracurriculars, for example, took place online, making some activities awkward (singing) and others hard to keep up with via email. However, both Kulkarni and Bellamy relished the chance to live with fellow students at the beginning of their St. John's careers. Along with exploratory treks around Annapolis, strolls through campus, and afternoons spent lounging on the docks near College Creek—as well as "quarantining and getting tested regularly," Kulkarni points out—the group filled their time with the type of activities that define life in the COVID-19 era. "Three nights a week, we would all cook together," Bellamy says. There were also horror movie marathons, hours of video games, instrumental jam sessions, and, for Bellamy, mornings when she would "wake up and just clean."
And, in typical Johnnie fashion, "We would get into random philosophical discussions, which I never really had before," she remarks.
"I would normally associate [that type of conversation] with more of an academic setting," Kulkarni adds. "But those discussions happened so casually. Sometimes it was based off a seminar reading or something, but other times we'd just talk. It was really nice."
Kulkarni and Bellamy rued the inability to meet their classmates face-to-face, and they both felt that distance learning made it harder to develop deeper relationships with tutors—one of the most cherished parts of attending St. John's. Additionally, seminar "was one of my favorite classes" at Summer Academy, Bellamy says; online seminar wasn't quite the same.
That being said, both students were able to meet several upperclassmen and tutors for socially distanced coffee, and they even conducted several labs on campus with tutor Lijun Gu. Noting that freshmen don't have the same point of reference for in-person learning as other Johnnies, Kulkarni says she "honestly didn't have many complaints … as far as classes went, I had a good time."
Ironically, after months of acclimating to an entirely online environment, Kulkarni, Bellamy, and the rest of their freshmen class will soon have to learn a new way of being at St. John's. Having learned the ins and outs of Zoom etiquette, they now need to prepare for life in the hybrid and/or in-person classroom. But the excitement far outweighs the semi-trepidation. In addition to further exploring campus, "I'm really looking forward to meeting other students," Bellamy says. "The people in my classes, they're very interesting—I want to get to know them."
Kulkarni agrees. "Just the thought of sitting in an actual classroom and having a book in front of you is very exciting to me," she says, also emphasizing how much she's looking forward to in-person music (eventually) and Ancient Greek.
And above all, both Johnnies are eager to build on the experiences and friendships formed in their unique first semester. "[Our pod] is almost like a family, now—we've formed such a tight-knit group, and we all support each other," Kulkarni says. "It's been a really good welcome to the school, and I wouldn't trade that for anything."