Listening Through Filmmaking: Story and Video
February 17, 2021 | Story by Eve Tolpa \ Video by Hannah Loomis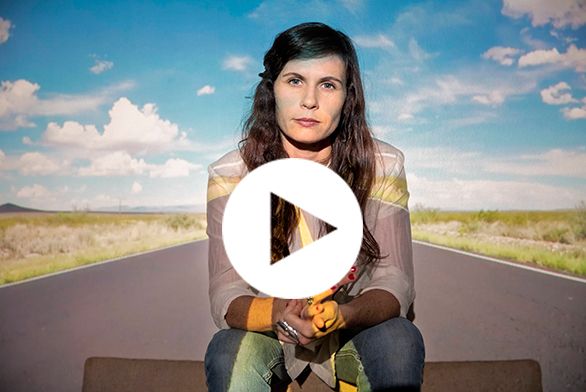 In the accompanying video interview, which includes clips from her recent documentary, Truth or Consequences, Jayanti speaks in-depth about her filmmaking process.
Hannah Jayanti (SF07) says she has "always existed in this strange cartography of varied things." That attraction to the interweaving of subjects and ideas not only brought her to St. John's but lies at the heart of her work as a documentary filmmaker.
"A lot of documentaries are about simplifying," she says. "You're taking the messiness of the world and stating 'this is caused because of this, and this is why this happened.' My work is not about that at all. [It's] about pointing to complexity and interrelations. It's much closer to a literary approach ... a liberal arts approach."
That's no accident. "At St. John's I learned how to explore that connectivity of thought over the ages through different disciplines," she says.
Jayanti characterizes her high school education as "pretty unstructured." After attending a small, progressive school, she went to boarding school and then spent her junior and senior years in Lebanon, where her mother had received a Fulbright scholarship.
After graduating second in her class, she applied to a handful of Ivy League schools, "because I think we associate them with success." When she didn't get in anywhere, she spent a year building bridges in Borneo, working in environmental protection, attending community college, and taking a job at a public radio station.
During that time, her mother suggested St. John's. After visiting the Santa Fe campus for a weekend, Jayanti felt an immediate resonance.
"I just really loved it. I had this experience of an extreme intellectual rigor and [an] engaged and quite intense social invitation. I distinctly remember I went to a Euclid seminar, and then the conversation kept going afterward, walking around the desert and hanging out in people's rooms. I was like, what is this? What is this world where learning is just completely uncompartmentalized?"
A big part of her St. John's education was rooted in listening, and it's that skill that continues to guide her working process. By spending time in a place and listening deeply to its people, she creates films that invite audiences to listen in new ways.
The Phantom Tollbooth: Beyond Expectations, Jayanti's short film about the longtime friendship between the author and illustrator of the classic children's book of the same name, premiered at The New Yorker Festival and was later screened at the Smithsonian.
Her first feature-length movie, the speculative documentary Truth or Consequences, takes place in the eponymous New Mexico town—one of the state's most eccentric and a destination for road-tripping Santa Fe Johnnies seeking hot springs and funky mid-century motels.
Filmed over the course of three years, with Jayanti doing her own camera work, it premiered in 2020 at the International Film Festival Rotterdam. She describes Truth or Consequences as "the first time that I fully sort of followed my own instincts."
Her current project, Topography, set primarily in National Parks, explores people's relationships to nature and the ways they engage with change.
"It's a total privilege to be able to spend a long time in these places," she says, taking care to note that this freedom stems from her current life circumstances. "I don't have kids. I don't have to take care of my parents right now. And that'll change, and I don't know what my practice will look like when it changes."
Jayanti funds her work almost exclusively through grants (Truth or Consequences, for example, received support from Sundance, among other organizations). Some are project-specific and some are "these magical artist grants that are just for you, and you get to make what you want." She prefers the latter type, "because I get this kind of radical creative freedom. But when you do that, you're often working with a much smaller budget. So I don't make that much money."
To support herself, she teaches in community media centers and public access stations—"places that train people to tell their own stories with equipment they have accessible to them." She also shoots footage for other people who appreciate her uniquely solitary and open-ended approach, though as she points out, "I don't do it that often, because I'm quite stubborn and very picky."
But perhaps that stubbornness has paid off. Prioritizing freedom has led to an invaluable sense of professional fulfillment for Jayanti. "I don't have to make creative choices that are based on the film being successful by conventional metrics," she says. "I can focus on the thing that I feel like ends up being most important."