How St. John's and Dante Inspired Fulbright Scholar Anne Schuchman (A91)
October 31, 2022 | By Patricia Moore
Imagine that the only way to complete your PhD in medieval Italian literature was to travel to Florence and Rome, Italy. The 700-year-old sheepskin manuscripts you needed were not available elsewhere—there were no digital editions. To fulfill this dream, Anne Schuchman (A91) applied for and ultimately received a Fulbright fellowship allowing her to complete her dissertation research in Italy—after "falling in love with Dante" at St. John's College.
Schuchman lived in Rome between her sophomore and junior years and returned more convinced than ever that St. John's was the right college for her. "Johnnies can go anywhere their minds take them," she asserts. "Going through the entire four-year curriculum enabled me to see that my career didn't have to be a straight line." She embodies the often-cited precept that a St. John's education establishes the foundation for a successful life.
Anne met her future husband, Jim Berrettini (A93) at St. John's, and their lives eventually took them to Italy, including the Fulbright year when they brought their son, Sam Berrettini (A21). After earning an MA at University of Illinois Urbana-Champaign, and a PhD at New York University and teaching there as adjunct professor, Schuchman established her current business as a doula and childbirth educator, Mamma Mia Doula Services. Her PhD research project in Italy, serendipitously, supports this professional turn of events. To top off these accomplishments, she is pursuing an MFA in creative writing at Fairleigh Dickinson University.
Finetuning Her Fulbright Focus Until It Worked
"Italian Fulbrights are very competitive," Schuchman explains. "I had to make a case for why I needed to be in Italy. I applied as an undergraduate, and my argument was not that clear. Really, I just wanted to go to Italy. Then, after spending a year at the University of Florence, I had a concrete idea of why I needed a Fulbright Fellowship to Italy. I knew which manuscripts I needed to read to complete my PhD."
Schuchman was not optimistic that she be awarded the Fulbright Fellowship because, by that time, she was a mother. "However, becoming a parent can make you a lot more efficient." Her dissertation, entitled "Umiliana de' Cerchi and the Changing Rhetoric of Sanctity," explored a topic no one else in academia was pursuing—the manuscript tradition about a 13th-century lay woman who was venerated as a model of living a holy life while remaining very much in the world, not closed off in a convent. This topic closes the loop in Schuchman's continuity of career focus from motherhood, to historical views of lay women in society, to her current role as a business owner offering doula services.
Why a Johnnie's Confidence and Curiosity Matters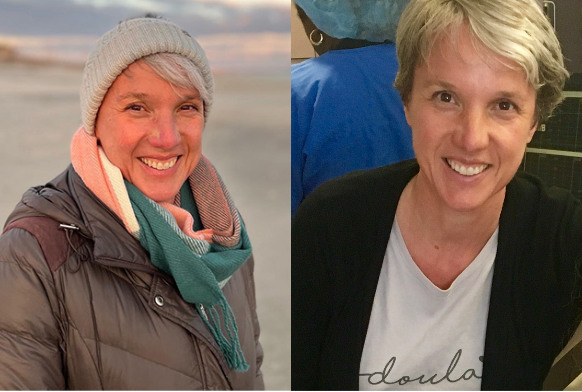 "It took time to develop my topic, and the curiosity and confidence I developed at St. John's was instrumental," she says. The St. John's approach of challenging students with its curriculum while promoting each student's growth as a human being enabled Schuchman to move forward with her ambitious project. "St. John's gave me the knowledge that if I worked hard, I could succeed, as well as the curiosity to want to find out what was really in those original manuscripts," says Schuchman.
She is grateful that she first encountered Dante's Divine Comedy—sparking her interest in Italian literature and history—at St. John's. Having read the 14,000-line poem many times over the years, Schuchman learns something new with each reading by looking at Dante's classic work from different perspectives – historical, biographical, as poetry, through the lens of a writer's craft, and as memoir. "I really think learning is a lifelong endeavor," she explains as a Johnnie would. She's an avid reader, most recently of memoir—her current focus—as well as classics she had missed in college, such as Moby Dick and Anna Karenina.
Why Applying for a Fulbright is Worth the Effort
Schuchman, who applied more than once for a Fulbright Fellowship, says that Johnnies considering applying "should go ahead and do it," and research the different types of Fulbright awards available. "If you're applying for a Fulbright to teach English, you don't need to speak the language in the country where you are assigned," she adds. "If you want to go to Italy or some other country where the competition is great for Fulbright fellowships and other types of Fulbright awards, get in touch with a relevant university department or research library there so they can vouch for your seriousness about your project," she suggests. "Europe is very popular."
She points out that the skills needed to put together a successful Fulbright application are the same skills required for work and education applications. So, no matter what the outcome, Johnnies benefit from the process.
To learn how the college supports Johnnies interested in applying for Fulbright awards and other fellowships and internships, visit:  https://www.sjc.edu/career-success/santa-fe/national-scholarships for Santa Fe and https://www.sjc.edu/career-success/annapolis/fellowships-and-scholarships for Annapolis.