October 13, 2017 | By Eve Tolpa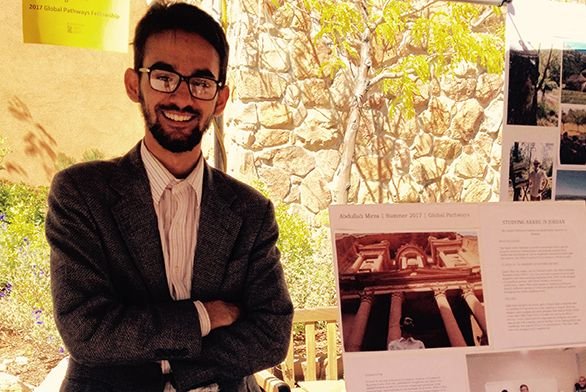 Across Levan Hall and Pond Placita at St. John's College in Santa Fe stretch two perpendicular rows of booths, their awnings shielding students from the midday sun.
It's a crisp autumn day at the second annual Summer Experience Fair, and roughly 30 Johnnies share personal stories and images about their recent Ariel Internships and Pathways Fellowships.
Ariel Internships allow students to explore career opportunities, while Pathways Fellowships enable them to transition to graduate programs requiring specialized course work, including prerequisites. Pathways awards can be General, facilitating study within the United States, or Global, for studies abroad. All are funded internally by the college.
About 60 Santa Fe students participated in the 2017 summer programs, a sizable proportion of the student body. About one-third of Santa Fe students apply every summer, says Barbara Lucero-Sand, acting director of career services, which organized the event and oversees the programs.
"They have a really good opportunity to get an award," she says, and adds that there are two parts to the process. "They also have to get accepted into the program or schools."
Ariel recipient Austin Khamiss (SF18) spent his summer at the Union Public House, a Pensacola, Florida restaurant. Khamiss, who comes to St. John's from Conroe, Texas, describes the restaurant's culinary focus as "modern American but heavily influenced by Southern and French cuisine."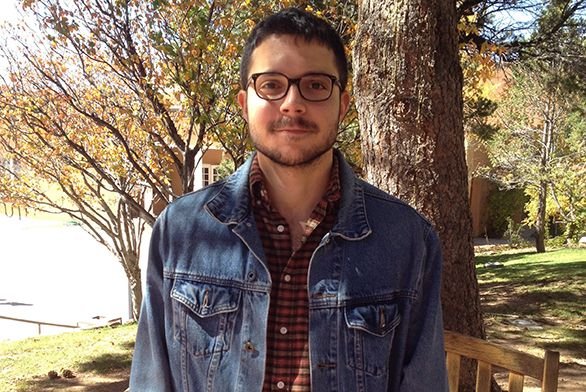 In his training to become a garde manger (French for "keeper of the food"), Khamiss concentrated on charcuterie, the traditional spicing and salt-curing of meat. The visual display he created to accompany his presentation incorporates colorful images of inventory checklists, smiling kitchen colleagues, and plates laden with pork and pickles.
Among the Pathways recipients was Joy Nwodo (SF20), of Nnewi, Nigeria, whose fellowship allowed her to study general chemistry and cell biology at the University of New Mexico in Albuquerque.
"I am aspiring to a career in medicine or the health sciences in general, and I need to supplement my program here at St. John's with the pre-medical courses," she says.
Nwodo recalls growing up in a medically underserved area.
"People still die from childbirth when they don't have to," she says. "The emergency services for accidents are terrible, so I just thought that the health sciences needed an improvement, and it's almost like I'm obliged to go towards that."
Jinxue Chen's (SF18) Ariel Internship took her to the Institute for China-America Studies, in Washington, DC. In her capacity as a research assistant and a media intern, Chen, who is from the small Chinese city of Maashan, helped organize the institute's annual conference, which included designing its brochure.
"It helped me to get a better sense of what a real working environment would be," she says. "People expect each person to do multiple tasks."
Abdullah Mirza (SF20), from South Bend, Indiana, was one of only two freshmen last year to receive a Global Pathways Fellowship, which facilitated his studies at the Qasid Arabic Institute in Jordan.
"I'm interested in (the language) for scholarly reasons," says Mirza, who is considering a graduate degree in medieval studies. Arabic complements his knowledge of Greek and Latin, all three of which are linguistic pillars of the field.
The knowledge Mirza gained from his fellowship is already enhancing his extracurricular studies. He's a member of a study group focusing on Moses Maimonides, a medieval Jewish philosopher, physician, and astronomer, who, Mirza says, "might be the only Arabic writer in the St. John's Program."
An additional interest in journalism means that Mirza can envision himself participating in a translation internship at some point. But there's no push to narrow his focus, at least not yet. Instead, he feels he has "a lot of doors open. I'm thankful that I have so many options."