Tutors Prepare for 'Shakespeare Bootcamp'
October 13, 2017 | By Tim Pratt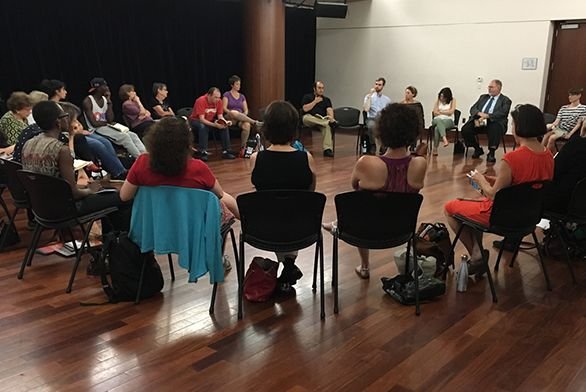 For the second year in a row, a group of St. John's College tutors will lead a pair of seminars at Shakespeare Theatre Company in Washington, DC.
Shakespeare Bootcamp, set for October 29, will give the public a chance to experience St. John's-style seminars and discuss two of Shakespeare's most famous plays, Twelfth Night and Hamlet. The seminars are free, though registration is required.
The collaboration between St. John's and the renowned theater company comes weeks before the opening of Twelfth Night in Sidney Harman Hall. A production of Hamlet is scheduled to open in January 2018.
The opportunity to read, discuss and think about the plays before they open will help theater-goers better understand and appreciate the works, says Annapolis tutor Mera Flaumenhaft, who will lead the Twelfth Night seminar with tutor Louis Petrich.
"These are wonderful plays and most people enjoy them, but a lot of people haven't read them and discussed them with other people," Flaumenhaft says. "I think people enjoy more what they understand better and what they've talked about. They're not just enjoying the play from the outside; they're learning something about it and thinking about it ahead of time."
The Hamlet discussion will be led by Emily Langston, associate dean for graduate programs in Annapolis, who spearheaded the St. John's collaboration with the theater company. She will be joined in the Hamlet discussion by tutor emeritus Jon Tuck.
Last year dozens of people participated in seminars on Macbeth and Romeo and Juliet. They ranged in age from high school students to senior citizens. A few St. John's alumni also joined in the discussions.
The event is one of many educational programs put on by the theater company every year to coincide with its performances.
"We had a really successful (bootcamp) last year, and the thing I liked the most was it seemed to really combine what St. John's can bring to what we normally bring," says Hannah Hessel Ratner, audience enrichment manager for the theater company. "We have a really engaged audience that is interested in going deeper and understanding in a richer way. Having a St. John's structure made a really nice synergy between our audience's eagerness to learn and share what they already know with a more rigorous and guided situation."
Because many participants haven't attended St. John's and aren't familiar with the college's seminar format, tutors give basic instructions, then kick off the discussions with a question about each play. Discussions last about 90 minutes.
All of the tutors who lead the seminars have extensive backgrounds in Shakespeare, from teaching and publishing to theater productions.
"Even though we don't portray ourselves as experts or specialists or pundits, we do have a deep and scholarly understanding of the text," Tuck says.
The organizers say they are looking forward to seeing what people take away from the experience.
"Normally when people go to educational programs about Shakespeare, a person who's an expert will be telling them what to think," Langston says. "I hope people walk out (of bootcamp) knowing that they can learn from one another and that their own insights into the text can be really valuable."