Jobs for Johnnies Helps St. John's Alumni Take on the Workforce
April 4, 2021 | By Anne Kniggendorf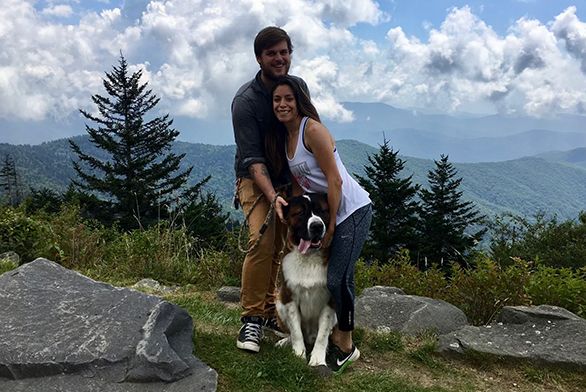 Luke Olson (A20) can't pinpoint the moment he decided to ask for help from Jobs for Johnnies, a program for new graduates that rolled out on both St. John's College campuses in May 2020. However, he does know that he'd applied for 260 legal-related positions around Washington, DC, Chicago, and Boston—and only one company asked him for an interview.
The one position he heard back about didn't pan out. The hiring manager told him that while he was a good candidate, others were better. "Sometimes, that's a really hard thing to hear," Olson says.
Jobs for Johnnies is an initiative spearheaded by a subcommittee of the Board of Visitors and Governors' Visiting Committee that ran from May to mid-August 2020. The program, which will return in spring of 2021, pairs participants with any of 19 alumni volunteers, all working closely with Career Services in Annapolis and the Office of Personal and Professional Development in Santa Fe. Out of a combined 2020 undergraduate and graduate class of 225 students, more than 50 new graduates participated in Jobs for Johnnies, including one from the Graduate Institute in Annapolis.
Annapolis Director of Career Services Jaime Dunn says the goal of the program was not solely for new graduates to secure a job, but also to connect with a board member to "receive feedback on their job search tools (resume, cover letter, elevator pitch, etc.), and learn the skills of networking and job searching that they'll need to use not only as new grads, but throughout their professional careers."
Olson worked with St. John's Alumni Association President Mark Parenti (AGI92) and found the connection extremely helpful.
Olson had worked for about 10 years between high school and the beginning of his studies in Annapolis. However, two terms of service with AmeriCorps and many years of experience as a chef didn't translate to the post-baccalaureate career in law that he'd set his sights on.
Olson can joke about it now that he's found a teaching job he loves at a private school in Fairfax, Virginia. When he was first job hunting, he explains, entering the legal field seemed like a perfect progression for a former chef with a philosophy degree.
"Law seems almost like the kitchen of the philosophy world, right?" Olson says. "It's kind of competitive, it is really focused on intense work and long hours, and I think that's a big part of what drew me to it."
But, he had to eventually admit, maybe the firms he wished to join didn't see things his way. Olson says conversations with Parenti opened a new way of thinking about the paths he might take.
"He was never—and I really want to emphasize this—like, 'you shouldn't go into law.' He understood that I was committed to certain ideals," Olson says. "That might be unique to the Johnnie experience, but he also balanced that kind of Johnnie idealism with real world professional and practical experience that he had decades of."
The two worked out that Olson's ideals could be upheld in a teaching environment just as well as in a court of law. Olson wanted to find a position that would pay him to read, synthesize texts, and "talk about ideas that helped build our society, our nation, and our beliefs."
As soon as he began applying for teaching positions, he received multiple offers. Now, he's teaching rhetoric, introduction to logic, and advanced logic to high school students.
He says he recently read Aristophanes' The Clouds with one of his classes. "It's a huge payoff to see a 9th grader get excited about the question of whether or not Socrates is a sophist."
In the past, St. John's College alumni have worked together in an informal mentee/mentor and networking capacity. Jobs for Johnnies formalizes those connections, which will allow the college, the Board of Visitors and Governors, and the Alumni Association to track the results—and will also heighten the program's visibility to attract more participants.
Board member and Jobs for Johnnies mentor Johanna Wilson (A90) says the initiative has sparked conversations around the ideal interplay between the Program and a career—and raised questions about what it means to have a well-lived life.
"I imagine it has to do with books and a balance, but also with community, meaningful work, and mutual support," Wilson says.
There is room for everyone, she adds, in providing that support. "Our broader community of alumni and friends is a wide and influential network that can help our Johnnies. Do you know of an internship that would be perfect for a student? Do you know of job opportunities that would benefit from a free and balanced thinker? Send an email to jobs4johnnies(at)sjc.edu and tell us."
Gifts to the $300 million Freeing Minds campaign offer another avenue for support, with a full third going toward student support services, including those that help students achieve their post-graduate goals.
"The value Johnnies bring to employers is a secret that needs to get out," says Wilson. "You can help."