Johnnie Revels in the Joys and Challenges of Mentoring Young Women in Cambodia
March 27, 2023 | By M. W. Merritt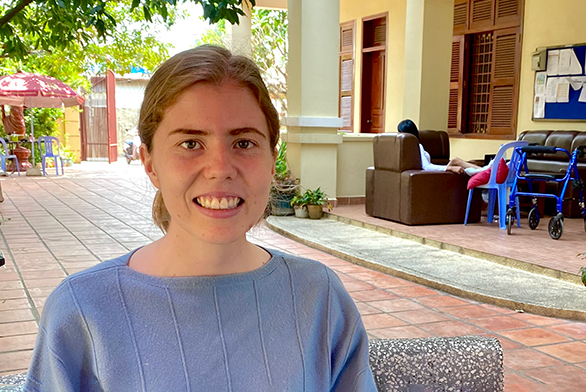 When Jessie Tagliani (A22) graduated from St. John's, she did not expect to find herself in Phnom Penh on a boat ride with several Cambodian students just a few months later. Her role as a leadership resident for Harpswell, an organization that seeks to bring about positive social change in Southeast Asia through the action and equal participation of women, had brought her there.
In addition to teaching critical skills, fun and exploration are a necessary part of Tagliani's role as a mentor. She says, "We organized a boat ride on the Mekong River for the two Harpswell dorms, where the girls got to sail down the river during the evening, eat snacks, and listen to music and dance together. To be honest, the cultural events are the most fun part of the job."
For Tagliani, a passion for humanitarian work was a common trait in her family, and she learned the importance of deep analysis that she developed as a Johnnie. This made volunteering at Harpswell a perfect fit. Even before arriving in Cambodia, her St. John's education has served her well, in an unexpected way. "My uncle set up an NGO in Ukraine to help with the volunteer effort. I went there for about six weeks in the summer to assist with logistics. I remembered during a lecture at St. John's on the enduring relevance of Thucydides, a student asked if there were any parallels between Russia and Sicily, and I thought 'Why not?' I had dragged my copy to Ukraine with me, so I got in a long discussion with a couple of the NGO workers, and we bonded, since one had watched the Troy movie, I'd read the Iliad, and between the two of us we had this great conversation."
Tagliani was inspired to work with Harpswell by her family's work and her transformative experience at St. John's, as well as an interest in designing community. For Tagliani, the organization helped fill a hole in post-graduation life. "I felt like I was kicked out of the citadel. I wondered if I'd find something as good ever again. I met the in-country director of Harpswell and while she was describing the foundation's work I was like 'Wow, this sounds amazing!'"
Founder Alan Lightman began the organization to support young Cambodian women by building residence halls in Phnom Penh. Universities do not commonly have dormitories in Cambodia, making higher education inaccessible for students from rural areas, particular young women. Harpswell has since grown to focus on education and mentoring for women from Cambodia and the surrounding region, attracting international volunteers like Tagliani.
"One of the things we have here are Cambodia Daily classes. The Cambodia Daily was a newspaper in the first few years of Harpswell. The girls would sit down with this newspaper together and pick articles from it, read them out loud, and discuss them, thinking deeply about the set topics. That has evolved into creating teams of two girls who research a particular topic. I will be the facilitator and guide them through the research process and a presentation. I will help lead a discussion where the Harpswell students will reflect and come to conclusions."
Women like Tagliani not only teach critical thinking, research, and discussion, but are a crucial part of the Harpswell mission, as they serve as leadership models and can help with choosing career paths. This is built through close friendships (each student has three roommates in a quad) and through events like the ASEAN Summit, an immersion program for women ages 25-30 from more than 10 countries.
But work on the ground isn't always as serious. Another important aspect is cultural exposure and events. On Tagliani's end, it was a chance to expand on the Great Books she read in St. John's: "One of the questions people ask about St. John's is why we don't cover world literature. The fact is that we barely have time to read the Western canon! I stopped in a secondhand bookstore in Singapore on my way to Phnom Penh and saw a copy of Story of the Stone, and I thought 'I should be reading locally!' So, I've started working my way through the Eastern canon, which is fascinating. I'm being exposed to a literary culture I didn't know existed. It's just as beautiful, rich, and profound."
The benefits of cultural exposure go both ways—while Tagliani obviously serves as a mentor to the students, being in a different element has shown her what can be done with the skills she already has.
"There's this joke that we often have at St. John's that we seem unemployable because our skill set is so nebulous. I discovered at Harpswell that what I had learned in my tutorials and my seminars was how to think in an orderly way."