Johnnie Uses Online Investing Revolution to Give Back and Free Minds
May 20, 2021 | By Anne Kniggendorf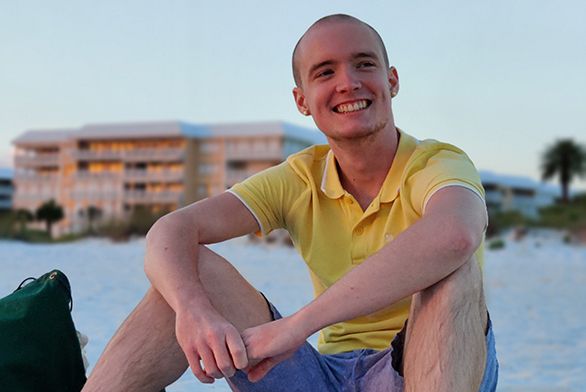 Andrew Hastings (A20) began 2021 in New Hampshire working at a family-owned nursery and landscaping business. He'd returned to his home state early in the COVID-19 pandemic.
For much of the winter, he was busy, and so was unaware of the Reddit investing revolution taking place at the end of January. Hastings had no idea that an investment he'd made months earlier was about to pay off with a 300 percent return.
The revolution was still underway when his mother showed him an article about how members of a Reddit forum called WallStreetBets had decided to employ Wall Street tactics to put a short squeeze on a variety of stocks, including GameStop, BlackBerry, and AMC, driving the prices up exponentially.
"It was a bolt from the blue, divine inspiration, that my mother was reading an article during the GameStop bubble," Hastings says.
He'd made an investment in BlackBerry shortly before his graduation from St. John's College during a time when he was trying to learn about trading. BlackBerry stock was down, but Hastings read about the company's research and development into security software for autonomous vehicles, a sector he could imagine doing well in the future.
When it did do well—for reasons no one could have guessed—one of Hastings' first thoughts was that he wanted to pass along his good fortune.
Like many new graduates, he hadn't yet made a gift to the college. He says the sum he received felt more like a gift than anything else, and he had no intention of spending it all on himself.
"Always percolating in the back of my mind was the whole Freeing Minds campaign," he says.
Hastings was a senior when St. John's College announced the Freeing Minds campaign, a move from a tuition-centered financial model to a philanthropy-centered model. He recalls thinking that the move was brave and noble—and possibly risky.
"I just wanted this education to continue to be around," Hastings says. He imagined that the pandemic might cause extra financial challenges for the college. So, he says, his contribution was "gratitude but also concern."
Unbeknownst to him, Hastings has become part of a long tradition of Johnnies interested in investing, a tradition strong enough that several alumni participated in writer Robert Hagstrom's research years ago for a book called Investing: The Last Liberal Art.
Greg Curtis (HSF02) was one of them. The chairman and managing director at investment advisory firm Greycourt is a former St. John's board member and an honorary alumnus of St. John's. As such, he makes a point of spending time at the college. A few years ago, he debated central banking policy with former Federal Reserve chair Ben Bernanke on the Annapolis campus.
He says Johnnies have a unique advantage when it comes to investing.
"You have to have an extremely broad understanding of how the world works and what's going on in that world," Curtis says. "If you don't, you can easily be blindsided. You need to be very broadly educated. You can't be the kind of person who is a narrow specialist."
Hastings says that he can see his St. John's education as a way to make inroads into understanding human behavior and contextualizing tech and social trends in a way that might translate to predicting the next big thing.
But for now, he's taking some time off in Florida to work on a book. He's considering applying to graduate school, but, like many Johnnies, his broad-based liberal arts education has piqued his interest in numerous fields, and he's not sure which one he would like to specialize in.
Hastings' experience as a student at St. John's was just what he'd hoped it would be, and he says that taking time to sort out the next step in his life—rather than going to graduate school simply for the sake of going to graduate school—will honor his education.
He says, "St. John's provided me with such rich and diverse inspiration and honed my ways of thinking. In terms of who I am and who I want to be, that's incredibly important."
That's why, he says, it was also important for him to give back.
Peter Marber, a member of the St. John's College Board of Visitors & Governors, hopes others hold a similar view and will consider making their own first-ever gifts, regardless of the amount. As an incentive, Marber agreed to match all first-time gifts and new recurring gifts, up to a $10,000 match limit.
Alumni and friends responded, securing the full match in just over two months and signaling their willingness to invest in the future of St. John's—and of Johnnies.