Johnnies Helping Johnnies Through the Hodson Trust Internship Program
October 13, 2022 | By Luis Sanchez (AGI23)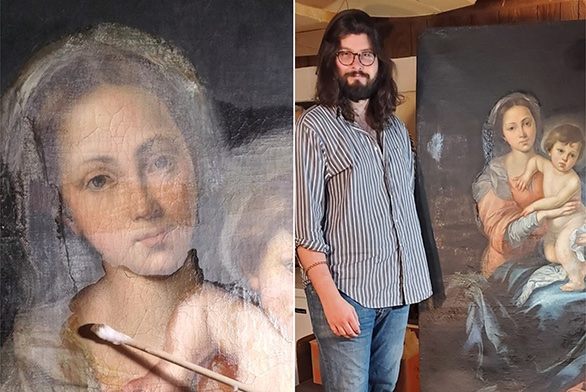 Upon graduation, Johnnies often pursue careers in law school, or social sciences, in general. Others end up in hard sciences like mathematics or theoretical physics. But William Payne (A22) chose a different path, an unconventional one. David Kidd (A85) walked a similar road decades before. This is their story.
After a series of internships in different fields throughout the summers, William Payne (A22) realized he did not want to sit his whole life behind a desk. "I wanted to be a craftsman," he says.
It was while working at the St. John's archive, looking at rare books from the 1600s, that he realized there was a wealth of knowledge to be preserved there. Not just the content of the book, but the physical book itself.
Indeed, it is easy to miss the fact that rare old books need to be preserved and restored much like any other work of art. Unlike the contents of the book—which may even benefit from the passage of time—the materials of which it is made, the leather cover, the ink on the paper, the paper itself, are all fragile; time can only harm them. The job of the art conservator is to prevent or limit the effects of this process, while the restorer comes in after time has already done its job.
If only there were someone who could teach Payne how to work with and restore all kinds of materials.
A Journey from Medicine to Restoration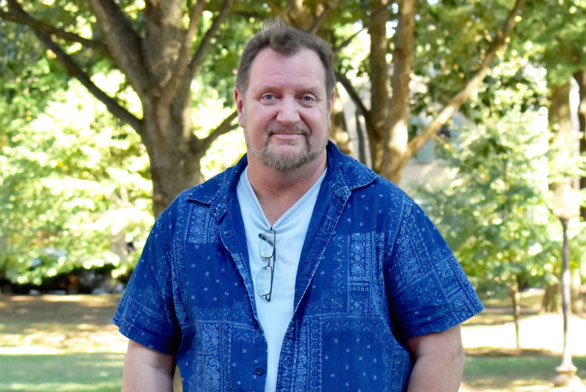 Enter David Kidd (A85). Upon graduating from St. John's, Kidd joined the Department of Neurosurgery of Johns Hopkins University to work on a project with chronic pain patients in the late 80s. "I wanted to be a doctor," he recounts. He stayed there for 12 years, directing clinical trials, but did not go to medical school—he discovered it was not his thing, after all. Through the Hodson Trust Internship Program, he hired Johnnies for internships at Johns Hopkins during those years.
By the year 2000, though, most of his coworkers at the School of Public Health were either retiring or leaving. He had been taking classes in architectural restoration on the side for a while. Also, he had been buying old houses to restore, live in, and eventually sell.
"I liked the hands-on work," he says—but it was more than that. As a child, his mother read him a story about the relocation and restoration project of the temples of Abu Simbel, in Egypt, and "right then and there, I realized that was what I wanted to do. There's this long history of human habitation of the earth that time grinds down, and some people try to save this," Kidd adds. That is why he joined St. John's in the first place, because "they are all about preserving knowledge."
"Preservation, that is my career theme," he remarks.
So, Kidd left the clinical trials and went on an adventure, studying arts and architecture at the Smithsonian Institute in Washington, D.C., and the Institute of Classical Architecture in New York. He then studied drawing, painting, and sculpture at the Schuller School of Fine Arts in Baltimore, Md., and went through a series of apprenticeships—after all, craftsmanship is all about experience.
Kidd lived in Norway, Italy, and England, teaching, and learning. In 2005, he returned to the U.S., and started Kidd Studios LLC, his own restoration business. In that sense, "my time at Hopkins was kind of a cul-de-sac," he concludes smiling.
 A Hodson Internship Opened the Door
Through a mutual friend of the St. John's community, Payne contacted Kidd, and they clicked immediately. Kidd could use a hand in some of his projects, Payne needed the experience, and the Hodson Trust was there to provide the funding for the summer internship.
The Hodson Trust Internship Program, made possible through a generous grant from the Hodson Trust, allows students from the St. John's College Annapolis campus to apply for funding for otherwise unfunded internships, or design their own projects, working directly with mentors in their field. (In Santa Fe, the ARIEL Internship Program provides similar student support).
Kidd and Payne are thankful to the Hodson Trust for this opportunity. In Kidd's words, "This is a luxury." It allowed him to have someone intern with him for the first time since he began his career in restoration. Payne, on his part, says he "got the jump-start for restoration that I was looking for." He got to work with paint, ink, stone, mirror, wood, and other materials under Kidd's guidance. It was "the shotgun blast approach to the conservation gig."
It was more than that, though. Payne found his passion. That does not happen every day.
Payne's advice to fellow students is to look for these opportunities early on, to reach out to their tutors, alumni, and the St. John's community, in general, to find out more. "It pays out," he adds. To learn more about other internships and fellowships facilitated through St. John's College, see: Internship and Fellowship Student Stories.