Joining a Community of Learners
January 24, 2018 | By Anthony Muljat (SF17)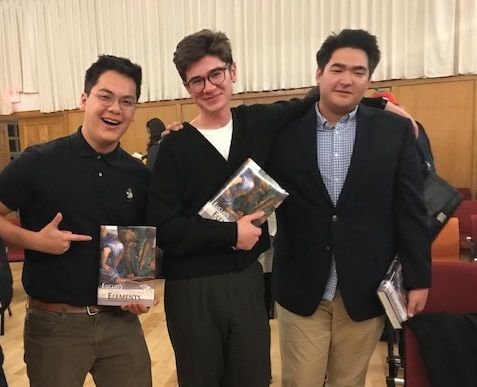 Every year on the Santa Fe campus, at the beginning of the spring term, a contingent of enthusiastic and dedicated students from around the world gathers to be formally welcomed into the newest and possibly boldest chapter of their academic career: the undergraduate program at St. John's College.
These new Johnnies face a unique challenge, with its own unique benefits, above and beyond that which their classmates on both campuses undertake. They are endeavoring to complete the freshman curriculum on an accelerated plan that runs through the spring semester well into the summer, before joining their fall-freshmen colleagues to begin their sophomore year.
To modest fanfare, this year's January Freshmen (or "JFs") were officially admitted to the college by signing the register at Convocation on January 15. Although the tally of new students—21—is small even by St. John's standards, the concentration of intellectual curiosity and willingness to embark on a radical educational journey is anything but miniscule.
Hailing from as far away as Ghana, Afghanistan and Korea, and arriving with highly divergent educational backgrounds, these students have agreed to suspend their individual preferences of academic subjects to collaborate within the framework of the all-required curriculum at St. John's.
After each of this year's JFs walked across the stage, they were presented with a hardbound copy of Euclid's Elements, the seminal text of geometry that holds a particularly special place in the hearts and minds of Johnnies, generously provided by alumni donors. Symbolically, it is the foundation on which the ideal of true deductive knowledge is built up by the St. John's Program.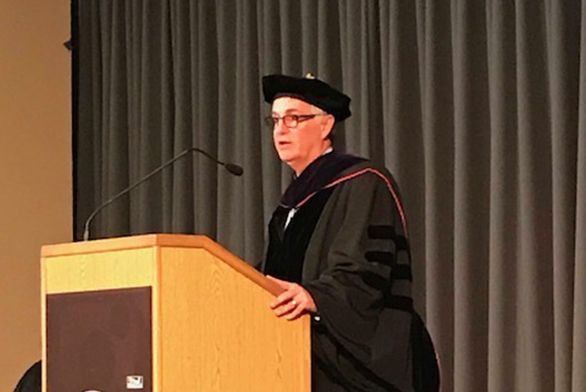 "You have joined a community of learners, and that phrase—not the phrase, rather the fact that it is true—marks us as different from almost any other place," college-wide President Mark Roosevelt said. "In a community of learners, you come together with us to learn, not some coming to teach and others to learn. We come to St. John's to learn together."
The president spoke further on the power of a St. John's education to radically alter one's preconceived notions and expectations for life.
"As you embrace the Program, and give your studies your full attention, you will of course also be thinking about even larger questions behind it all, questions such as: What is a good life? How do I want to live? What kind of life will satisfy my intellectual yearnings and my social needs, as well as help me reach my personal and professional goals? What exactly are my personal and professional goals?"
With these words of encouragement and exhortation, the president declared the now-complete Class of 2021 duly convoked. In just a few short minutes, the JFs would enter their first seminar on Homer's Iliad, in search of meaning and truth, as well as perhaps the first glimmers of answers to those fundamental questions of their individual lives.