July 25, 2017 | By Tim Pratt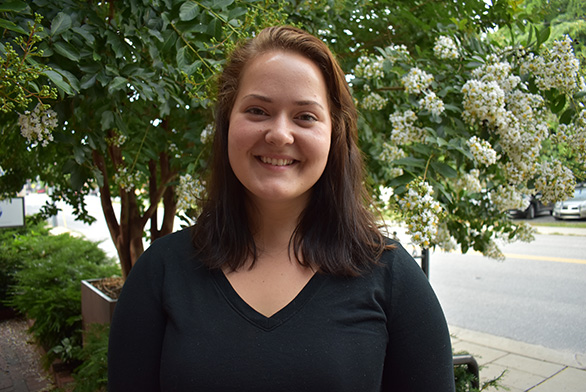 This story is the first in a series of alumni profiles compiled on a road trip between Annapolis and Santa Fe. To follow the series, visit Exploring the Johnnie Way.
ASHEVILLE, N.C.—Sitting at a small, stone table outside of a coffee shop near downtown, Quinn Roberts talks excitedly about her recent adventure.
The St. John's College graduate has just returned from a weeklong outing in the mountains of western North Carolina, where she helped guide a group of nine teenage girls through the forest—backpacking, purifying water, building campfires and camping in the rain.
Roberts loves spending time outdoors. Yet, this outing wasn't done just for fun.
It was part of her job at The Academy at Trails Carolina. Roberts (SF16) is a mentor at the therapeutic boarding school in Dupont State Forest just south of Asheville.
Many days, Roberts works with troubled students and provides mentorship and guidance for them—discussing whatever is going on in their lives, as well as their goals, their feelings and any other topics that arise. Some of her work involves "de-escalating" situations, she says, calming students down, talking through their issues and putting them back on the right track. She wants them to succeed.
Roberts also goes on trips into the forest, like the one from which she had just returned on this warm morning in July. She says her interest in education and therapy dates back to her high school days in southern California, when she tutored at a local library. Meanwhile in school, one of Roberts' teachers ran his class similarly to the way they're run at St. John's, she says, including the reading of primary sources. The style of learning intrigued Roberts.
One day, the teacher played a video on the St. John's website featuring Santa Fe tutor Patricia Greer, and it piqued Roberts' interest. She always enjoyed reading older books.
In the fall of 2012, Roberts enrolled on the Santa Fe campus. She had Greer as a tutor her freshman year.
"That was really cool," she says.
During her time at St. John's, Roberts stayed busy with extracurricular activities. She served in a mentor/tutor position at a local elementary school, working with a third-grader to go over homework, play games and do other activities. She also tutored inmates at a nearby prison.
"The inmates were always polite," she says. "The ones who were in the tutoring program wanted the assistance."
While at St. John's, Roberts also participated in a number of study groups, looking at everything from metaphysics to the Koran.
After graduating, Roberts began working at a restaurant near her parents' house in Michigan. She would keep a book nearby, she says, and was drawn increasingly to science and psychology.
At one point, Roberts made a list of five cities in which she would like to live. Asheville was on the list.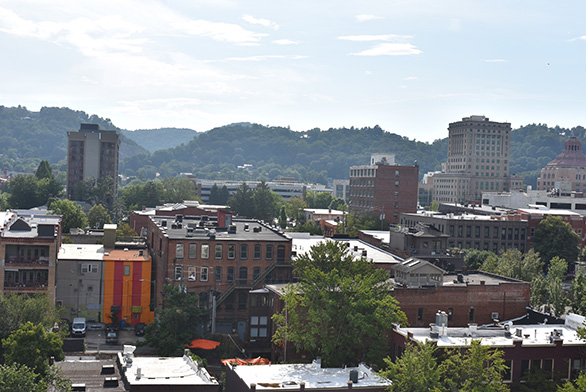 Eventually, Roberts landed her job at the therapeutic boarding school near Asheville and moved to the area in March.
Trails at Carolina is a year-round school. Roberts works seven days on, seven days off, and lives on campus during her shifts.
Roberts' journey into the mountains was part of the school's Wilderness Therapy Division, which organizes trips for students to address behavioral problems with therapists—without the distractions of everyday life.
Roberts says she uses some of the skills she acquired at St. John's in her day-to-day work.
"It's utilizing the attentiveness skill," she says. "It's challenging and trying to figure out a student. It's a lot of paying attention to what each student needs to make the gears click."
The work has helped push Roberts toward possible careers in clinical therapy or educational psychology.
"I think it's wildly rewarding to spend a lot of time watching and paying attention to the particular habits of a person, and learning what it takes to make someone click," she says.